Wednesday June 20 2012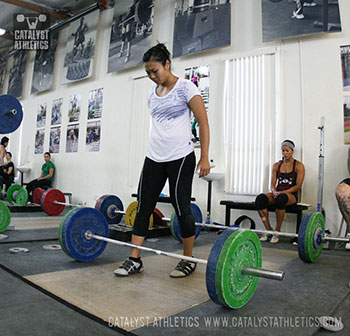 Front Squat - 65% x 2 x 5
Clean Pull - 85% (of clean) x 3 x 2, 90% x 3 x 2
Halting Clean Deadlift (mid-thigh) - 75% (of clean) x 3 x 3
Good Morning - 3 x 5
Questions? Get answers here or post in comments.
7 Comments
krys
2012-06-20
95 2x5
95 2x3 102 2x3
85 3x3
rdl's because good mornings scare me
80 3x5
Alex
2012-06-20
What is the schedule here? Tomorrow will be day 4 of working out. When are the rest days and is there a template to the schedule?
Chris
2012-06-20
@Alex - you can get a sneak peak at the coming week using the "Text Only" link to the right. Rest days this week are Friday and Sunday, and I'm looking forward to them :)
Alex
2012-06-20
Thanks Chris.... Is there any issues with me doing 3/1-2/1 in order to get the rest sooner and be more recovered for the next 2 days? I work a fire schedule and I need to have somewhat of a structured program. I rather do majority of my WODs at home so I don't get interrupted with calls. Any ideas or templates about there to follow this program? Thanks to all.
Steve Pan
2012-06-21
I'm not sure what you mean by "3/1-2/1 in order"

If you need to plan ahead there is a Training Cycles tab at the right that will show different cycles that you can adjust the on and off days to work with your schedule.
Alex
2012-06-21
3on 1off 2on 1off for the week instead of 4on 1off 1on 1off. Would this be a big deal or is there a reason for the structure that I will be missing. Thanks.
Greg Everett
2012-06-25
Alex -

Yes, there is a reason the days are programmed as they are. You can try changing the schedule, but it won't work as well.
---
Workouts Menu
Workouts Home
Read This First!
Workouts Help & Info
Exercise Library
Training Programs
Starter Program
Tomorrow's Workout
Text Only
Custom Program Design
---
---