Saturday August 4 2012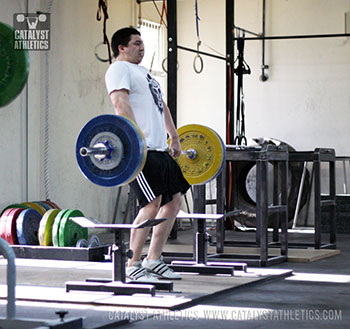 Front Squat - 80% x 3 x 5
Snatch - heavy single
Clean & Jerk - heavy single
Clean Deadlift - 100% (of clean) x 5 x 3
Questions? Get answers here or post in comments.
10 Comments
Adal
2012-08-04
Hi Coach
This week finish
Strength Development Cycle
my question is
which program do you recomend for me


165 lbs snatch
285 lbs front squat
335 back squat
215 clean and jerk

my goal is
i want to load the next year 200 snatch and 255 clean and jerk

strength, power and technique



Greg Everett
2012-08-06
Do one of the cycles that emphasize the snatch and clean & jerk - your classic lift numbers are low relative to your strength numbers.
Cyrus
2013-02-20
What if after doing a heavy single(at the end of the week), I managed to surpass my 1 RM for the Snatch and C&J, should i use these new 1 RM in my computation of my working sets for the next week? or should i just stick with my 1 RM at the start of the cycle and just get a new 1 RM after finishing the 5-week cycle?

Thanks so much!
Steve Pan
2013-02-20
Cyrus -

If you set a new PR you will take your percentages off of that for the rest of the cycle.
Cyrus
2013-02-23
Thanks for the reply. As a beginner, i am setting PRs often bec. of technique refinement.
Do you get your 1 RM in the Back Squat, Power Clean, Power Snatch & Push Press after every cycle too? if yes, how do you schedule this along with getting your 1 RM for the classical lifts?

Thanks Steve!
Steve Pan
2013-02-26
You will test maxes when it is called for in a cycle, in some cases you will set PRs as heavy singles are called for. You will have to roll with the blows and adjust as you set new PRs.
Salty
2013-04-02
Hit a PR on Snatch today 185lbs & it actually felt pretty easy. Days like today are what keeps me going.
Robert H.
2013-04-09
On days where a heavy single is called for, if I meet my PR and feel good should I keep going up?
Steve Pan
2013-04-09
Robert -

If you feel good you should try and beat your PR. Try not to match your PRs, make attempts that would beat them by at least a kilo.
Kate J
2015-05-11
Just finished week one. PRed my snatch by 15 pounds tonight with more in the tank! So excited! My snatch hasn't moved in a really long time. Excited to continue!
---
Workouts Menu
Workouts Home
Read This First!
Workouts Help & Info
Exercise Library
Training Programs
Starter Program
Tomorrow's Workout
Text Only
Custom Program Design
---
---