Thursday September 27 2012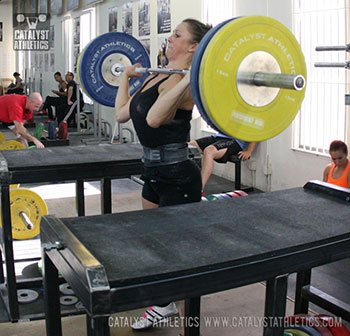 Power Snatch - 70% x 2 x 5
Snatch Push Press + Overhead Squat - 70% (of sn) x 3+1 x 4
Press - 3 x 5 (use last week's weight)
3 ladders of 3-5-7 reps each:
KB swing
1-arm KB clean + push press
Questions? Get answers here or post in comments.
4 Comments
sgs
2012-09-27
Hi there, I have one question you guys can hopefully help me out with. I have a problem when cleaning, in that I tend to lose my pinky fingers out. Today I tried using straps while cleaning and although it wasn't as smooth as I would have preferred, it did work and my hands stayed on the barbell. So my question is this: Should I continue using straps for cleans and possibly clean and jerks or should I fix this problem some other way, and if so, how?
Any response and tips are greatly appreciated
Steve Pan
2012-09-27
You should never use straps for cleans. There is the possibility of you getting trapped and injuring yourself. The risk is not worth it. I would suggest working on stretching your wrists, shoulders, and lats. From there I would suggest trying different hand positions on the bar to see if they are more comfortable for you.

In the clean it is okay if a few of the fingers come off the bar, as long as it is supported by your shoulders. Once you come out of a clean you should be able to take a second and adjust your hands for the jerk.
SergeiUkraine
2012-09-28
Hi! I start training by this program. I have a question. "Press" - is that shoulder press?
And second - "Snatch Push Press + Overhead Squat - 70% (of sn) x 3+1 x 4". "x 3+1 x 4 " - what does it mean? 3 repeat and 4 rounds?
Thanks for unswer, and sry for my english:)
SGS
2012-09-29
Steve Pan
Ok, I'll keep that in mind, thank's for the response.

---
Workouts Menu
Workouts Home
Read This First!
Workouts Help & Info
Exercise Library
Training Programs
Starter Program
Tomorrow's Workout
Text Only
Custom Program Design
---
---