Saturday October 13 2012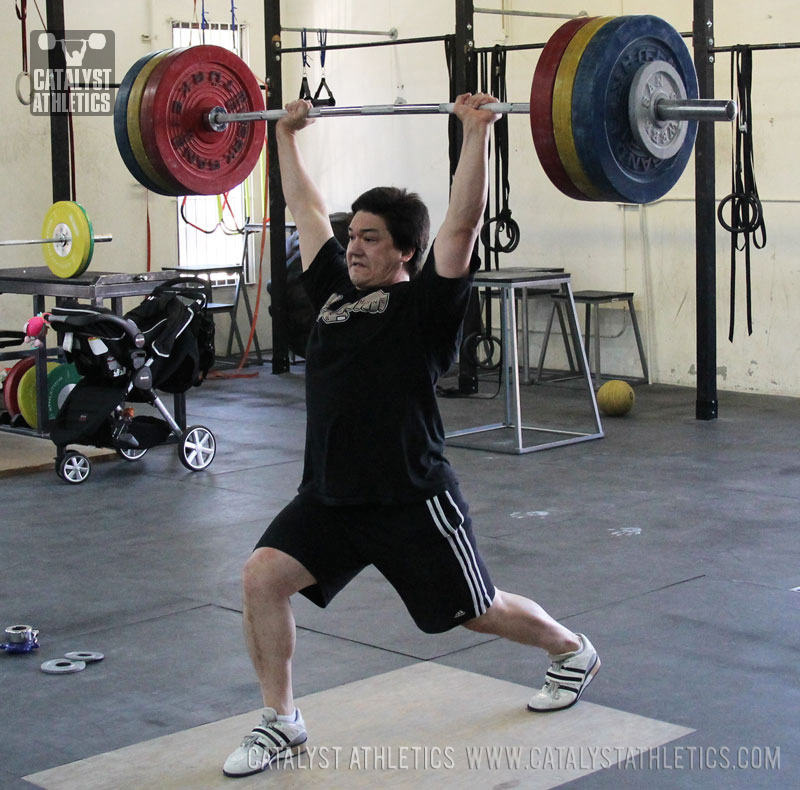 Snatch - 65%x2, 70%x2x2, 75%x1x2, 80%x1, 85%x1, 90%x1, heavy single
Clean & Jerk - 65%x2+1, 70%x2+1x2, 75%x1+1x2, 80%x1+1, 85%x1+1, 90%x1+1, heavy single
Back Squat 75% x3, 80%x3x2, 85%x3x2
Good Morning - 3x5
Press - 3x6
Questions? Get answers here or post in comments.
4 Comments
Gabe
2012-10-12
Greg,

If I am unable to train on Saturdays or Sundays, how would you recommend adjusting schedule so as not to miss any work? Just train all 5 weekdays with no rest day (Friday's work on Thursday and Saturday's on Friday)? I appreciate any suggestions.

Steve Pan
2012-10-13
Gabe -

You can move Saturday's workout to Friday and make Thursday's workout a little lighter if you are struggling on that last workout. You can also move one of the exercises from Thursday to Tuesday if that helps you get a good Friday workout.
Gabe
2012-10-13
Steve,

Great suggestion. Thanks!
Zack
2013-05-19
heavy single snatch - 220... +10 from the previous week
heavy single clean and jerk - 280... +5 from previous week

continued to work on cleans...got up to 295...miss 3 times on 300...close though

thanks for the great programming

Workouts Menu
Workouts Home
Workouts Help
Exercise Library
Training Programs
Starter Program
Tomorrow's Workout
Text Only
Custom Program Design
---
---
Advertise With Us