Tuesday November 27 2012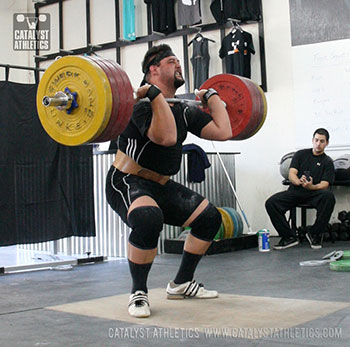 Power Clean - 70% x 3 x 5
Power Jerk - 60% (of split jerk) x 3 x 5
Overhead Squat - 70% x 3 x 5
5 sets; no rest:
5 1-arm KB swing/arm
5 KB snatch
5 1-arm KB overhead squat/arm
Questions? Get answers here or post in comments.
11 Comments
Gordo
2012-12-02
P. Clean + P Jerk 60x(3+3)x4
Snatch Balance 50x3x2, 54x3x3

Kettlebell triplet:
16kg, ~8:00
Did this swing, snatch, OHS right arm; swing, snatch OHS left arm = 1 round
Thommy
2013-01-08
Greg,
I just started this cycle yesterday and have a couple of questions:

1. Was the power clean weight today a percentage of our power clean 1RM or our clean 1RM?

2. Was the ohs weight today a percentage of our ohs 1RM or our snatch 1RM?

3. Would you like me to post results to comments or leave comments for questions and concerns?


Thank you,
Thommy
Steve Pan
2013-01-08
Thommy -

1. The percentage should be from your best power clean.

2. The percentage should be from your best OHS.

3. You can post results in the comments and also any questions/concerns you have.

Good luck with training!
Jay
2013-06-03
Can you explain the x 3 x 5 please? Is it 3 sets of 5 reps, or no? Thanks!
Steve Pan
2013-06-03
Jay -

The notation is described in the program help section to the right.

65%x3x5 would indicate 5 sets of 3 reps at 65% of your best.
Steve
2014-06-22
What does "1-arm KB swing/arm" mean? Alternate arms or both arms at the same time?
Steve Pan
2014-06-23
Steve -

It should be 5 1-arm kettle bell swings per arm. You can alternate, or do 5 one each arm.
Alec
2014-08-19
For the kb work. What weight kb is prescribed? Also, is it 5 rounds for time or 5-5-5 then rest before next set?
Steve Pan
2014-08-20
Alec -

There is no prescribed weight, you will have to feel out a weight that is appropriate for those reps. It is five rounds with no rest through that sequence. Five of each exercise five times through.
Ruben
2015-03-30
For the conditioning portion, it should be
5 R, 5 L swing (10 reps total)
5 snatch (alternating or with 1 arm, total 5 reps)
5 R, 5 L ohs (10 reps total)

Thank you,

Ruben
---
Workouts Menu
Workouts Home
Read This First!
Workouts Help & Info
Exercise Library
Training Programs
Starter Program
Tomorrow's Workout
Text Only
Custom Program Design
---
---