Thursday November 29 2012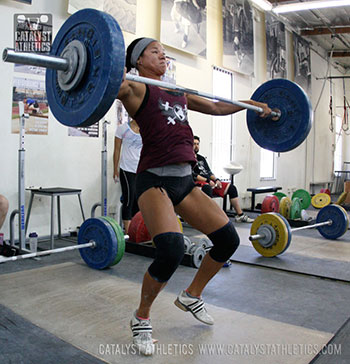 Power Snatch - 70% x 3 x 5
Snatch High-Pull - 70% (of sn) x 3 x 5
Snatch Push Press + Overhead Squat - 70% (of sn or ohs) x 5+1 x 5
WIthout rest:
500 m row
5 pull-ups
400 m row
10 pull-ups
300 m row
15 pull-ups
200 m row
20 pull-ups
Questions? Get answers here or post in comments.
15 Comments
Frank L
2012-11-29
Greg,
Just wanted to say how much I enjoy the site. I am a masters lifter, and can appreciate the time and effort it takes to come up with the cycles and workouts. After four days of pulling, I feel like I went through a meat grinder, but that's what keeps me coming back. I feel like I accomplished something when I am done. Thanks and keep up the good work.
John
2013-06-23
Hey, sorry to bother you guys. But is this being written as weight/sets/reps? or weight/reps/sets? Thanks!
Steve Pan
2013-06-25
If there is a prescription for the weight it will be reps then sets. So 70%x3x5 is 5 sets of 3 reps at 70%. There is more information on the notation at the program help section on the right.
Robert
2014-10-30
Is it 70% of a power snatch or of a snatch?
Steve Pan
2014-10-31
70% of your power snatch.
Tony
2014-12-19
Since the power snatch is @ 70%, should these be touch and go?
Steve Pan
2014-12-19
Do not touch and go. Reset for each rep and work on making a smooth pull from the ground.
kyle
2015-02-02
What is difference between a snatch pull and a snatch high pull? I just looked them up and they look like the same thing. Wasn't sure why they are labeled differently from day one and day four.
Steve Pan
2015-02-02
Snatch pull will be heavier weights and the bar will just have a small follow through with the arms to keep the bar close. The high-pull will be a lower percentage weight and you will focus on continuing to pull upward on the bar following the extension.



There are write ups on each found here:



Snatch Pull: http://www.catalystathletics.com/exercise/97/Snatch-Pull/



Snatch High-Pull: http://www.catalystathletics.com/exercise/99/Snatch-High-Pull/

Bastien
2015-07-08
Hello, for the pull ups is betterfly kipping or strict ? Txs
Steve Pan
2015-07-08
Bastien -

Strict.
Summer
2015-07-15
I'm doing this in a home gym with no access to a rower. Can an airdyne bike or other excercise be substituted for the row?
Thanks
Steve Pan
2015-07-15
Summer -

Airdyne bike or running should be okay to substitute.
---
Workouts Menu
Workouts Home
Read This First!
Workouts Help & Info
Exercise Library
Training Programs
Starter Program
Tomorrow's Workout
Text Only
Custom Program Design
---
---