Saturday February 2 2013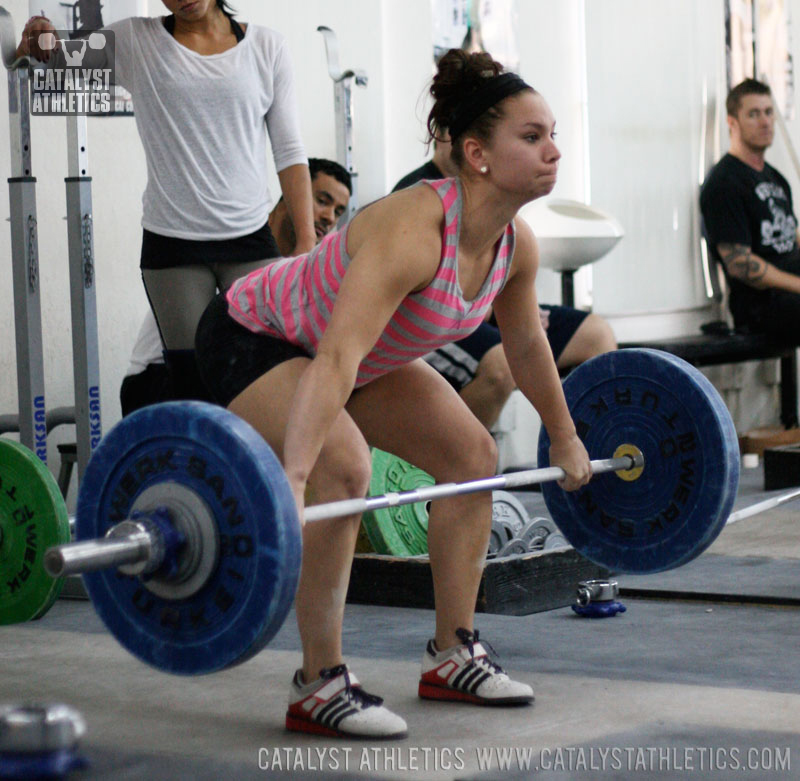 Front Squat - heavy single
Snatch - heavy single
Clean & Jerk - heavy single
Back Squat - heavy single
Pause Back Squat - 4 x 3
Good Morning 3 x 5
9 Comments
Adal Zurita
2013-02-03
hi Greg what do you recommend to increase my lifts ,I have not been able to increase my lifts 2 years ago. like my friend too adal 28 años 67.5kg back squat 170 kilos front squat 140 kilos snatch 82.5kg clean and jerk 105 kg snatch balance 70kg push press 100 kg dead lift 200kg muscle snatch 65kg hang snatch 75 kg snatch of blooks 75 kg adriana 18 años 62kg back squat 125 kilos front squat 102kilos snatch 77kg clean and jerk 93 kg snatch balance 100kg push press 75 kg dead lift 110kg muscle snatch 50kg hang snatch 82 kg snatch of blooks 80 kg
Greg Everett
2013-02-06
Adal- I can't really tell you what to do because I don't know what you're doing now, how you lift, and what you need to work on. You can post videos and your training program on our forum to get ideas - http://www.catalystathletics.com/forum/
Uggy
2013-05-15
Hello . Can spilt this workout in two? Do the snatch and clean and jerk in the morning. And the rest in the afternoon? Or will that just mess things up?
Steve Pan
2013-05-16
Uggy - That should be okay to split the work up over the day if you are able to do that.
andy
2013-06-11
got a pr front squat on this day, 136kg from 135 and then tied my pr snatch @ 102kg!!! definitely like lifting to max every day vs percentages. So far, (in the 3rd week now), i can hit over 90% on every heavy single, usually over 98% on the first lifts and low 90's in the ending lifts. thanks for the challenging and fun program!
Steve Pan
2013-06-11
Good job Andy! Congrats on the PRs.
Colin K
2015-02-24
Sorry if this is a simple question. But when going for a heavy single in this program, roughly how many reps should I be aiming for to get there? Increase weights quickly to reach HS 5 or 6 reps, or increase weight slower and aim for 10ish reps? or something completely different? Thanks
Steve Pan
2015-02-24
Colin - It will be how ever many reps it takes to get to the best you can do for the day. Take bigger jumps in the beginning and smaller ones once you get closer to your max. 8-10 reps should be fine to get there.
Colin Klenner
2015-02-24
Legend, thanks very much Steve. These programs and website are absolutely amazing! I wouldn't be lifting at all if it wasn't for your amazing team! Am going to start this next week, once I finish the "basic rep cycle", looking forward to the challenge!! Regards Colin
Workouts Menu
Workouts Home
Workouts Help
Exercise Library
Training Programs
Starter Program
Tomorrow's Workout
Text Only
Custom Program Design
---
---
Advertise With Us