Thursday May 2 2013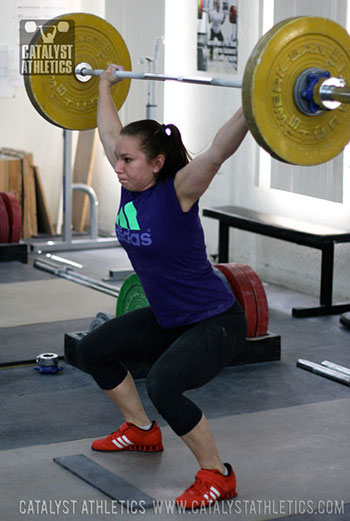 Front Squat - 60%x4, 70%x4, 75% x 3 x 3
Power Snatch - 60%x4, 65%x4, 70% x 3 x 3
Power Clean + Jerk - 60% x (4+1), 65% x (4+1), 70% x (3+1) x 3
OHS - 60%x3, 70% x 3 x 3
Press - 4 x 5
3 sets; no rest:
12 DB Push Press
12 DB High Pull
Questions? Get answers here or post in comments.
12 Comments
David Williams
2013-05-02
Will the cycle of exercises include trials where we measure our max efforts? I have a rough idea for most of them but want to increase the loads when appropriate and want to know if that is part of the workout specifications or something that I should be doing outside of these workouts.

Thanks!

Steve Pan
2013-05-02
You will test maxes on week 9 of this cycle.
Nick King
2013-05-04
is the % on the power clean and the power snatch based off a clean max/snatch max, or the power clean max/snatch max? am supposed to be power snatching 60% of my squat snatch max? or my power snatch max?

Thank!
Steve Pan
2013-05-06
Nick -

The percentages will always be off of the listed exercise unless otherwise indicated.

For this workout you will take the percentages off of your best power snatch and clean.
wonder woman
2013-08-01
Is the DB press one or two handed?

Steve Pan
2013-08-07
It will be 2 handed DB presses.
Tim
2013-09-06
Should I be cycling through the cleans (4+1) in rapid succession, or drop for shoulders and do them individually?
Tim
2013-09-06
nvm i found the answer:
The reps should all be good with a solid starting position on each rep, so there is no "touch and go" with any of the reps.
Steven
2014-03-25
Are the OHS' from a snatch 1RM or from a OHS 1RM if we know that?
Steve Pan
2014-03-25
The percentage will be off of your best OHS.
Guillermo
2014-09-10
what kind of the press at the bottom of the day should I do?
Steve Pan
2014-09-10
Barbell Strict Press
---
Workouts Menu
Workouts Home
Read This First!
Workouts Help & Info
Exercise Library
Training Programs
Starter Program
Tomorrow's Workout
Text Only
Custom Program Design
---
---