Tuesday May 7 2013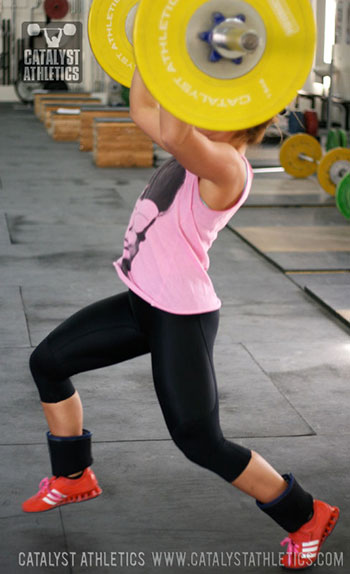 Back Squat - 60%x3, 70%x3, 80% x 3 x 2
Power Snatch + Snatch Push Press + OHS - 60% x (3+3+3), 65% x (3+3+3), 70% x (2+2+2) x 3
Power Clean + Front Squat + Jerk - 60% x (3+3+3), 65% x (3+3+3), 70% x (3+3+3) x 3
Snatch Pull - 85% x 4 x 4
3 sets; no rest:
300m Row
15 DB Push Press
Questions? Get answers here or post in comments.
9 Comments
TJ
2013-05-07
Sorry new to some of the rep schemes here...the 3+3+3? Does that equate to 3 snatch, then 3 snatch push press, then 3 OHS, or 3-snatch, snatch push press, OHS movement patern (one of each 3 times for the set)?
Steve Pan
2013-05-07
TJ -

That is correct. The 3+3+3 will indicate 3 each of the exercises listed in that order; Power Snatch, Snatch Push Press, then OHS.
Adam Fedorciow
2013-05-08
Is the Snatch Pull % off your 1RM Snatch or Snatch Pull?
Steve Pan
2013-05-08
Adam -

It will be off of your best snatch. We will not max out snatch pulls.
Emil
2014-03-28
Hi, wich program focus the most on leg strength?
Steve Pan
2014-03-31
Emil -

Check the training cycles tab to the left for program descriptions. There are two 4-week leg strength blocks that I would work well.
Emil
2014-04-06
Thank you Steve
franco
2015-03-25
Snatch pull would be like a high pull but not as high ?
---
Workouts Menu
Workouts Home
Read This First!
Workouts Help & Info
Exercise Library
Training Programs
Starter Program
Tomorrow's Workout
Text Only
Custom Program Design
---
---