Monday May 13 2013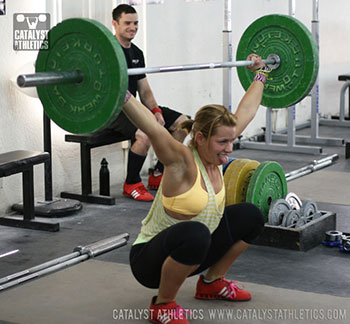 Back Squat - 60%x4, 70%x4, 80%x4, 85%x4, 80% x 4 x 2
Snatch - 60%x4, 70%x4, 80%x4, 85%x3, 80%x4, 85%x2
Clean & Jerk - 60% x (4+1), 70% x (4+1), 80% x (3+1), 85%x3+1, 80% x (3+1), 85% x (2+1)
Snatch High-Pull - 85% x 5 x 4
Push Press - 60%x4, 65%x4, 70%x4x3 (% of jerk)

Week 3 of 9
Questions? Get answers here or post in comments.
7 Comments
Mike
2013-05-13
Are those the workouts that your athletes do throughout the week? Or is that simply the workout of the day?
Nick King
2013-05-13
Somewhere in the "Program Help" or "Training Cycles" section it is mentioned that these are not the workouts done at the Catalyst gym.
John
2013-05-13
More volume the last couple of workouts feels good. Thanks for posting these workouts for the masses! Can you tell us anything about the particular goals/focus of the current cycle? Thanks!
John
2013-05-13
To be more clear about my question, I am familiar with the Program Help link and I know the programming is designed for general training. Wondering what makes this current cycle a 9 week program? Is the duration of these general cycles designed to reach any particular goal, or are they just designed with overall recovery in mind?
Greg Everett
2013-05-15
John -

They are designed with the goal of increasing snatch and clean & jerk in mind, although some have more emphasis on specifics like squat strength. The duration of each cycle is based on the nature of it and how long it takes to accomplish its goals in that way.
Phillip Bridges
2013-11-04
Coach,

I've been going through this cycle recently and had to miss this day because of some ROTC training this weekend. Should I try and make the day up or simply push on skipping this day?
Steve Pan
2013-11-05
Phillip -

You can make this day up on Tuesday and skip the Tuesday workout.
---
Workouts Menu
Workouts Home
Read This First!
Workouts Help & Info
Exercise Library
Training Programs
Starter Program
Tomorrow's Workout
Text Only
Custom Program Design
---
---