Thursday June 6 2013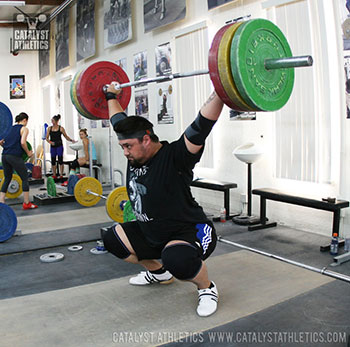 Back Squat - 60%x3, 70%x3, 80%x3, 85%x2, 75% x 3 x 3
Snatch Pull + Snatch - 60% x (3+1), 70% x (3+1), 80% x (3+1) x 3
Clean + FS + Jerk - 60% x (1+3+1), 70% x (1+3+1), 75% x (1+3+1) x 5
Snatch DL on Riser - 90% x 4 x 4
Power Snatch + Snatch Push Press - 60% x (3+3), 65% x (3+3), 70% x (2+3) x 3 (% of full)
Press - 4 x 5
3 sets; no rest:
20 KB Swings
12 Pull Ups
Questions? Get answers here or post in comments.
5 Comments
Nick King
2013-06-06
So I have a dumb question. If I subluxed my shoulder yesterday (not-weightlifting related) am I stupid to continue on with these workouts until the pain goes away?
Nick King
2013-06-06
I guess the gist of that question is really: how serious is that injury for this type of weight lifting?
Nick King
2013-06-06
I'll answer my own question: nothing a little advil won't cure...until tomorrow at least.

In other news, squats haven't felt this good or this easy in a week or two...thanks for the "rest" days!
Brian W
2013-06-06
I think on 1RM day, I may stick with the snatch pull then snatch. It really helped me a ton to home in on full extension and bar height in such a way that and I didnt feel like I abbreviated that extension when I got to the full snatch. I felt like everything just clicked today with that little change. I am looking forward to see where I end up by the end of this cycle.
Steve Pan
2013-06-07
Nick -

See how the shoulder feels, I would say to rest off of it until it is back to being stable. It would be dangerous to try to go overhead if the shoulder is compromised. You should be okay for the squats and the pulls, but feel them out and make sure you are good to go.
---
Workouts Menu
Workouts Home
Read This First!
Workouts Help & Info
Exercise Library
Training Programs
Starter Program
Tomorrow's Workout
Text Only
Custom Program Design
---
---