Saturday June 8 2013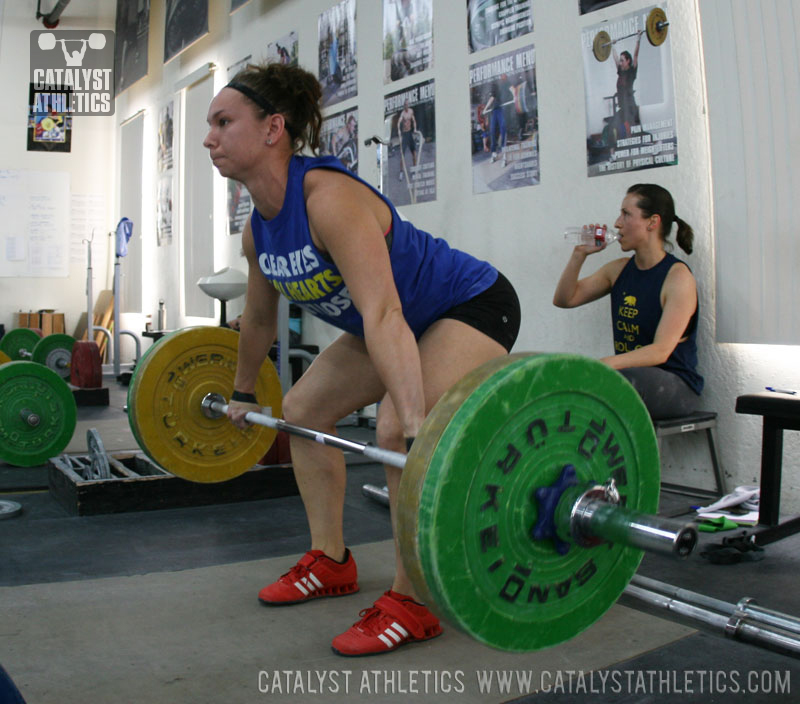 Back Squat - 60%x2, 70%x2 80%x2, 85%x2
Snatch - 60%x2, 70%x2, 80%x2, 85%x2
Clean Pull + Clean - 60% x (3+1), 70% x (3+1), 75% x (3+1) x 3
Power Jerk BNK - 60%x4, 65%x4, 70% x 3 x 3
Front Squat - 60%x3, 70%x3, 80% x 3 x 2
Good Morning - 4 x 8
Questions? Get answers here or post in comments.
6 Comments
Bruce
2013-06-07
Hello evreryone!
can someone tell me whether i have to do the lifts in the same order they're written?
I usually do squats after snatch and cj sessions
Teddy
2013-06-08
Excuse me, but what means BNK?
Nick King
2013-06-08
I took it as Behind the Neck.
Greg Everett
2013-06-08
Bruce -

The order is as such for a reason!
Greg Everett
2013-06-08
Teddy/Nick -

Yes, behind the neck.
Nick King
2013-06-08
So I went for a max snatch today...felt decent and my shoulder has mostly settled back down. 205 (lbs) on first attempt (at 155lb bw). PR by 10 lbs...thanks for the program; it's encouraging to see decent results 2/3's through. maybe a little more by week 9 :)
Workouts Menu
Workouts Home
Workouts Help
Exercise Library
Training Programs
Starter Program
Tomorrow's Workout
Text Only
Custom Program Design
---
---
Advertise With Us