Wednesday July 24 2013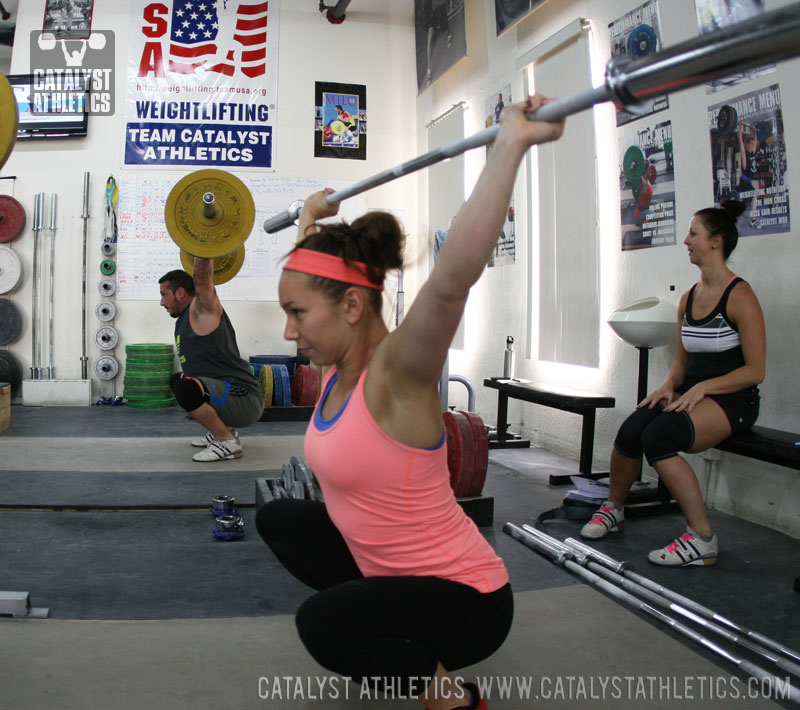 Front Squat - 78%x3x8
Clean Pull - 98%x3x3
Clean Deadlift - 108%x3x3
Snatch Push Press - 78%x5x5
5 Comments
Dakota
2013-07-24
Hey guys new to the website and I had a question about today's workout. I have been power/Olympic lifting for 2 years now and started lifting period when I was 14. I'm familiar with the lifts and my current PR for power clean is 275lbs at a body weight of 165-170 and deadlift (sumo) is 520 so I can pull the weight but my snatch is terrible. At best I get 185 and it isn't pretty. What are some things I could do maybe as far as form that could help? Also when this website prescribes squats or the snatch push press is the bar at a high bar position on the back or low bar? Any information will be appreciated Thank you
Steve Pan
2013-07-24
The squats will be at the "high bar" position. None of the exercises on our programs will be in a "low bar" position on the back. As for working on technique I would suggest finding a coach that you can work with. If one is not available you can always use video and post to our forums for help.
Michael
2013-07-24
The video section of the website is a very is a very useful tool to see how the lifts are done. Mike Burgener has a good instruction video on YouTube to hit the points on the snatch as far as form is concerned. If you google crossfit snatch it should be the first video that comes up. Hope that helps.
Dakota
2013-07-24
Thank you for the advice!!
Brian W
2013-07-25
Dakota, I have the same issue as you. I can back squat twice my body weight, but yet I cannot yet snatch my bodyweight (though I am darn close now). So I am I may not the best person to answer your question. Nevertheless, I can at least share one thing that has been helping me improve over the last 3 months on this website is breaking the lift down into the constituent parts. e.g. things like just doing snatch pulls give me less things to focus on doing correctly.. plus it builds confidence that I know I can get it as high as I need to get under it.
Workouts Menu
Workouts Home
Workouts Help
Exercise Library
Training Programs
Starter Program
Tomorrow's Workout
Text Only
Custom Program Design
---
---
Advertise With Us