Monday October 15 2007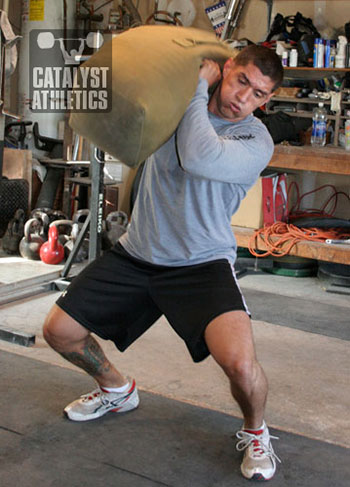 Please
login
to access our training programs.
Registration is FREE!
Questions? Get answers here or post in comments.
19 Comments
Please login to comment!
Joe Wheeler
2007-10-14
"Up is always up."

Good point.
Xi Xia
2007-10-15
Hi Greg,

Love the WODS and keep them coming. I have a research question about olypmic lifters. I have heard on the CrossFit board, on the web, and at Coach B's Oly cert about how olypmic lifters have some of the highest vertical jumps and sprint speeds out of the blocks. So I've been searching for some published research on this and can't seem to find any. Do you know of any published research articles that have measured or compared Olympic lifters in these characteristics? Thanks
Greg Everett
2007-10-15
Xi -

The last issue of the USA Weightlifting magazine gave the numbers from an informal vertical jump contest between the women's volleyball team and women's weightlifting team at the Olympic Training Center in CO. Weightlifters' average was a couple tenths of an inch lower I think. But that includes super-heavyweights.
DougM
2007-10-15
Doesn't this discussion about vertical jump devlove into a chicken-and-egg direction? Does weightlifting develop a strong vertical jump compared to other exercise methods, or do naturally "twitchy" people excel at weightlifting?

I would like to see a study where several large groups of subjects have their vertical leaps measured at time zero, subjected to six months to a year of different training methods - basic strength (e.g. slow squatting), plyometric, weightlifting, and maybe some combination - then measured afterward.

Greg Everett
2007-10-15
Doug - Yes it does. That weightlifters can jump high alone does not prove that weightlifting causes increased vertical jump.

I'm not aware of any studies like you describe, but I think the time frame would either have to be greater, or the subjects would have to come into it with an established level of strength/conditioning. Otherwise the methods would all produce too similar of results based on the rapid adaptation of untrained subjects to just about an physical activity.
ChrisC
2007-10-15
Greg,

Should I be explosive with the snatch deadlift as if I'm trying to snatch or is in concentration on grip and weight?
Greg Everett
2007-10-15
Chris -

The deadlift is not intended to be fast - it's a positioning/strength movement. Focus on setting a solid starting position, getting a tight back arch, and keeping the weight back on your feet. Lower the weight under complete control all the way to the floor as well.

Snatch/clean pulls will be done with full speed.
Doug
2007-10-15
Thanks Doug for reminding me of that. Thanks Greg for the weighlifting magazine resource. These are a couple of abstracts I've found that might answer your question a little bit. I found these abstracts on PubMed.

Short-term effects on lower-body functional power development: weightlifting vs. vertical jump training programs.

Comparison of Olympic vs. traditional power lifting training programs in football players.

xx
mrjling/Jonas
2007-10-15
Unfortunately I managed to mess up my knee (bouldering)again. 4th time in 2 years. Probably the meniscus. Have a MRI booked though. Gonna follow this WOD schedule still but will have to switch things up. Wont log it here as that will be confusing I think.
back to the curls...
Scotty Hagnas
2007-10-15
BS: 237.5 X 3 X 5
DL: 345 X 2; 290 X 3
Sn DL: 170 X 3 X 3
Press: 120x3x3
PP: 155 x 3; 170 x 3
Tuck front lever pullups x7
Dead hang ring pullups x 12 x 7
Windmill 45 x6x6x6
Paul M
2007-10-15
First off these workouts look great. However, I am just really looking to increase my strength as I get tons of cardio from all my martial arts training. Will i see good results if I just perform the strength training part and skip the rounds of "cardio" that are listed on some days? Worried about overtraining

Thanks
Paul
Greg Everett
2007-10-15
Paul -

By all means, drop the non-strength/Oly training. The real goal of this training is to produce strength and power gains while maintaining a decent level of fitness instead of neglecting it entirely. If your fitness is being handled by other means, you won't lose anything by skipping it here.
ec
2007-10-15
bs 145#
sgdl 125#, 135x2
subbed press for pp, up to 90#x 3
(deadhang) pullups 6,7,5

and trying to inc dips, subbed for windmills 6,3,3

question - ive assumed pullups in the strength half of the wods should be deadhang and then kipping in the metcons.... right?
Martin Schap
2007-10-15
Back squat- 235x3x5
Snatch DL- 215x3x3
Push press- 185 x3, 195x2
Pull-ups- 28, 20, 15
Windmills- 20kgx1x6, 16kgx2x6

MartinSchap
2007-10-15
EC
GOing back to the first WOD on Oct 1, deadhangs were specified. Based on that, I have been assuming that the Performance Menu, like CrossFit, is presribing the kipping pull-up as the default pull-up. I will eagerly await the official word though, because if I am wrong it will totally change the results from today for me.
Greg Everett
2007-10-15
Pull-ups - deadhang when in the strength section; kipping when in metCon.

Jumping sit-up - You can see in it action here
Martin Schap
2007-10-15
From now on I will do deadhang. Thanks for the clarification.
DougM
2007-10-16
M/38/5'11"/170

Squat 182x3x5
Sn D/L 95x3,100x3,110x3x3
Push Press 100x3,110x3,115x3,120x3,125x3

Pullups 11,7,4
"Windmills" 3x10 with 25 lb plate

Not sure what windmills are, so I took a 25 lb plate in both hands, starting at my waist, and did a circular motion over my head (like a half-moon, only a "full moon" because I went in a full circle).
joe wheeler
2007-11-17
BS: 95kg
sn dl up to 70 x 3 x 3
push press x 3 @ 60-65-70-72.5-75
pullups: 5-4-3
did bent press instead of windmills by mistake. 9kg DB was all there was
Get the App!
Catalyst Athletics programs are available through our exercise.com app. Unlimited access to all programs for only $10/month, or purchase programs individually for only $10 each!
Join the Group
Buy Programs
---
Tag Us!
Tag us on social media when you post videos and photos of your workouts!
#catalystathletics
Instagram: @catalystathletics
Twitter: @cathletics
Facebook: @catalystpm
---
Workouts Menu
Workouts Home
Read This First!
Workouts Help & Info
Exercise Library
Training Programs
Starter Program
Tomorrow's Workout
Text Only
Custom Program Design
Get the App
---
---