Tuesday October 16 2007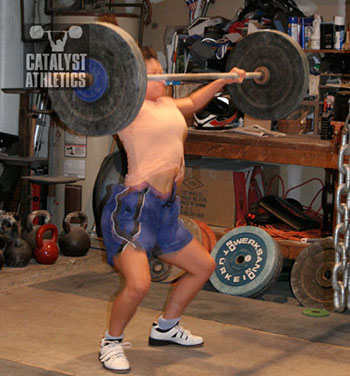 Please
login
to access our training programs.
Registration is FREE!
Questions? Get answers here or post in comments.
13 Comments
Please login to comment!
ctb
2007-10-15
Can someone tell me what a jumping sit-up is? thnx
Allen Y
2007-10-16
CTB,

Check out this link it's 1/4 through the video http://www.performancemenu.com/daily/video/leoWorkout3.mov

It's basically a situp with enough momentum to stand-up and do a jump.

I think when Greg made this workout he was having a "muhahaha" moment.
xi xia
2007-10-16
Greg,

When a workout says 20% BW with dumbbells, does that mean each dumbbell should be 20% of BW or both bells added together?

xx
Greg Everett
2007-10-16
Each DB should be around 20% of bodyweight. So for example, at about 205lbs, I'd use 40lb dumbbells.
Geoff Aucoin
2007-10-16
CTB the explaination for the jumping sit-up is about 4 inches under the exercise prescription for the day. You gotta read the whole deal, homie...
Peter
2007-10-16
BW=180lbs
Mus sn+ Sn Bal 2(1+1)x5 = 65,85,95,105,115lbs
PC&J = 95,135,155,185,195,205,215(F),175,175lbs
This is 10lbs below my PR squat cln. Need to figure out whats wrong that.

4 rounds:
10 jumping situps
12 DB PP, 35lbs
15 PC, 95lbs (subbed these for zerchers)
Forgot to set a timer for the metcon. Didn't feel like I was moving super fast, so I'd say ~15minutes.
Scotty Hagnas
2007-10-16
Mu Sn+Sn Bal: 55,65,75,85,95 lbs Starting to balk at dropping under 95 quickly.
PC+J: 135x1;155x1;175x1;150x1x1
WOD as prescribed, 30 lb DBs and 58 lb "sandbag"
15:55' That sucked!
The explosive situps were fun, the PP easy, but those cleans... I hadn't gotten my little bags for sand yet, so I put 20 lb and 12 lb Dynamax med balls into a duffel bag, along with a 26 lb homemade D-ball. A bit of padding, and everything fit perfectly. Two problems: the large diameter made the zercher catch/squat brutal, and then halfway thru the first set - the d-ball throat punched me on the catch. Ouch.

ec
2007-10-16
mu sn/sn bal, 55#x2, 65#x3 (boy are mu sn's tough!)
pc/j: failed a few times at 125# before hitting it, dropped back to 105#x2

metcon, 15:56, a bit of hand assistance on the j sit ups, 35# dbs, and 45# sandbag... cause thats all the sand i have... for now.
Martin Schap
2007-10-16
Muscle snatch + snatch balance- 111x2x5
Power clean + jerk- 195
4 rds:
10 sit-ups
12 Push press with 20 lbs DBs (I am an idiot)
15 thick bar hang cleans with about 65 lbs

10:20
mrbourgot
2007-10-17
Hey all. The name's Pete, regular UK crossfitter at www.crossfitmanchester.com. Trying to up my power a little so plan on doing one or two of these a week on top of regular crossfit plus my mma training. Will prob do the hybrid days.

Muscle snatch + snatch balance - 2(1 + 1) x 5
In kg:40-45-50-55-60(f)

Power clean + jerk - work up to heaviest for the day; drop 15% for 2 more singles
In kg: 70-75-80-85-90-92.5(f)-80-80

4 rounds for time of:
10 jumping sit-ups
12 dumbbell push press 2x15kg
15 sandbag zercher cleans 25kg
Time: 20.02


Bradford Green
2007-10-17
A day behind...

MS+SB all at 65lbs

PC+J 135, 145, 155(f), 125, 125

No MetCon
joe wheeler
2007-11-16
muscle sn + sn balance: 40-45-47-47-50kg
(was ready to go heavier, but I couldn't drop, so no failure, and it was cramped with humans)

pwr cln + jerk: work up to 65 + 55-55 (same problem)

metcon
subbed hang pwr cln with 40kg for the sandbag. This really fries my grip, which is my weakest link.

I usually don't time these metcons and ust go as quick as I can. This was solid.
joe wheeler
2007-11-16
And I am switching today and yesterday so will do yesterday tomorrow. Reason: access to equipment.
Get the App!
Catalyst Athletics programs are available through our exercise.com app. Unlimited access to all programs for only $10/month, or purchase programs individually for only $10 each!
Join the Group
Buy Programs
---
Tag Us!
Tag us on social media when you post videos and photos of your workouts!
#catalystathletics
Instagram: @catalystathletics
Twitter: @cathletics
Facebook: @catalystpm
---
Workouts Menu
Workouts Home
Read This First!
Workouts Help & Info
Exercise Library
Training Programs
Starter Program
Tomorrow's Workout
Text Only
Custom Program Design
Get the App
---
---