Friday October 19 2007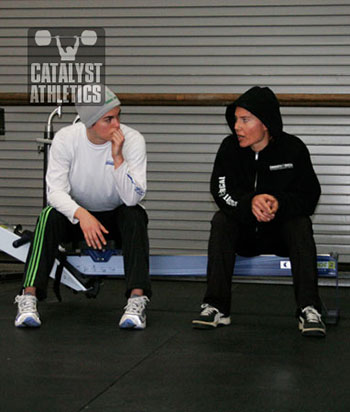 Snatch balance – work up to a heavy single
2-position snatch – floor, hang – 60% x 4 sets
2-position clean + push jerk – floor, hang – 60% x 3 sets
3 rounds for time of:
200 M sprint
Kipping Pull-ups – near max (stop short of failure)
Post numbers and questions to comments.
Questions? Get answers here or post in comments.
6 Comments
Allen Y
2007-10-19
Since I've missed every max day so far and not too sure where my numbers sit but I also need the technical work. I'm debating about which workout to do or if I should try to combine it.

Technical stuff first? then try to Max? Or vice versa? Greg? Anyone?
Martin Schap
2007-10-19
Snatch balance- 125
2 pos. Snatch (floor and high hang)- 89x4 sets
2 pos clean (floor and high hang) + push jerk- 121x3 sets

3 rds:
Sprint 200m
15 broomstick OHS

4:28

Had to choose between running and pull-ups. I chose running because I skipped it last time. I will get some pull-ups in this evening because I will have access to the amazing pull-up bar I built.
Greg Everett
2007-10-19
Allen - If you need the technical work, do it. Max days don't mean much if your technique is the primary limiting factor. After a tech day, if you still have plenty of gas in the tank, you might take one lift up heavy and see how you do.
mrjling/Jonas
2007-10-19
36/M/65kg

Snatch Balance 40kgx2x4
Snatch 2pos 30kgx1x4
Clean 2pos 40kgx1x4

Technique is all over place...
Some pullups and a little benching after.
Scotty Hagnas
2007-10-19
Sn Bal: 13 sets, worked up to 115 lb. today. Big improvement from earlier in the week - but still a long way to go.

2 pos. SN: 80 lbs. all
2 pos. C&PJ: 115 lbs all

WOD: 3 rounds:
200m sprint
Kipping pullups X26X12X10 Arms didn't feel recovered yet..
Time: 5:00'

Few CB mills, hammer swings, and MB kicks - then relaxed stretching/movements.
joe wheeler
2007-11-20
sn bal to 50kg
2-pos sn @ 40kg
2-pos cln + pj @ 50kg

metcon: 3 rounds
jump rope 1:00
5 jumping/assisted muscle-ups

---
Workouts Menu
Workouts Home
Read This First!
Workouts Help & Info
Exercise Library
Training Programs
Starter Program
Tomorrow's Workout
Text Only
Custom Program Design
---
---