Wednesday October 24 2007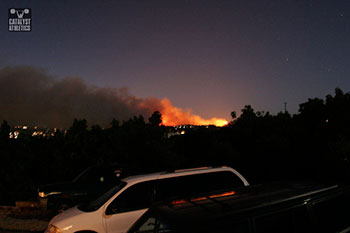 Please
login
to access our training programs.
Registration is FREE!
Questions? Get answers here or post in comments.
13 Comments
Please login to comment!
Allen Yeh
2007-10-23
Wow that picture is crazy, let's hope for good weather.
Sam In Aus
2007-10-24
Crazy stuff, we get massive bush fires in Oz every year. Hope every one is safe !
sarena
2007-10-24
Wow, so relieved. May you continue to be safe
Derek
2007-10-24
Working out at the LA Fitness in Avondale AZ. It is a brand new facility, typical big box gym. I will give props to the one trainer I saw working this morning. He had a big guy who was significantly overweight doing power clean and push press for reps with 95 lb's supersetted with some ab work. I even went up to the trainer after he finished and told him nice job with the guy.

5 Minute Row
Power Snatch 45 X 2, 65 X 2 X 2, 95 X 2 X 3
Power Clean and Jerk 95 X 2 X 2, 115 X 2 X 2, 135 X 1 X 2
FS 135 X 2, 155 X 2, 165, 175, 180
Fingertip Chins on support X 2 X 6
Press 65 X 10, 85 X 6, 105 X 3

I was having a hard time today as I have some stuff on my mind that was interfering with my focus. PS felt good I marrowed my grip slightly from last week. PC no problem but my wrist was very sore, Jerk no problem. FS felt great up to 180. Funniest moment on the FS was with 135, I was in one of those racks that are angled and you step back and the rack comes out flat with the supports well when you squat deep you make a real loud noise when the bar hits the rack and it is also a good way to rearrange your dental work. Note to self step all the way out of the rack before FS'ing.

Greg please keep us posted on what is happening in your world.
aimee
2007-10-24
We are at coach b's, on house arrest. The fires are pretty much surrounding us, so we are staying inside until they tell us we have to leave. We still can't get home but Bonsall has not been evacuated at this time.
Unfortunately we can't train due to the ash and smoke.
But we are getting lots of time on the couch...
mrbourgot
2007-10-24
In kg:

Power snatch 2-2-2-2-2
40-50-60-60-60

Power clean + jerk 2-2-2-2-2
60-70-80-80-80

Front squat 1-1-1-1-1
70-80-90-90-90


20-15-10 reps of:
Burpees
Sandbag power clean + push press
Kettlebell cross chops
Time:12.55

These performance menu WODs are tough.
mrbourgot
2007-10-24
Oh yeah, sandbag 25kg, kettlebell 16kg

Cheers, Pete
mrjling/Jonas
2007-10-24
36/M/65kg

1pood KB Snatches from ground 3LH/3RH x5
1pood KB PowerClean PushPress 3LH/3RH x5
Jumping Front Squats w/1pood 3x5

Tabata Pushups 19-19-19-19-19-19-17-14
1pood KB CrossChops 15L/15R

Cold night out.
Scotty Hagnas
2007-10-24
PSn: up to 105x2 for 3 sets
PC+J: up to 155x2 for 3 sets
FS: up to 225x1
Did a max effort weighted dip test: up to +125 lbs for 1 rep. I never dip, so I guess planche pushup variations are legit....

WOD: 25-20-15 reps of:
Burpees
Double KB C&J w/36#s
KB Cross Chops 36#
Time: 14:56'

Got the mini sandbags and sand. Now to fill them on Friday.

Analisa Naldi
2007-10-24
We're sending you guys all of our love and prayers from nor-cal! Glad to hear the winds have shifted and are slowing down! Take care -
We're here for anything you all need!
FIT BBC
DougM
2007-10-25
M/38/5'11"/170

Pwr Snatch 65x2, 75x2, 85x2x3
Pwr Cln + Jerk 95x2, 105x2, 115x2x3
Front Squat 135x3, 145x2, 150x1x3

No time for metcon
Martin Schap
2007-10-25
Power snatch- 115x2x3
Power clean + jerk- 165x2x3
Front squat- 235

Conditioning- all weird. kept messing up my watch and then I would get confused. I broke a sweat, that's about what I can say for today.

Props to the LEOs who shot a suspected arsonist. My thoughts and prayers are with you there. Stay safe.
Allen Yeh
2007-10-26
ankle mobility drill- multi planar x 5L/R
leg swings - 10L/R
split squat - 5L/R
lateral squat - 5L/R
rotational squat - 5 L/R
wall slide 10
x-band walks - 5L/R
ring rows - 6, 6

burgerner warmup- 45 x 1
power snatch - 45 x 5, 95 x 2, 115 x 2, 135 x 2, 145 x 2, 155 x 1+0, 145 x 2 (rest 60 seconds)
power clean and push jerk - 145 x 1, 145 x 2, 145 x 2, 165 x 2 (rest 60 seconds)
front squat - 45 x 5, 95 x 4, 145 x 3, 195 x 1, 225 x 1, 245 x 1 (rest 60 seconds)

25-20 reps of:
Burpees
Medicine ball clean + push press - 20#
Kettlbell cross chops (add 1 rep as needed to make even number) -16 kg KB
Total time: 11:13

Notes:
-Mobility drills from Mike Boyles Latest artice- felt pretty good, not the same as I have been doing but same ideas behind it.
-CA WOD 10/24
-Power cleans + push jerk - should have ramped down then back up rather than just starting with my last snatch weight. The last 2 sets felt good the first 2 sets felt like crap and kind of jammed my wrist on a bad catch.
-Front squat - Flying up today, could have gone to at least 275+ I think today but I kept it sub-max
-Metcon - eliminated the 15 reps since knee was hurting a bit. I need to do more burpees, ugh my conditioning has gone to crap! Did the cleans with a dynamax ball, it was either MB, KB or barbell, and my kb clean form was a bit rusty as I smashed the heck out of my forearms when I went to try them out. KB cross chops were fun.
Get the App!
Catalyst Athletics programs are available through our exercise.com app. Unlimited access to all programs for only $10/month, or purchase programs individually for only $10 each!
Join the Group
Buy Programs
---
Tag Us!
Tag us on social media when you post videos and photos of your workouts!
#catalystathletics
Instagram: @catalystathletics
Twitter: @cathletics
Facebook: @catalystpm
---
Workouts Menu
Workouts Home
Read This First!
Workouts Help & Info
Exercise Library
Training Programs
Starter Program
Tomorrow's Workout
Text Only
Custom Program Design
Get the App
---
---