Saturday November 3 2007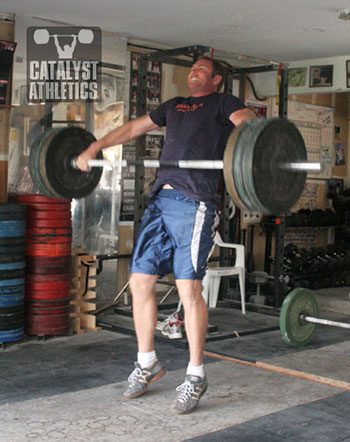 Snatch - 90% x 1 x 3
Clean & Jerk - 90% x 1 x 3
Front squat - 90% x 2 x 3
Post numbers and questions to comments.
Questions? Get answers here or post in comments.
7 Comments
Derek
2007-11-03
Let's see my joints hurt, check. My muscles are sore, check. I must be doing the program correctly.
Alicia Zhuang
2007-11-03
SN 27.5kgx1x3
C&J 40kgx1x3
FS 42.5kgx2x3

Body was tired and was struggling with C&J even though my 1RM (power) is about 55kg.

pete
2007-11-03
Sn=158lbsx1x3
C&J=198x1x3
FS=225lbsx2x3
DougM
2007-11-04
M/38/5'11"/170 lbs

Snatch: 65, 75, 85, 90x1x3
C&J: 95, 105, 115, 125x1x3
Front Squat: 135x3, 145x2, 157x1 (stopped because my back started hurting)

My back is still bugging me. The pain is along the axis of the spine, about in the middle. I hurts a little when I take a deep breath, or when I sit upright. It really hurts when I have a front squat in the racked position.

I may go light next week or even take it off if this continues. I don't want to mess with my back.
Scotty Hagnas
2007-11-04
Sn: 112.5xmissx1x1
C&J: 175x1x1x1
FS: 235x2x2x2

Felt pretty good, but tired.
Derek
2007-11-04
Same as everyone body is smoked.

B W/U
Snatch 45, 61, 81, 91, 104.5 X 2
C&J 104.5, 115, 135, 145 C missed J, 145 C missed J

Totally forgot about the FS's oh well.
Leonid S.
2007-11-26
Sn 75 kgx1x3
C&J 100 kgx1x3
FS 107.5 kgx2x3

No misses. Everything felt good except jerks - a bit too much muscle not enough explosion.
---
Workouts Menu
Workouts Home
Read This First!
Workouts Help & Info
Exercise Library
Training Programs
Starter Program
Tomorrow's Workout
Text Only
Custom Program Design
---
---