Tuesday November 6 2007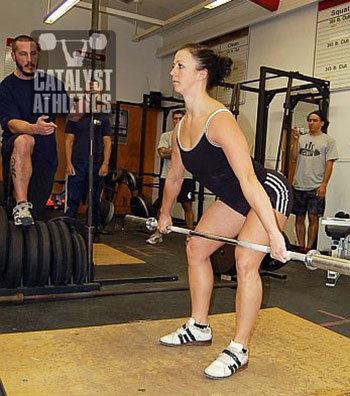 Please
login
to access our training programs.
Registration is FREE!
Questions? Get answers here or post in comments.
11 Comments
Please login to comment!
Derek
2007-11-06
Didn't have time to get to a real gym so quick crappy workouut with no O/Lifts in the hotel.

Oh well probably needed the recovery. Can't wait to work out tomorrow with Dr G.
mrbourgot
2007-11-06
Muscle snatch + 2 snatch balance
40-45-50-55-60(f)-50-50

Failed the first snatch balance

Snatch
50-50-50-50-50

C&J
75-75-75-75-75

Needed to get lower. On a higher weight wouldn't have gotten most of these.

4 rounds for time of:
5 L&R 24kg KB snatch
20 Russian twists 16kg KB
10 pull-ups
Time 7:10

Nice little blast through

Cheers, Pete
mrjling/Jonas
2007-11-06
36/M/65kg

Hang Power Snatch 40kgx2x4, 45kgx1x2

4 rounds for time of:
10 KB snatch (5 each arm) - 17kg
20 Russian twists - 10kg
10 kipping pull-up -

5:18
ChrisC
2007-11-06
Worn down. Didnt have a problem with the weight but it did feel extra heavy. Are we working towards another PR day?
Greg Everett
2007-11-06
Chris -

We are ALWAYS working toward a PR day! Don't you worry.
Alicia Zhuang
2007-11-06
MSN & SNB 15kg 1+2x3
SN 20kgx1x5
C&J 35kgx1x5

4 rds
15kg 10 DB SN
8kg 20 Russ Twists
10 (strict chinups till failure then jumping - can't kip yet)

12:10

i might have to drop out.. depending... because my left rotator cuff hurts
Greg Everett
2007-11-06
Alicia -

Definitely take it easy on your shoulder. Whatever movement aggravates it, drop it entirely for now. Give it at least a couple days and see how it's doing. Then bring it back in gradually and see what happens. You may have to stay light for a week or two, or you may have to drop certain movements for a period of time. Better to slow down for a bit than injure yourself--recovering from pain is easier than recovering from an injury.
Alicia Zhuang
2007-11-07
Ok Greg, thanks for your advice!
Allen Yeh
2007-11-07
shoulder prehab circuit 1:
db retraction - 20 x 12L/R, 20 x 12L/R,
db protraction - 20 x 12L/R, 20 x 12L/R
sleeper stretch - 12, 12

thoracic mobility - 5 each
ankle mobility drill- multi planar x 5L/R
leg swings side to side + front to back - 10L/R
arm swings - 10 forward/backward
split squat - 5L/R
lateral squat - 5L/R
rotational squat - 5 L/R

burgerner warmup- 45 x 1
muscle snatch + snatch balance - 45 x (1+2), 95 x (1+2), 115 x (2+1), 115 x (1+2), 125 x (1+2)
(rest 45 seconds)

snatch - 125 x 1, 125 x 1, 125 x 1, 125 x 1, 125 x 1
(rest 30 seconds)

clean and jerk - 125 x 1R, 175 x 1L(Slammed my chin on the jerk), 175 x 1R, 175 x 1R, 175 x 1L, 175 x 1R
(rest 30 seconds)

3 rounds:
10 kb snatch - 24KG
20 russian twists - 20# dynamax
10 pullups - rings
Total time: 6:47

Notes:
-Incorporating the diesel crew shoulder prehab stuff
-Mobility drills from Mike Boyles Latest artice- felt pretty good, not the same as I have been doing but same ideas behind it. Thoracic felt a bit odd
-CA WOD 11/06
-muscle snatch + snatch balance - felt decent, couldn't get too much heavier than 125 for the muscle snatch
-snatch - Felt great today though it is somewhat discouraging to have your muscle snatch be close to your snatch number
-Clean + Jerk - The cleans felt good, the first few jerks felt crappy, clocked myself right in te chin on the first set.
-Met-con - Had to cut to 3 rounds because the power pump class was about to start, meanwhile they were looking at me like I was insane.
-kb snatch - no problems with conditioning, more problems with hand tearing and improper technique.
-russian twists - felt it in my back a bit, tried to rotate more and twist less.
-pullups - kipping on rings is weird and it was hard for me to get a good rhythm going.
Scotty Hagnas
2007-11-07
Good warmup of foam roling/tennis ball, joint mobility, and movement prep stuff.

MSn + SB: Worked up to 85 for 3 sets - kept it pretty light and worked to get better wrist turnover on the catch.
Sn: 100xmissx1x1x1x1 Stupid mistake on the first miss.
C&J: 155x1x1x1x1x1

WOD: Modified a bit to get in some extra work.
4 rounds-
One arm KB snatch 24K x5/5
Russian Twists w/26 lb D-ball x20
Wtd pullups 36 lbsx5
6:50'
Stretch a bit, 2 partial straddle planche holds.
Leonid S.
2007-11-27
MSn+SnBal - 35 kg, 40 kg, 42.5 kg
Sn 65 kgx1x5
C&J 87,5 kgx1x5

WOD
10 KB Sn 28kg
20 Russian twists 16 kg
10 Ring kipping pullups with 25 lbs backpack.
12:25.

BW 217.
Get the App!
Catalyst Athletics programs are available through our exercise.com app. Unlimited access to all programs for only $10/month, or purchase programs individually for only $10 each!
Join the Group
Buy Programs
---
Tag Us!
Tag us on social media when you post videos and photos of your workouts!
#catalystathletics
Instagram: @catalystathletics
Twitter: @cathletics
Facebook: @catalystpm
---
Workouts Menu
Workouts Home
Read This First!
Workouts Help & Info
Exercise Library
Training Programs
Starter Program
Tomorrow's Workout
Text Only
Custom Program Design
Get the App
---
---