Friday November 9 2007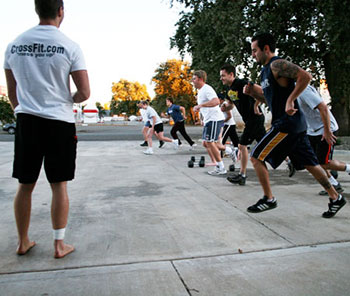 Please
login
to access our training programs.
Registration is FREE!
Questions? Get answers here or post in comments.
7 Comments
Please login to comment!
Derek
2007-11-08
So much for thinking that Friday was an easier technique day and the heavy lifting would be Saturday.

I am going as heavy as I can I will be at a Bally's in NJ so I will make it work somehow.
Derek
2007-11-09
Worked out at a Bally's in Cherry Hill NJ. I am pretty sure that Bally's is some foreign word for partial ROM exercisers. Man I saw some funny stuff today. I didn't know it was possible to get a full on hip kip in a DB bicep curl.

I couldn't put a BB with plates on it overhead because when I did the plates would push up the ceiling tiles. Crazy. So lots of modification.

DB Snatch L Hand, L Leg, Squat, R Leg, R Hand, L Leg, Squat, R Leg 35 LB DB, 40 LB DB, 45 LB DB, 50 LB DB
Clean Pull / Jump Shrug up to 170 X 1 X 5
Walked BB to another place Press 105 X 1 X 5
Incline Press 45 DB's X 8 X 3
DB Rows 45 DB's X 5 X 3
FS up to 170 LB's 1 X 5

20 Jump Kipping P/U's
20 Push Ups
15 Jump Kipping P/U's
15 Push Ups

Not what was RX'ed but at least it was something.



Greg Everett
2007-11-09
Derek -

That 90% on th CJ was a typo (Kids - Don't write workouts after smoking PCP). If you got close to 90%, keep the snatch as RXd tomorrow, but drop the CJ to 75-80%.
Allen Yeh
2007-11-09
Missed Tuesday and Wednesday due to scrambling around trying to get ready for my trip back to Naples, Italy. Combined the Wednesday WOD with Friday's.

November 9, 2007
row@5 - 500m 1:51
shoulder prehab circuit 4:
incline db retraction - 20 x 12, 20 x 12,
prone Y's - 5 x 12, 5 x 12
prone internal rotation- 5 x 12, 5 x 12

thoracic mobility - 5 each
ankle mobility drill- multi planar x 5L/R
leg swings side to side + front to back - 10L/R
arm swings - 10 forward/backward
split squat - 5L/R
lateral squat - 5L/R
rotational squat - 5 L/R
x-band walks - 10L/R
burgerner warmup- 45 x 1
muscle clean + tall clean - 45 x 3(1+1), 95 x 2(1+1), 135 x (1+1), 135 x (1+1), 135 x (1+2)
(rest 45 seconds)

snatch - 3pos x 95, 115 x 1, 135 x 1(power)+ 1 regular, 145 x 1(power), 145 x 1(power), 145 x 1(power), 145 x 0(tried full), 145 x 1(from hang)
(rest 120 seconds)

clean and jerk - 145 x 1R, 195 x 1R, 195 x 1R, 195 x 0(bad catch), 195 x 0(made clean missed jerk)
(rest 60 seconds)

Front squat - 95 x 3, 135 x 2, 185 x 2, 225 x 2, 245 x 2, 245 x 2
(rest 60 seconds)

1-leg DB RDL - 35 x 8L/R, 35 x 8L/R, 35 x 8L/R
1 round:
21 ring pullups
21 clapping pushups
21 ring rows

Notes:
-Incorporating the diesel crew shoulder prehab stuff
-Mobility drills from Mike Boyles Latest artice- felt pretty good, not the same as I have been doing but same ideas behind it. Thoracic felt a bit odd
-CA WOD 11/09+11/07
-muscle clean + tall clean - felt good
-snatch - I know my first pull is messing me up but I'm not sure how to remedy this problem.
-Clean + Jerk - These felt really good today, missed the last 2 though
-front squat - No problems
-Met-con - Something I made up, should have done 7-7-7 or something.
ec
2007-11-09
kind of forgot to write down the wod before heading to the gym, so this is what i did:

sn 80%x1x4 - 85#
c&j 80%x1x4 - 115#
then did fs 90%x2x2 - 125# bc i totally forgot the 3rd thing

dare i say everything felt pretty light?

remembered the metcon though, 16:23 with 20# wallball.
Scotty Hagnas
2007-11-09
MC + TC: up to 85x1+1 for three. Kept it light.
Sn: 100x1x1x1x1x1
C&J: 175x1x1x1x1x1 Did the 90% typo wt. - actually felt ok.

Later, WOD all as Rx'ed.
12:21' THAT sucked.
Alicia Zhuang
2007-11-10
MC + TC 10kg 1+1x3
SN 15kgx1x5
C&J 40kgx1x5 (did the typo)

1000m row, 6kgx20 push ball, 20 JPUs
750m row, 15 push ball, 15 JPUs
500m row, 10 push ball, 10 JPUs
18:26
Get the App!
Catalyst Athletics programs are available through our exercise.com app. Unlimited access to all programs for only $10/month, or purchase programs individually for only $10 each!
Join the Group
Buy Programs
---
Tag Us!
Tag us on social media when you post videos and photos of your workouts!
#catalystathletics
Instagram: @catalystathletics
Twitter: @cathletics
Facebook: @catalystpm
---
Workouts Menu
Workouts Home
Read This First!
Workouts Help & Info
Exercise Library
Training Programs
Starter Program
Tomorrow's Workout
Text Only
Custom Program Design
Get the App
---
---