Monday November 12 2007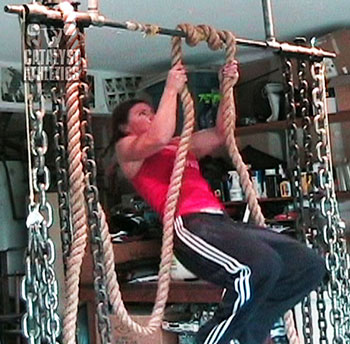 Please
login
to access our training programs.
Registration is FREE!
Questions? Get answers here or post in comments.
11 Comments
Please login to comment!
Derek
2007-11-11
What is the protocol you have had the most success with when trying to hit a single. How many reps of lighter weight, then what kind of a jump to heavy single do you traditionally do?

I haven't figured out if I am doing too many warm up sets or if my projected weights are too high or too small of an increase.
Alicia Zhuang
2007-11-11
Greg, thanks for putting up workouts for "tomorrow" as well. It is very useful because I'm half a day ahead and the gym is sometimes only open Mon-Sat. So this function helps me fit your schedule into the gym's opening days :)

Derek, I usually follow the CFT protocol Mark Rippetoe suggested here: http://www.crossfit.com/journal/2006/11/the_crossfit_total_by_mark_rip.html)

SN 30kgx1x1
C&J 40kgx1x1
FS 42.4kgx1x1

I was surprised with the snatch and probably could have gone much higher but form is not spot on so it'd have been useless.
Greg Everett
2007-11-11
Derek -

The basic tenet of warm up sets/reps is "As few as possible." In other words, perform as little work as is necessary to prepare you for what you're doing. As an example, if snatching to a heavy single, I might do some warm-up work with the empty bar, muscle snatch + 2-3 snatch w/ 50, snatch 70, 90, 100, 105, 110, 115... With CJ, I'd do a few with 50, maybe 70 if I'm not warm, 90, 110, 125-30, etc.

The better developed your technique, the fewer warm-up sets you'll typically need. The more technical the lift, the smaller the jumps you'll want to take as you approach the top end, e.g. smaller jumps for the snatch than for the CJ.
Derek
2007-11-12
Thanks Greg and Alicia for the thoughts. Alicia its funny I have used that method every time I have done the CFT but never would have thought to apply it to the O/Lifts. Greg your weights are in Kilos but they translate almost identically to me for the SN how depressing.

Row 3:45
B W/U

MS 45 X 3
SN 45 X 1, 61 X 1, 81 X 1, 91 X 1, 101 X 1, 106 X 1, 111 X 1, 116 X 1 (1lb pr), 121 M
C&J 95 X 1 + 2, 115 X 1, 135 X 1, 145 X 1, 155 X CMJ, 155 X 1
FS 135 C + FS, 155 X 2, 171 X 2, 181 X 2
OHS 65 X3, 75 X 3, 85 X 3

Coaching myself which is dangerous, I am not having trouble on the pulls just when I am putting the weight overhead. I think it is mainly a mental thing, but I definitely need to work through it.

I was real happy with getting the 116 on the SN since I had such a problem with it on Saturday. OVerall great workout.

mrbourgot
2007-11-12
Done as per CFT protocol

In kg:
Snatch 60-65-67.5(f)
C&J 90-92.5-95
Front Squat 110-115-117.5(pb)

Front squat as singles.

Finished off with 3x10 deadhang pull ups.

Good days lifting. Cheers, Pete
TomR
2007-11-12
A question: I can handle considerably more weight cleaning if I catch in a split. I can't do OH squats with weight and cannot catch the snatch in a squat at all. I'm inflexible, have sore shoulders, and am old (61). So the question: Should I just use the split catch?

I'm a self-taught newcomer, and I'm simply trying to get the best result given the wear and tear on my rusty chassis.

Thank you for guidance.
Greg Everett
2007-11-12
Tom -

The split is a legit alternative. If you're convinced you'll never develop the flexibility to receive in the squat position, the smart call is to develop the split variations. What I'd recommend, though, is to split with both legs to avoid strength imbalances and pelvic rotation. I've always wanted to get an athlete to split clean with one leg forward and jerk with the other leg. You could be the pioneer!
TomR
2007-11-12
thank you, Greg.

Previously I had read about alternating the lead leg of the split, and do that when training. When I go (relatively) heavy, my instinct is to lead w/ my left leg (I am left-handed). Given your encouragement, however, I might set a course to become be an alternate-legged, splitting, geriatric, Olympic-style lifter.
Greg Everett
2007-11-12
Tom -

If you decide to stay with the left lead leg in your heavier reps, you can always get some balance by throwing in some right-leg-forward split squats occasionally.
ec
2007-11-12
bleh.
95# for the snatch.
120# for c&j
125# for fs.

think i need to drop weighted snatches for awhile. trying to change too many things at once with the set-up, which doesnt go well for trying to hit 100%+.

then quick 10 min bw metcon - sq/situps/pushups.
Scotty Hagnas
2007-11-12
Sn: 125x1 Went up easy.
C&J: 175x1 Felt heavier than usual.
FS: 235x2 Heavy.
DL: I took a try at 365 - got it off the floor a few inches, but then it wouldn't budge.
Get the App!
Catalyst Athletics programs are available through our exercise.com app. Unlimited access to all programs for only $10/month, or purchase programs individually for only $10 each!
Join the Group
Buy Programs
---
Tag Us!
Tag us on social media when you post videos and photos of your workouts!
#catalystathletics
Instagram: @catalystathletics
Twitter: @cathletics
Facebook: @catalystpm
---
Workouts Menu
Workouts Home
Read This First!
Workouts Help & Info
Exercise Library
Training Programs
Starter Program
Tomorrow's Workout
Text Only
Custom Program Design
Get the App
---
---