Wednesday November 14 2007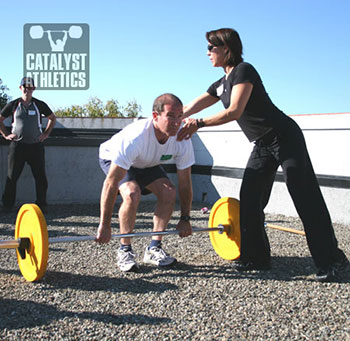 Please
login
to access our training programs.
Registration is FREE!
Questions? Get answers here or post in comments.
23 Comments
Please login to comment!
Mike Minium
2007-11-13
Eva rocks!
Greg Everett
2007-11-13
Yes she does. But she has a dirty mouth.
Thea Taylor
2007-11-13
Hey Greg did you know that you have the wrong website for Mike's Gym? I think you used .com instead of .org.

Eva does rock. I have a lot of work to do!!!!!!!!

Thea
Greg Everett
2007-11-13
Son of a gun... Not like I haven't had enough practice with that one.
Nichole DeHart
2007-11-13
Eva is amazing!! And I am in love with the music selection on your videos. Bad Brains . . .nice.
Eva T.
2007-11-13
you are all too kind. Greg, thanks (???).
Jay Cohen
2007-11-14
Eva, great work, just makes me want to work harder.

Greg, good video, solid music, thanks.
Derek
2007-11-14
All right I will jump on the Eva love fest train. I really didn't think there was anything that dirty about what she said I have thought that many times about you in the last 7 weeks ;).

Today was tough I don't know if I have a mental problem or the programming has me pretty dang close to the edge. All of my sets up to 90% - 95% are fast, clean and easy. Once I start to hit the 100% I come apart.

Row W/U really good and great stretch
B W/U several times

MSN 45 X 3
SN 45 X 3, 61 X 2, 81 X 2 , 91 X 1 X 2, 101 X 1 X 2, 103.5 X 1
C&J 81 X 2, 95 X 2, 105 X 2, 135 X 1, 145 X 1, 155 X 1 (NO PROBLEM), 165 X CMJ, 165 X CMJ, 161 X CMJ
PCFS 135 X 2
FS 145 X 2, 155 X 2, 165 X 2, 175 X 2, 185 X 2

FS Could have easily continued up with the weight but didn't. The misses at 165 were frustrating because I was cleaning the weight so well but just couldn't get the freaking drive under the bar. I really worked on visualization between sets to get that aggressive dive under but I just wasn't getting it. I never even got to full extension on the jerk. Frustrating.

MetCon I have 2:30 of BJJ tonight so I was going to skip it but I need work on the P/U's so heavily modified.

3 Rounds of
8 P/U's
8 24 KG KB Swings per hand

That was actually a lot tougher than I thought it was going to be. Nice finisher and my P/U's are getting better.
ec
2007-11-14
awesome, eva. ive cursed at a 45# sandbdag a few times during these ca wods. 75# is no joke... not to mention the rest of the wod!
J Jones
2007-11-14
Heh,

"You F***KING A**HOLES this sucks already!"

Classic.


Our sandbag is named "F***CKING GREEN BAG" for the same reason.

-jj


TomR
2007-11-14
sn 103
c&j 123
fs 2x1 138

all ugly. receiving bar in split position. some right leg forward, some left. able to clean a lot more, but having trouble w/ the jerk. sore shoulders? cowardice?

first time doing "heavy" front squats. forward tilt at the bottom causes problems.

no metcon. will be doing a long session on the C2.

is eva t left-handed? she always rose on the left leg on the turkish get-ups, no matter which hand the k-bell was in. w/out lefties, the world would be a boring place.
Greg Everett
2007-11-14
Eva has her very own TGU technique. I don't interfere when the athlete's chosen variation is way harder than the one I'd otherwise expect of them.
Dr. G
2007-11-14
So is this 20 chops left, 20 right
or
10 L + 10 R = 20 chops?

I'm guessing it is 20 on each side, so I'm off to do it!
Greg Everett
2007-11-14
Yes, 10 per side - the numbers on unilateral work is total between the two sides unless otherwise specified.
pete
2007-11-14
Warmup:
500m row
mobility drills
burgener warmup

Sn:95lbx2,115x2,135,158x1x1
C&J:95lbx2,135x2,185,205,220,225(PR)
FS:225x2x2

Snatch felt crisp.

100% C&J was 220lbs. That felt good so I went for 225 and hit it no problem.

Greg, should we avoid doing this? I know you have this planned out and I don't want to buck your system. Was this OK or am I being too greedy w/ it?
pete
2007-11-14
3 rounds:
20 jumping pullups
20 sprawlballs, 10lbs
20 chops, 35lbs
9:22
Greg Everett
2007-11-14
Pete -

Within reason, go for it when you're feeling good. Be cautious of convincing yourself you feel good and making 30 attempts at a weight. For example, if today you'd felt great and wanted to try 225, nailed it the first time, great. Leave it at that. If instead you tried 225 and missed, too bad, and leave it at that. Don't grind yourself down.
Jesse Woody
2007-11-14
Sweet...Eva's got me psyched to bust my ass in the coming weeks :D Coming off of the first 3 weeks of the mass program (post rehab month) and I'm looking forward to getting back into the CA WOD in the next strength cycle...then I can cuss at Greg too!
Scotty Hagnas
2007-11-14
WOD first today, the only way it would work out.
3 Rounds;
30 jumping pullups
20 sprawl ball 12#
20 side swings 35# clubbell
8:37'

5 hours later:
SN: 112.5x1
C&J: 192.5xmiss Balked at the weight, didn't feel very explosive today.
FS: 235x2 Easier than Monday!
Press: 115x5x5
Alicia Zhuang
2007-11-15
And the two fingers she gave after the TGUs lol.
James Climer
2007-11-15
I always wondered what became of Lani. Anything you can divulge?
Eva T.
2007-11-15
rumor is that Lani will start as a trainer with Brendan at Crossfit North
Santa Cruz...http://www.crossfitnsc.com/
James Climer
2007-11-15
Cool about Lani.

Nice work out, I'm gonna make some rope grabs to hang on the pullup bar, looked like a real S.O.B.

Eva I ddin't know you knew how to speak sailor, nothing gets done in the Navy w/o the f-word
Get the App!
Catalyst Athletics programs are available through our exercise.com app. Unlimited access to all programs for only $10/month, or purchase programs individually for only $10 each!
Join the Group
Buy Programs
---
Tag Us!
Tag us on social media when you post videos and photos of your workouts!
#catalystathletics
Instagram: @catalystathletics
Twitter: @cathletics
Facebook: @catalystpm
---
Workouts Menu
Workouts Home
Read This First!
Workouts Help & Info
Exercise Library
Training Programs
Starter Program
Tomorrow's Workout
Text Only
Custom Program Design
Get the App
---
---