Monday November 26 2007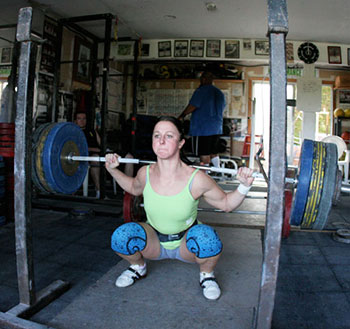 Please
login
to access our training programs.
Registration is FREE!
Questions? Get answers here or post in comments.
41 Comments
Please login to comment!
Mike Donnelly
2007-11-25
Today is day one for me (actually rested, stretched, and iced yesterday). Sorry to start with questions, but couldn't find answers after searching the forum.
1. Snatch grip deadlifts: is 105% to move to a new max, and then pull off 3 reps?
2. Push press to a resonable load, 3 sets of 5?
3. TGUSU = TGU minus the standing part?

Thanks in advance. Sorry for the newbie questions. Looking forward to joining the athletes here
Greg Everett
2007-11-25
Mike -

1. Snatch/Clean deadlift and pull %s are of the associated lift - today the snatch-grip deadlifts will be 105% of your best snatch, not your best snatch deadlift.

2. Push press is 5 sets of 3 reps at about the heaviest weight you can manage.

3. Yes. Come up to a fully upright torso position.
Keith
2007-11-26
Greg, I'm fairly new to olympic lifting and can snatch deadlift more than twice what I can snatch. Given this, what loading would you recommend on the snatch deadlifts?
Eric Jones
2007-11-26
I was wondering the same thing for the Clean and Snatch Deadlifts. I understand that they are just deadlifts with the corresponding grip, but i can deadlift well over 315 and only snatch 160 and clean 205. Should the O-Lift Deadlifts be performed fast, like essentially a Snatch Pull, I guess?
Ryan Sander
2007-11-26
I am just starting this WOD program. Am I able to start the workouts as prescribed now, or do I need to finish the last strength cycle first?
Leonid S.
2007-11-26
Derek's Snatch PR from this saturday:
http://www.youtube.com/watch?v=aSwHjneeCZg

Yeehaw - posted it before Derek logged anything.

Eric - they're not the same - lockout on the dead vs the scoop on the sn/cln pulls are different.


John Messano
2007-11-26
1. BSq, 165lb 3 sets of 5
2. SnDL, up to 3 reps of 165lb
3. PPress, 5 sets of 3, up to 135lb
4. WPullups, +25lb, 7, 5, 4 reps
5. TGU-SU, +30lb, 3 sets of 6 ea

Great workout. Chose weights conservatively. SnDLs felt great! TGU-SU was shockingly difficult.
David
2007-11-26
Question: Being new to this type of training, how many sets are typically used to warm up when a WOD is calling for 90%-100% loads?

Thanks in advance.
David
derek
2007-11-26
Only cause I worked out at 4:45 am this morning and am sitting on my second flight.

Thanks for posting the video. I will post my WOD
Greg Everett
2007-11-26
RE snatch/clean deadllifts: If you have a huge disparity in strength and lifting technique, adjust accordingly. Use a weight that's very challenging but manageable for the RXd reps/sets - you'll probably be around 85% of your 1RM snatch deadlift. Regarding speed, no, these are not fast like snatch/clean pulls--snatch/clean pulls are fast like snatch/clean pulls. Perform snatch/clean DLs at the same speed you'd perform any deadlift.

Ryan - You can jump right in today.

Derek - Nice job. With a little more technique work, you'll be snatching so much more than that.
Greg Everett
2007-11-26
David - Check out the post on Friday Nov 16th.
Allen Yeh
2007-11-26
Awesome cert. video.
David
2007-11-26
Man, sorry Greg. I didn't see that.

Thanks for the heads up.

David.
Dr. G
2007-11-26
Finally got to the max attempts from Saturday.

New PRs all around: 69kg snatch, 89kg C&J (push jerk).

I'll definitely do more in the C&J next time. I hope I'm able to make it to Coach Burgener's one day OL seminar in Flagstaff late December...

Still don't have proper OL shoes, and the platform will likely be completed next weekend...
Greg Everett
2007-11-26
David - No apology necessary; I just didn't feel like typing that much.
Thea Taylor
2007-11-26
love the "snatch" shirts dude. its sick and wrong!!!!!
Greg Everett
2007-11-26
Doc -

It's a great paradox! Demonstrating commitment in one sense and the complete fear thereof in another. Doesn't get any more profound than that!
Scotty Hagnas
2007-11-26
BS: 215x3x3x3x3x3
Sn DL: 150x3 As above, I'll go heavier next time.
PP: 135x3;155x3;165x3
Press: 120x3x3
No pullups, L shoulder/bicep has been hurting for a couple of weeks - only on pullups/rows. Lots of soft tissue work, and it is almost better. Not ready to tax it yet, though.
Turkish half-ups: 60x5/5x6/6x6/6 Hard, I should probably have done a warmup set. Sets 2 & 3 easier than the first.
Practice circles on the mushroom for a bit, then roll on the tennis ball and stretch.
Keith
2007-11-26
500m row, mobility drills
BS 120kg for 5 sets of 3
Sn DL build to 120kg for a set of 3
PP 80kg for 5 sets of 3
Pullups bw 6,5,4
TGUSU 20kg 2sets of 6/side

Nice workout
Dr. G
2007-11-26
Greg,
As you're the closest thing to a WL/training coach I've ever had, I want to understand what you mean in the last post.

I'm okay with you answering it here, or shoot me an email if you'd rather...
Greg Everett
2007-11-26
Dr. G - By "Doc" I was actually referring to Thea - she's a DC and lifts with Tim Swords in Houston.
Dr. G
2007-11-26
Greg,
Got it. Thanks for the clarification, that's why I wanted to ask.
mrbourgot
2007-11-26
First time on the strength cycle so going a bit conservative til I get the hang of things

Back Squat 100kgx3x5
Snatch Deadlift upto 80kgx3
Push Press 5x3: 60kg-65kg-70kg-75kg(1)-70kg(2). If doing across sets would prob do 67.5
Pull ups dead hang: 10, 9, 7.
TGUSU 24kg kb 2x6 each side. Ran out of time as I had a game of 5 a side football (soccer)

Cheers, Pete


Dr. G
2007-11-26
Coach Greg,
I want to get back on track with the CA WODs. Obviously, I'm still catching up from last week. That being said, I did get decent sleep over the 11 hours I was in bed last night (crashed at 7:30pm, got out of bed at 6:30am). I also hadn't really worked out since Friday's 50% technique WOD except mainly for the heinous duty

I did my new maxes this morning around 9am. Would it be too much if I did today's WOD this afternoon around 5:30ish pm? Or should I just bag today and go for tomorrow?
Greg Everett
2007-11-26
If you're feeling saucy, give it a try. If you get partway through tonight and aren't feeling as good as you thought, reduce the number of work sets. You should be good to go.
Xi Xia
2007-11-26
Hey Greg,

What's better for this program? Working with a lower PR from a snatch with good technique or a higher PR from a snatch/power snatch with not the best technique? BTW, your lifts on the Xfit video of the day are pretty smooth!

xx
Dr. G
2007-11-26
Well, I am feeling a bit saucy. It's GO time. I had wanted to do a CFT after the max OLs, I had no idea maxing out on those would take me so long. So, today's CA WOD will be a perfect substitute (even including some of the metcon I've been craving).

Thanks for the advice, Coach. It is a privilege (and a boatload of fun) to train under your tutelage.
Dr. G
2007-11-26
Oops, noticed there was no metcon. Looks fun anyway.
Greg Everett
2007-11-26
Xi -

During the strength cycle (current one), I'd recommend using the lower good-technique PR. Then during the Bulgarian cycles, use the higher one.
Jesse Woody
2007-11-26
Just got to finally test from the first four weeks of the mass program today. 4 weeks, starting weight: 178lbs, weight before todays workout: 187lbs

Lifts: Before/After

Snatch: 155#/165#
C&J: 205#/215#
Press: 155#/165#
Pull-Up: 85#/90#

Pretty psyched, 10# average on everything, didn't even do any pull-ups for the first 3 weeks due to tendonitis, so any increase is pretty cool.
ec
2007-11-26
bs #130
pp #115x2, then 95x3, 105x3x2, 115x3 (this is where my 9-day hiatus showed...)
sn dl #115 - stayed light, and as close to proper set up as ive ever been
pu - 7,5,4
forgot the tgusu's - will tackle tomorrow

im hoping i can actually see this cycle through.

AW
2007-11-26
Bs: 135 x3x5
Sd: 115x1x3
Pp: 115x3x5
pullups p/s: 12/6, 8/6, 8/6
tgusu: 18%bw 6/s x3
Dr. G
2007-11-26
Second workout of the day:

2 minutes rest taken between all sets and exercises
Back Squat (75% x 3 x 5): 100kg x 3 x 5, rounded up by 3kg
Snatch-grip Deadlift (105% x 3): 70kg x 3, mistake in loading made it short by 5kg
Push Press (? x 3 x 5): 50kg x 3 x 5
Pull-ups (3 sets x max reps): BW x 20, 12, 10
TGU Situps (35%BW x 6 L/R x 3): 24# KB x 6 L/R x 3, done straight-on situp style, never thought about doing the side roll style until after the first set

Awesome workout, as usual. Tucson weather around 6pm right now is just icing on the cake.
Mike Donnelly
2007-11-26
Day one. Really focusing on form and depth for the squats (and all movements).

1. BS 5 sets of 3 X 145
2. SG-DL up to 3 X185
3. Push Press to 3X 115
4. Pull-ups + 10lbs: 12,9,9
5 TSU-SU 3 x 6(each) @ 35lbs

Thanks, Greg
Max Shank
2007-11-26
FS 120kg
S DL 150kg
Press 70kg
pullups +20lbsx13 reps, 12 reps, 10 reps
full tgu at 16kg


DougM
2007-11-27
M/39/5'11"/168 lbs


Back after about a 2 week layoff due to back + holidays

Burg w/u

Back Squat: 135x3, 165x3x5
Snatch D/L: 95x3, 115x3, 125x3
Push Press: 95x3, 105x3, 110x3, 115x2x3, 120x3

Pullups: 10,5,4
TGU S/U: 3/sidex27x3
Allen Yeh
2007-11-27
November 25, 2007
shoulder prehab circuit 4:
pullup retraction - 12
overhead barbell shrug - 12
scap pushup - 12
posterior capsule stretch - 12L/R

foot mobility drills ~20m
thoracic mobility - 5 each
ankle mobility drill- multi planar x 5L/R
leg swings side to side + front to back - 10L/R
arm swings - 10 forward/backward
backward lunge w/lateral flexion - 6L/R
lateral squat - 6 L/R
rotational squat - 6 L/R
inverted hamstring (backwards) - 6L/R

Burgener WU - 45 x 1

snatch - 45 x 1(hang), 45 x 2, 95 x 2 (1 hang, 1 gound), 125 x 1(power), 145 x 0, 145 x 1(slow 1st pull), 155 x 0, 155 x 0, 155 x 0, 155 x 0(hang), 155 x 0
(rest as needed)

clean and jerk - 95 x 1L/R, 135 x 1R, 185 x 1L, 205 x 1R, 215 x 1R(old PR), 205 x 1R, 225 x 0(made clean missed jerk), 225 x 0(made clean missed jerk)
(rest as needed)

Notes:
-Incorporating the diesel crew shoulder prehab stuff
-Mobility drills from Mike Boyle + Mark Vestergen
-CA WOD 24NOV07
-For the record this workout sucked, I've haven't O-lifted since the 9th and it showed. I need to buy my own tiny plates or something because being forced to jump up at least 10-20#'s is irritating. There are 45's, 25's, 15's and 10's.
-snatch - max attempt - UGH 165 is my max for a power snatch, today I couldn't get under 155, pulling 155 wasn't hard at all, but I just couldn't hold it after I got under. I tried it from the hang because I thought maybe my 1st pull was screwing things up, still nothing. After missing it so many times I just gave it. I really need to work on my snatch technique. VERY FRUSTRATING.
-clean and jerk - max attempt - The c&j felt much better than the snatch, 215 is my old PR for the clean and jerk, but I regressed to 205 after 215 because I wasn't paying attention when I was changing plates. At first I thought that 225 went up easy....until I went to put 235 on and realized I had forgotten 2 10# plates. Oops, 225 the clean felt fine but the first jerk I stepped off the platform, and the 2nd attempt I just couldn't get under. My jerk SUCKS, I need to work and getting deeper and in position on the jerk, I'm still not going wide enough and my rear leg only toes in when I remember to. UGH!
Eva T.
2007-11-27
Oh, but there is only one WANKER, Greg.
Derek
2007-11-28

Back squat – 170 LB's x 3 x 5
Snatch deadlift – work up to 140 LB's x 3 x 3
Push press – 95 LB's x 5 x 3
Pull-ups – 2 x 8
Turkish get-up sit-ups – 16 KG KB x 6/side x 2 sets

I got up at 4:45 am to get this in before I had to head to the airport. It was brutal. Push Press felt really odd and I don't know why. It was almost like I wanted to immediately go into a jerk. TGUSU's made my left shoulder hurt bad. I am going to have it looked at for sure before the end of the year.
joe wheeler
2007-11-30
BS-85kg x 3 x 5
sn DL: 50-55-60-65kg x 3
push press x 3: 60-65-70-70-70kg
pullups: 5-4-4 on rings
TG situps with 14kg DB

Work was just getting so out of hand, and I was missing so many workouts it almost seemed pointless trying to keep up with the program. Got to the point where I should have started the Bulgarian cycle (I'm that far behind), but I have decided to restart here with the second strength cycle since things should start calming down about now. Will still miss and run behind, but not as bad as before.
Gordon Limb
2007-12-24

BS 170lbx3x5
SN DL 95,100,105lbx3
Push-press 140lbx5x3
Pull-ups (26lb) 10,9,7
TGUs 6 each side 44lb x1 (did full TGU vice "just" sit-ups)

Taking some re-wiring going to high bar BS, and some extra stretching to get the lumbar curve vice just a flat back while in the hole.

Thanks.
Get the App!
Catalyst Athletics programs are available through our exercise.com app. Unlimited access to all programs for only $10/month, or purchase programs individually for only $10 each!
Join the Group
Buy Programs
---
Tag Us!
Tag us on social media when you post videos and photos of your workouts!
#catalystathletics
Instagram: @catalystathletics
Twitter: @cathletics
Facebook: @catalystpm
---
Workouts Menu
Workouts Home
Read This First!
Workouts Help & Info
Exercise Library
Training Programs
Starter Program
Tomorrow's Workout
Text Only
Custom Program Design
Get the App
---
---