Wednesday November 28 2007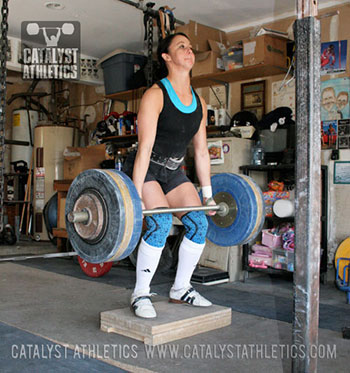 Please
login
to access our training programs.
Registration is FREE!
Questions? Get answers here or post in comments.
26 Comments
Please login to comment!
Paul
2007-11-27
I am having a great time with these WODs in the Singapore Marriott! They have a Model C rower and I have been improvising with dumbells and the smith machine. I got some strange looks using an aerobic step in the smith machine to get in position for the Snatch DL...lol. I am the only one sweating in this gyms which is surprisingly used by at least 1/2 a dozen people all the time.

Thanks for the Wods...keep them coming.
Keith
2007-11-28
500m row 1:45.3, mobility drills

FS 5sets of 3 @90kg
Clean pull 3@110kg
2@115kg
1@120kg
Rack jerk 1@100kg
Chins 6,5 @bw

Will do metcon this evening
Leonid S.
2007-11-28
CrossFit Total today - couldn't miss it for multiple reasons:

Squat 385 (PR +10)
Press 158
DL 461

Total 1004 - pr by 25 lbs. Going to do 90%x1x3 + wod later today or tomorrow
Allen Yeh
2007-11-28
Conked out early last night due to illness, skipping today's workout.
Troy Archie
2007-11-28
What's Aimee doing in that pic?
Greg Everett
2007-11-28
She's doing trap-bar deadlifts on a riser--so basically they have the depth of a squat but the load isn't on her back. She had an injury and couldn't rack a bar on her shoulders or front squat for more than a single, so she was doing these as a substitute for a while, thanks to a suggestion by Tracey Fober.
Dr. G
2007-11-28
Today's CA WOD 11/28/07:

Front squat (75% x 3 x 5): 84kg x 3 x 5, I need to retest my max front squat soon
Clean pull (100% x 3, 103% x 2, 105% x 1): 89kg x 3, 91.5kg x 2, 94kg x 1, first time doing these, I like them
MODIFICATION = KBs Jerk 70# x 3 x 3, these were much harder than I anticipated

MODIFICATION = Gymnastics holds, 30 seconds each:
Parallette handstand
1-arm hanging tuck sit L/R
GHD situp "body straight" hold
Back extension "body straight" hold
Bottom position pistol hold, L/R
Parallette tuck sit, done in two parts
Inversion hang
Legs unsupported "body straight" hold
Back extension "body straight" hold
Wall sit 90 deg for 1 minute
Parallette tuck planche, done in two parts
Tucked front lever
Tucked back lever
Front/Right/Back/Left Plank, rotated through, each position held for 1 minute

3 rounds for time of:
10 (yay!) Burpees
10 (canvas Everlast punching bag) clean to shoulder, hard yet satisfying
MODIFICATION = 15 15# CBs overhead swings, absolutely fries the grip and I like it
10:11

What has 2 thumbs and is *really* glad that tomorrow is a rest day?!?...

THIS GUY!!!
Dr. G
2007-11-28
Coach Greg,
Is it likely that the CFT will show up in the CA WODs?
AW
2007-11-28
Front squat – 75%(115#) x3x5
Clean pull – 100%(160#) x3, 103%(165#) x3, 105%(170#) x 1
Rack jerk behind the neck – work up to heavy single 115#/120/135/145f/140


3 sets of:
Front plank – near max time (59s)
Lateral planks – near max time (L12s/R17s)

3 rounds for time of:
10 Burpees
10 Sand bag clean to shoulder – 50% BW (70#)
10 70# upright row
Time: 7:33
Greg Everett
2007-11-28
Dr. G -

Nope.
Aimee
2007-11-28
Troy-
see video here:http://www.performancemenu.com/resources/exercises/videos/trapBarDL.mov

They are pretty awesome for my leg strength.
Stu
2007-11-28
First time posting. Just started working on the olympic lifts. Come from more of a strength/power lift background. Missed yesterdays workout and modified today's:

muscle snatch w/ 95lbs. for sets of 2
Front Squat 225x3x5 sets
clean dead 315x3x3
behind neck jerk up to 185 lbs.

Stu
ChrisC
2007-11-28
A Day behind. Did 11/27 workout. Did not go well. My body was completely wasted due to the workout on 11/26. Had to drop to 50% for 3 Position Snatch and Muscle Snatch. I hope today's workout will go better for me tomorrow.
ec
2007-11-28
fs 105#
cln pulls 135, 140, 145#
bnk jk 125#

cfb wod was 'annie' did that for my metcon, 7 min

ec
2007-11-28
greg -

for some reason, im not hitting bnk jerks very cleanly. im assuming i should i keep working bnk (as this should eventually surpass the load i can lift from the front?) ... or do them from the front and hit higher weight - for now?
Greg Everett
2007-11-28
Well what's the reason? Post a video if you can. I'd be willing to bet you're pushing your hips back and dropping your chest when you dip. Keep working them when they're prescribed up to whatever weight at which you fail, then switch to the front to get as heavy as possible that day.
ec
2007-11-28
got it - will try to get someone around next time. i haven't found a grip width i like either...should be same width as from the front, no?
Greg Everett
2007-11-28
Yes, same grip width for front and back.
DougM
2007-11-29
M/39/5'11""/168

Burg w/u

front sq: 115x3,130x3x5
clean pull: 115x3, 135x3, 140x2, 142x1
b/n/ jerk: 95x1, 105x1, 115x1, 120x1

3 sets of:

front plank x 30 secs
left plank x 15 secs
right plank x 15 secs
5 pullups
Derek
2007-11-29
Day Behind but wanted to keep my numbers on the right workout page

Front squat – 45 X 6, 95 X 3, 135 X 3, 150 x 3 x 5
Clean pull – 185 x 3, 195 x 3, 205 x 3 (man I have to read the instructions better, second time I have screwed up the pulls)
Rack jerk behind the neck – 45 R, 65 R, 95 R, 115 R, 135 L, 155 L (should have kept going)

While the bar was loaded and on the ground I DL'ed 295 X 1 just to see where I was. It felt ok not much more there but no problem.

Front plank – 47 S X 3
Lateral planks – 20 S X 3 X Side

3 rounds for time of:
10 Burpees
10 Sand bag clean to shoulder – 60 LB's Most I could fit in my bag)
300 m row

8:10 with 3:20 on the rows. This was really a smoker. Short but extremely intense.
pete
2007-11-29
FS=198lbsx3x5
Cln pull=230lbsx3,235x2,242x1
BHN jerk= 45,135,185,225,255lbs

3 rds:
10 burpee
10 pwr cln, 95lbs
300m row
10:10
Scotty Hagnas
2007-11-29
1st workout:
FS: 195x3x3x3x3x3
CP: 210x3;215x2;220x1
JBN: 135,155,175,195 I'm starting to like these.

2nd workout:
Front plank x 3' x 2:15' x 2'
Plank L x 2' x 90" x 75"
Plank R x 2' x 90" x 75"
16:45' total in the plank.... I alternated between reading a book and heckling a few friends while doing these. Maybe I should switch to elbow levers and extended QDR holds instead?

3 rounds:
10 burpees
10 sandbag cleans 62.5 lbs (35% BW)
Row 300m
8:55' Smoked.

3rd session: 30 min. foam roll/tennis ball + full body joint mobility.
Mike Donnelly
2007-11-30
Front squat – 75% x 3 x 5 (up to 130lbs/ down to 105 with good form/ROM)
Clean pull – 100% x 3, 103% x 2, 105% x 1 (up to 185)
Rack jerk behind the neck – work up to heavy single (135)
Jesse Woody
2007-11-30
Front Squat: 45x6, 135x3, 165x5x3

Clean Pull: 215x3, 220x2, 225x1

Rack Jerk: 135x3, 185x1, 205x1, 215x1, 230x1 I was surprised, this went up easy, but I almost lost it by turning my ankle in the tennis shoes I was wearing. Time to invest in lifting shoes!
joe wheeler
2007-12-02
first did yesterday's snatch work
3-pos snatch (low to high) 40kg
muscle sn + sn bal 40kg

fs - 70kg
cln pull - 80-82.5-85
rack jrk bnk - to 80kg

metcon
3 rounds
10 burpees
10 pwr cln 45kg
10 pull-ups
Gordon Limb
2007-12-26
Front squat 162 x 3 x 5
Clean pull 150x3, 155x2, 157x1
Rack Jerk 95x3, 115x3, 135x2, 165x1

3 sets of
front plank 90, 60, 60 sec
side plank 30,30,30 sec

3 rounds for time:
10 burpees
20 24kb KB clean (10 ea arm)
300m row
9:43

I don't have sandbags yet, so subb'd the KB cleans...
Get the App!
Catalyst Athletics programs are available through our exercise.com app. Unlimited access to all programs for only $10/month, or purchase programs individually for only $10 each!
Join the Group
Buy Programs
---
Tag Us!
Tag us on social media when you post videos and photos of your workouts!
#catalystathletics
Instagram: @catalystathletics
Twitter: @cathletics
Facebook: @catalystpm
---
Workouts Menu
Workouts Home
Read This First!
Workouts Help & Info
Exercise Library
Training Programs
Starter Program
Tomorrow's Workout
Text Only
Custom Program Design
Get the App
---
---