Monday December 3 2007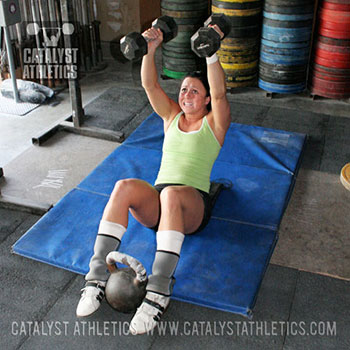 Please
login
to access our training programs.
Registration is FREE!
Questions? Get answers here or post in comments.
22 Comments
Please login to comment!
Derek
2007-12-02
Another very early Monday so I elected to hit the WOD Sunday

FS 45 X 3, 95 X 3, 135 X 3, 160 X 3 X 5
Clean Pull 135 X 3, 160 X 3, 185 X 3, 205 X 3
PP 45 X 3, 70 X 3, 105 X 3 X 5
Ring P/U's 8, 8, 8
DB OH S/U 25 LB DB Per Arm X 6 X 3

Squats are feeling good. PP still don't feel so sporty with the left shoulder. I am going to have it checked.
David
2007-12-03
m/23/145#

CFWUx3 Sans pull-ups
FSQ #'s (45x3, 95x3 135x1) 145x3, 150x3, 155x3 ugly, 155x3better, 160x2
Deadlift K's 70kx3, 110kx3, 130kx1, 135kx1, 137.5kxm
PP k's 40kx3, 50kx3, 60kx3
Pull-ups #'s +25x10 +25x7 +25x6
DBOHSU 15'sx6, 17.5'sx6, 20'sx6

Finished with 5 Handstand attempts and 2 sets of L-sits on the floor ~10sec
Dr. G
2007-12-03
Joint mobility + 3 min. x-c ski warmup

All done on ~2 min. rest b/w sets and exercises
Front Squat (80% x 3 x5): 89kg x 3 x 5
Clean Deadlift (110% x 3): 99kg x 3
Push Press (? x 3 x 5): 52.5kg x 3 x 5, 2.5kg added from last workout, felt good, also wanted to stay lighter as shoulders still pretty tuckered out
Deadhang pullups (max reps x 3 sets): 12, 10, 6, first time doing deadhangs in forever, about half the reps of my kipping numbers
DBs Overhead Situps (15% BW/arm x 6 x 3): 25#s x 6 x 3, I like these, feet secured under DBs

One question--here at the PMenu, when the workout says just "pullups", is the default pullup here a deadhang? I ask because I have seen "kipping" added before, also because my weight belt for adding weight to pullups will not function well with kipping (I need to stay fertile at this point, so no swinging DBs around the crotch, thanks). I don't need to add weight to my deadhangs yet to get 10+ for three sets, I do need added weight for my kipping pullups by that standard. Thanks Coach!
pete
2007-12-03
I'm totally trashed from the Crossfit cert this past weekend, so I'm pushing this workout to tomorrow.

Went for max attempts on Saturday.

Stats:
M/5'10"/180lbs/Scorpio

Sn:95lbsx2,135x2,165,195x3(F),195(PR),200(PR)
C&J: 135lbsx2,185,215, 235(PR), 240(F)

Coach Rip and Tony Budding helped me tweak my form a bit. Once I got that I hit a 195 Snatch on my 4th attempt. Jason convinced me to go for 200lbs and I hit that on my first try.

Hit 235 on the C&J but it was ugly. Pulled 240 but couldn't stand up w/ it.

Coach Rip helped me improve my start which helped my 1st and 2nd pull. Now I have to work on integrating this.
Greg Everett
2007-12-03
Pull-ups and chin-ups with no qualifier means deadhang. I've been trying to remember to specify kipping when appropriate, but a good rule is that if they're in the strength workout, they're deadhang whether weighted or not, and if they're in the metCon, they're kipping.
Jeff G
2007-12-03
I started doing the PM WOD a week ago, beginning with the Oct. 1 WOD. My question is whether this strength cycle is going to mirror that which began on Oct. 1. In other words, should I continue with the Oct. WODs, or should I just jump in with the Dec. WODs?
Greg Everett
2007-12-03
Jeff --

Start in with the December workouts - same basic program, so no need to use October's.
Jeff G
2007-12-03
Wow! Thanks for the prompt response.
AW
2007-12-03
Front squat – 80%(125) x3x5
Clean deadlift – work up to 110% x 3 135#x3/155x3/175x3
Push press – 5 x 3 - try to increase the weight from last week (+10 = 125# )
Pull-ups – 3 x max (add weight if you're able to do more than 10 reps on all 3 sets) 17/8, 10/6, 6/3
DB Overhead sit-up - 15% BW/arm x 6 x 3 (25#)
mrbourgot
2007-12-03
Front squat – 90kg x 3 x 5
Clean deadlift – up to 110kg x 3
Push press – 5 x 3 @67.5kg
Pull-ups – 3 x max: 10-10-9. Rep 10 on set 3 was nose to bar.
DB Overhead sit-up - 10kg/arm x 6 x 3

Cheers, Pete


Mike Donnelly
2007-12-03
Front squat – stayed at 95 form and ROM
Clean deadlift – up to 205 x 3
Push press – 3 @120
Pull-ups – 3 x max(+ 10lbs.): 10-9-7.
DB Overhead sit-up - 20lb./arm x 6 x 3 wow!

ec
2007-12-03
fs - 115#
cln dl - my cln is so pathetic i went for a mildly heavy triple dl, 215
pp 105#, 110, 115, 120X2

have to add in pulls and situps tomorrow, ran out of time.
John Messano
2007-12-03
FS up to 165
Cln DL up to 225
PP - oops, forgot that one
Pullups +10lbs: 12-10-8
DB OH SU 20-25-30lbs, 3 sets 6 ea
Scotty Hagnas
2007-12-03
FS: 210x3x3x3x3x3
CDL: 255x3 (went a little extra)
PP: 145x3;160x3;175x3
Press: 127.5x3x3
No pullups - elbows are WRECKED from Friday - can't figure out why....
OH situps: 25x6x6; 36x6
DougM
2007-12-04
M/39/5'11"/170

burg w/u

Fr Squat: 135x3x5
Clean D/L: 135x3, 145x3, 155x3
Push Press: 95x3, 105x3, 110x3, 115x3, 120x3

Pullups: 10,7,5
O/H S/U: 6.5 lbs/arm x 6 x 3
Allen Yeh
2007-12-04
Running a day behind I'll tackle this one today.
Jeff G
2007-12-04
Scotty,

I don't know about you, but those cross-chops absolutely thrashed my elbows.
Stuart Orr
2007-12-04
Front Squat 240 lbs 3x3
squat clean 185x3x3
push press up to 175x3
face pulls x8-10

Jeff G
2007-12-04
Front Squat: 213#
Clean Deadlift: 230#
Push Press: 162#
Pull-ups +25#: 8, 7, 7
OH Sit-ups: 50#
Allen Yeh
2007-12-05
December 4, 2007
shoulder prehab:
stick dislocates - 10, 10, 10
glide kip - 10, 10, 10
OHS - stick x 10, 10, 10
split squat - 5L/R
lateral squat - 5L/R
rotational squat - 5L/R
inverted hamstring (forward) - 5L/R
leg swings side to side - 10L/R

Burgener WU - 45 x 1
Front squat - 45 x 5, 95 x 4, 135 x 3, 175 x 1, 175 x 3, 175 x 3, 175 x 3, 175 x 3, 175 x 3
Push Press - 45 x 5, 95 x 3, 135 x 3, 135 x 3, 135 x 3, 135 x 3, 135 x 3
(superset with full rest 60 seconds)

clean deadlift - 135 x 3, 185 x 3, 235 x 3, 255 x 3
pull-ups - 12, 7, 7
(superset with full rest 90 seconds)

DB overhead situp - 50#kb at feet - 30 x 6, 30 x 6, 30 x 60
(rest 60 seconds)

Notes:
-Incorporated routine Robb mentioned in the #35 PM article about kyphosis - I haven't done stick dislocates in a while, the glide kips were harder than I thought they'd be.
-Mobility drills from Mike Boyle + Mark Vestergen
-CA WOD 3DEC07
-Front squat - Took me 2 work sets to get into the groove, felt good.
- push press - This hurt my left elbow a bit, when racked up, dropping my elbows a bit really helped but then I wasn't able to rack it right. I'm going to try widening my grip a little and see if that helps?
-Clean Deadlift - No problems here
-pull-ups - I actually did better than I thought I would, still not great though.
-DB OH situps - Did these with a rolled up towel the 2nd and 3rd set, it made a big difference.
joe wheeler
2007-12-07
fs 72.5 x 3 x 5
cln DL to 90kg
regular DL 120-130-140 x 3
pp 5 x 3 - 60-65-70-72.5-72.5
max chins: 9-5-5
DB overhead situp - 12kg/arm x 6 x 3
Gordon Limb
2007-12-31
Front Squat 175 x 3 x 5
Clean Deadlift 155, 165, 185 x 3
Push-press 145 x 5 x 3
Chin-ups 12 kg 10, 8, 7
DB O/H situp 25lb/arm x 6 x 3


Get the App!
Catalyst Athletics programs are available through our exercise.com app. Unlimited access to all programs for only $10/month, or purchase programs individually for only $10 each!
Join the Group
Buy Programs
---
Tag Us!
Tag us on social media when you post videos and photos of your workouts!
#catalystathletics
Instagram: @catalystathletics
Twitter: @cathletics
Facebook: @catalystpm
---
Workouts Menu
Workouts Home
Read This First!
Workouts Help & Info
Exercise Library
Training Programs
Starter Program
Tomorrow's Workout
Text Only
Custom Program Design
Get the App
---
---