Tuesday December 4 2007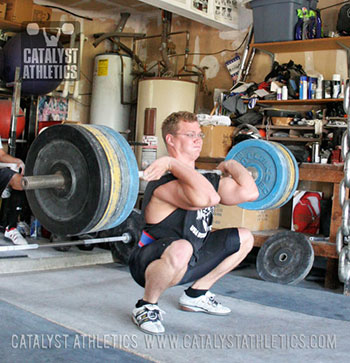 Please
login
to access our training programs.
Registration is FREE!
Questions? Get answers here or post in comments.
29 Comments
Please login to comment!
pete
2007-12-04
Greg,
For the metcon, are you saying 10 on each arm for the KB complex=20 total/round? Sorry if I am being dense.
Allen Yeh
2007-12-04
Greg means per arm. I'll probably switch arms between reps.
Derek
2007-12-04
Pete I think that is what he is saying at least that is what I did.

2-position clean (hang, floor) – 61, 81, 111 x 5 sets
Push jerk + jerk + clean (on 131's) – 1 + 1 x 61, 95, 131 X 5 sets

The cleans felt good, needed the hang practice. The PP + J complex was no problem with the lifts, I have a hard time with the negative. I ended up dropping the weight after the J and cleaning to put back on the rack.

3 rounds for time of:
10 KB 1-arm swing + clean + push press (per arm) – 36 LB KB 19.5% BW
20 box jumps – 20" Box + 45 LB Bumper Plate

13:19 This was stinking hard. I think it was the box jumps that killed me.
Dr. G
2007-12-04
The removal of the Google ad banner from the top of the homepage was a great decision.
Dr. G
2007-12-04
Coach,
With the one arm swing, what height swing do you advocate?

I need to go do my metcon now, so I'm going to just do head height today.
Greg Everett
2007-12-04
1. Per arm

2. Since it's a light weight for a swing, it can be high, but chin height at minimum.

3. There was never an ad at the top of the home page.
ec
2007-12-04
had to work out in AM after PM monday wod, and i was def under recovered.

85# for 2 pos clns
115# for pj/j - jerks feeling better

made up pullups from mon 4,4,4 - WEAK
and ohd situps - with 20# dbs (closer to 10% bw instead of 15)

then did xfb wod today.... short one.
dr. G
2007-12-04
3. My bad. Apologies. For some reason I guess the homepage just looked improved in some way to me today!

Today's CA WOD:

2-position clean bottom-to-top (60% x 5 sets): 52.5kg x 5 sets
(Power clean) to Push Jerk to Split Jerk (heavy but manageable): 70kg x 5 sets, no rack and the power clean needs work, so I modified

Metcon, 3 rounds for time of:
35# KB 10 one-arm swings to head height + 10 cleans + 10 push presses per arm
20 box jumps to above knee height (top of kneecap, technically)

Reduced weight from 25% Rx'd to lower weight (it was either the 35# or the 53#) due to adding the power cleans in the strength portion of the WOD, box jumps done to height of tractor tire plus one 15kg bumper plate
9:12
Very little rest taken, which is good for me! Awesome metcon as usual.

I would like to add something. I felt that the omission of mentioning (at the least) the CA WOD in this month's CFJ article re: combining CF and OL was somewhat confusing and disappointing. If other folks choose to comment, go ahead, I'm not trying to start a discussion, I simply wanted to comment.
Greg Everett
2007-12-04
I have plenty to say on that subject--not the lack of CA WOD mention, but that article and the history surrounding it--but for the moment I'm going to refrain. Look for the original article here soon.
Allen Yeh
2007-12-04
Dr. G,

What was the gist of the article? I don't get the CFJ anymore but I'm curious what it says?
mattpalozola
2007-12-04
Hey Greg,

I'm an avid crossfitter and i'm on the weightlifting team here at truman university in missouri. My coach keeps telling me i need to cut back on the xfit because its going to keep me from gaining strength (particularly leg strength), but from years of swimming-weight training at the same time i think my body has become pretty good at recovering...and i eat on the zone and sleep at least 8 hours a night to make sure the variables of recovery nutrition and sleep are taken care of. My plan is/was to stick with what i'm doing, which is following the wods (except for the heavy days, i usually do a metcon workout on those days) and do weightlifting 3 days a week on top of that. I've been doing it and made gains almost none stop in weightlifting in the past 6 weeks (how long i've been on the team), i've only been bad on days that i partied the night before whish i thought was going to be a given. I've been thinking of giving the CA WODs a try starting in january. Our meets are in feb and march. Do you have any suggestions? I just read the article on weightlifting and crossfit and that's what has got me thinking about all of this.

My email is darkswimmer16@yahoo.com i would be very greatful for any input
ChrisC
2007-12-04
The gist from what I gather is basically an atricle spelling out the Catalyst Athletics WOD but no mention of such programming existing. Which leaves me with a question of who wrote the article? Mike Burgener, Tony Budding or Greg Glassman? Either way, CA WOD has held true to STRENGTH & CONDITIONING. Can't say the same for CrossFit.
Dr. G
2007-12-04
Nice article, Greg. Quite gifted in writing content and style, you are (note Yoda inflection).

I personally like my workouts spoon-fed to me as a heaping helping of OL & strength training, with a topping of GPP (or not). Thus, I'm a CA WOD junkie.

I've been constantly amazed through this CA WOD "experiment" at the level of fatigue and soreness (manageable, yet ever-present) that I'm able to recover from and come back for more, without losing my desire to train (my first obvious sign of overreaching).

I'm also looking at the metcon portions themselves as very well designed WODs in and of themselves for those new to CF-style GPP. Not too much, they're just right.

Kudos.
John Messano
2007-12-04
2-pos Sq Cln (floor, hang) 95, 115x2, 125x3
Push Jerk + Split Jerk 95, 135, 155x3

3 rnds:
10*(DB swing+DB HSCln+PP)
20 Box Jumps
time: 17min
(20, 25, 30lb DBs)


Scotty Hagnas
2007-12-04
2 pos cleans: 125 for 5 sets
PJ+SJ: 165 for 5 sets

WOD will be done later.
AW
2007-12-04
2-position clean (hang, floor) – 60% x 5 sets (95#)
Push jerk + jerk – 1 + 1 x 5 sets – heavy but manageable weight 125#/130/130/130/130


3 rounds for time of:
10 KB 1-arm swing + clean + push press (per arm) – 25% BW (25#)
20 box jumps – above knee height
Time: 4:43
David
2007-12-04
m/23/145#/5'6

2pos cleans:
50kx5sets Felt very easy weight-wise, noticed i wasnt finishing my extension.
Push Jerk 50kx3x5 Just worked form. New to this
3R4T: 16kg(35.2#) Box @ mid thigh level: 10:17

If my pwr clean is stronger than my full clean due to a lack of leg strength from the floor, should i sub more FSQ's into the WODs? I can power clean 82kg(180.4) however can't FSQ it.

my numbers are all out of whack..
Greg Everett
2007-12-04
David -

Don't do more front squats - there is plenty of squatting in there as it is. Your legs will catch up.
David
2007-12-04
Thanks, Coach. I'll stick with the program and see where it takes me.

I agree with Dr. G that the WODs seem to be right on with volume and intensity. Keep up the great work.
Scotty Hagnas
2007-12-04
2nd session:
3 rounds
1 arm KB swing+clean+PP 36#x 10/10 x 10/10 x 10/10
24" box jump x20x20x20
9:17' Used a lighter bell than prescribed to give the elbows a bit more rest. Had a choice of 36 or 53.
Dr. G
2007-12-04
AW,
4:43 for the metcon? Seriously?

I only ask because the number of reps Rx'd totals 240 (60 total of each KB exercise and 60 box jumps), 4:43 is 283 seconds, so minus any transition time you're doing barely over 1 second per rep. If your time and reps is like I said (all 240 reps), you must look like an absolute jackhammer doing this stuff!

At the very least you need to get a heavier KB and scale up.

Are you sure you didn't do 30 total reps per round of the KB exercises? Or are you that much of a monster?
joe wheeler
2007-12-04
I have to ask. For the metcon, is it:
A. 10 swings followed by 10 cleans followed by 10 push press
or
B. 10 x 1 swing + 1 clean + 1 push press

thanks
Sam Cannons
2007-12-05
+1 For the CA WOD junkie. I am a bit behind and just started the Bulgarian Cycle week 1 this week but finished the first cycle last week and got great results in terms of strength and i think my technique is almost passable now. So a huge thanks to Greg for keeping up the great WOD's. My full clean is almost catching up to my power clean now and my snatch is has gained 10kg from the first cycle.
mrbourgot
2007-12-05
Weight in kg:

2-position clean: 60kg x 5 sets
Push jerk + jerk: 60-65-70-75-80

3 rounds for time of:
10 x 16kg KB 1-arm swing + clean + push press (per arm)
20 x 26" box jumps
Time: 10:35

Cheers, Pete

Allen Yeh
2007-12-05
Joe,

Option B.

With the way it's listed you want to do do one rep of each.

I'll be hitting this workout today, since I'm a day behind.


joe wheeler
2007-12-05
I was afraid of that.

Thanks Allen.
Jake Rowell
2007-12-05
Greg - great article. While I've looked at different ways of integrating powerlifting into CF, I've been looking lately at mixing in weightlifting. I'm assuming this is the one you were talking about a few days back on the CrossFit board, saying you had submitted it to CFJ. Their loss!
Jeff G
2007-12-05
2-Position Clean: 125#
Push Jerk-Split Jerk: 154#

MetCon: 16kg KB, 30" Box
2 Rounds: 8:30
Gordon Limb
2008-01-01
2 Pos clean 100lb
Push Jerk + Jerk 155lb

3 rounds
20 (10 each arm) 35lb KB swing + clean + push-press
20 box jumps 24"
9:44

Right shoulder's a little tender - Tomorrow's gonna blow.
Get the App!
Catalyst Athletics programs are available through our exercise.com app. Unlimited access to all programs for only $10/month, or purchase programs individually for only $10 each!
Join the Group
Buy Programs
---
Tag Us!
Tag us on social media when you post videos and photos of your workouts!
#catalystathletics
Instagram: @catalystathletics
Twitter: @cathletics
Facebook: @catalystpm
---
Workouts Menu
Workouts Home
Read This First!
Workouts Help & Info
Exercise Library
Training Programs
Starter Program
Tomorrow's Workout
Text Only
Custom Program Design
Get the App
---
---