Wednesday December 5 2007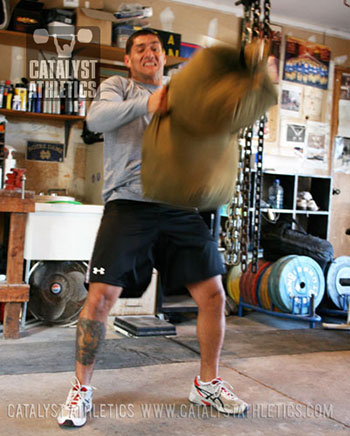 Please
login
to access our training programs.
Registration is FREE!
Questions? Get answers here or post in comments.
24 Comments
Please login to comment!
Scotty Hagnas
2007-12-04
This is going to suck!
John Messano
2007-12-04
can you suggest a sub for cleans? i'm thinking of using a DB.
Dr. G
2007-12-04
Yes, a veritable suckfest it shall be. Praise be for rest Thursdays!
John Messano
2007-12-04
sorry, i am referring to sandbag cleans. I'm certain not to find a sandbag at my pretty fitness center.
Sam Cannons
2007-12-05
John use a skinny personal trainer :) Or more realisticly take a heavy duty back pack to the gym and put a weight plate and a couple of towels it it or a couple of med balls if its big enough...
Sam Cannons
2007-12-05
On sub's can any one suggest something different for the row other than SDHP ??

Its like crazy hot in NQ now, i need an ice bath set up.
Derek
2007-12-05
Back squat – 45 X 3, 95 X 3, 135 X 3, 185 X 3 X 5
DB Incline Press 40 X 6, 45 X 5, 50 X 5, 65 X 3
Snatch pull – 65 X 3, 95 X 3, 115 X 3, 135 X 3, 140 X 2, 145 X 1
Rack jerk – 45 X 3, 65 X 2, 95 X 2, 115 X 1, 135 X 1, 155 X 1, 160 X 1


For time:
700 m row
20 sit-ups
10 sandbag cleans to shoulder – 55 LB's
500 m row
30 sit-ups
13 sandbag cleans to shoulder – 55 LB's
300 m row
40 sit-ups
15 sandbag cleans to shoulder – 55 LB's

13 and change for the time. I didn't have my watch with me this morning

The BS's felt really heavy today. Really Heavy like almost fell on the second set. Inclines because I got some new toys and wanted to try them out. I will post a picture in my log. The metcon did suck but not as bad as if I had a heavier bag.
Mike Donnelly
2007-12-05
Messano:

Come up to my garage for a 7:30pm workout. I have something rigged up for tonight. (If we need an extra 10lbs, bring Nate up and we'll throw him in there too.) Seriously, offer stands
John Messano
2007-12-05
1.BS 3 reps of 135, 155, 185x3
2.SN Pull 135, 155, 185 - first time with movement, this felt really clumsy.
3.Rack Jerk 135, 155, 185f - panicked, did pushpress instead, 185f - complete failure to aggressively get under bar

Metcon:
sub'd 65lb DB for sandbag, else as rx'd. time-17:35

Sam - thank you for the idea. most of the trainers at my gym are tiny little cupcake women, I would have grabbed a couple, but the DB was more accessible.

Mike - thanks, pal. I'm all done. I'll visit CF Yardley soon for instruction on my Cleans and Snatches.
Dr. G
2007-12-05
Today's CA WOD:

Back squats (80% x 3 x 5): 75kg x 3 x 5
Snatch pulls (103% x 3, 105% x 2, 108% x 1): 72.5kg x 1, 75kg x 1, 77.5kg x 1 OOPS, I only did one rep per set! Oh well.
MODIFIED KBs Jerk: 70#s x 5, no good rack to jerk off of yet, gosh that sounds bad

Metcon:
18 15# CBs Overhead swings
35 53# KB Sumo Deadlift High Pull
20 decline situps
10 punching bag cleans to shoulder
13 15# CBs Overhead swings
25 53# KB Sumo Deadlift High Pull
30 decline situps
13 punching bag cleans to shoulder
8 15# CBs Overhead swings
15 53# KB Sumo Deadlift High Pull
40 decline situps
15 punching bag cleans to shoulder
17:54

Decline situps were rough, that's where all the extra rest time came in, last set of 40 went 10, 9, 8, 7, 6. Ouch.

I want to make up the extra snatch pulls I forgot over lunchtime. I've had a little orthostatic hypotension when standing up too quick this morning--I believe it's a combination of the hard metcon, not enough sleep lately, and some goji berry (a nightshade) that recently snuck by me in a new herbal tea that I was trying (Traditional Medicinals' Daily Detox tea, FYI, lycium is goji berry). Nightshades really strain my adrenals and make me snap awake about 1-2 hours too early. Live and learn.

On another note--I'd like to warn anyone else who doesn't want religious solicitation during their workout, I suggest you don't say anything religious-sounding (like I did above with the "praise be...") before your outside workout. So I'm outside (close to a busy Tucson intersection) doing my metcon. You know, trying to experience G-d in my own PRIVATE way. In a window reflection, I see a guy in a shirt and tie approaching my direction. I think, I sure hope he isn't planning on talking to me. He comments on my workout, that he saw me from the road, how hard it looks (no sh--, Sherlock! Was it the steam coming off my head or my heavy breathing that gave it away???), and ***that he doesn't want to interrupt my workout***. He tells me he's going around sharing God with people. I say leave the pamphlet just inside the door, buh-bye! F---ing Jehovah's Witnesses. If I want what you've got, I'll come get some. If you want what I've got, then you COME GET SOME.

GRRRRRRR. I'm too f---ing nice sometimes. This is why I tell my staff not to bother me during a workout. It just isn't a good idea.

Pardon my "dash"-ing language. I can be such a pottymouth.
Derek
2007-12-05
I have to say that is the first proselytizing during a workout story I have ever heard.

Thats pretty rude at several levels.
Scotty Hagnas
2007-12-05
Dr. G- Great story. I've never heard of anyone running into that situation before, either.

Had to do the metcon first today:
All as Rx'ed. Sandbag 67 lbs, abmat situps.
12:48' It didn't suck quite as bad as I thought it would...

Strength work later today. It might take a few days for me to get it posted, though. Off to Long Beach, CA for the annual flatland jam. I'll probably have to miss the Fri and Sat workouts this week, unfortunately.

Greg Everett
2007-12-05
Scotty -

Have fun in Long Beach - I'm sure you won't have time, but you're welcome to come down to the gym and train while you're in the general vicinity.
Dr. G
2007-12-05
Funny thing is, the guy probably expected me to be taking a break at some point so he could really start talking. Wasn't expecting me to keep going!

I also take it as a good sign that people are noticing what I'm doing from the road, as in free advertising. Honestly, some mornings there is a woman who parks her car 50 feet away from me working out, smokes a cigarette, and makes no effort to hide that she is totally staring at me.

Maybe I should charge admission.
David
2007-12-05
No gym access today, will post numbers tomorrow.
AW
2007-12-05
Back squat – 80% x 3 x 5 (165#)
Snatch pull – 103%(110) x 3, 105%(110) x 2, 108%(115) x 1
Rack jerk – work up to a heavy single 135#/145/150(155f)


For time:
10 flys 40% BW
20 sit-ups
10 sandbag cleans to shoulder – 40% BW
13 flys 40% BW
30 sit-ups
13 sandbag cleans to shoulder
15 flys 40% BW
40 sit-ups
15 sandbag cleans to shoulder
Time: 4:50
Scotty Hagnas
2007-12-05
Thanks, Greg. I wish I could make it down Friday, but I'm with 3 other guys (who don't train) and they probably wouldn't like me running off with the van for a while.....

BS: 240x3x3x3x3x3 Not too bad.
SN P: 145x3;147x2;150x1
Jerk: 135x1; 165x1; 185x1; 195x1
Kyle S.
2007-12-05
I saw someone did this to Mr. Wolf, and couldn't resist.
http://www.elfyourself.com/?id=1184243689
ec
2007-12-05
bs 140#
sn pull 110, 115,120#
jk to 135#, felt good - seem to have corrected the jumping to the right issue.

metcon in 18.07 with mods:
1) did 1/2 rx'd GHD situps (10,15,20 reps)
2) went heavier on the clns - used barbell and did power clns - 105# (60% BW)

David
2007-12-06
m/23/145#

Was feeling really drained strength-wise today. Hit this WOD at about 630am and scaled it down.

CFWUx2
BSQ 185x2x5 Cut the third rep

MetCon:
Used a 70# Punching bag for the cleans and did the rep scheme of 20,30,40 with them. 20:18

Liked this one so much i did 30-20-10 Burpees and SB cleans afterwards.


Jeff G
2007-12-06
Back Squat:240#
Snatch Pull: 110#, 125#, 140#
Rack Jerk: 198#

MetCon w/ 75# bag: 17:50
Jeff G
2007-12-06
Just realized that I went 80/90/100 on the Snatch pull. Oh well.
joe wheeler
2007-12-12
back squat 92.5kg x 3 x 5
sn pull: 60 x 3; 62.5 x 2; 65 x 1
rack jerk to 75kg (lower than usual)

different metcon, no rower or sandbags
Gordon Limb
2008-01-02
Back Squat 190 x 3 x 5
Snatch pull 115 x 3, 117 x 2, 120 x 1
Rack Jerk 135, 155, 165, 175, 185, 195
-had to use some of Aimee's mental tips to get the 195 off the rack

Metcon - as Rx'd (65lb sandbag/USMC-style situps) 11:57
That didn't suck as much as I thought it would


Get the App!
Catalyst Athletics programs are available through our exercise.com app. Unlimited access to all programs for only $10/month, or purchase programs individually for only $10 each!
Join the Group
Buy Programs
---
Tag Us!
Tag us on social media when you post videos and photos of your workouts!
#catalystathletics
Instagram: @catalystathletics
Twitter: @cathletics
Facebook: @catalystpm
---
Workouts Menu
Workouts Home
Read This First!
Workouts Help & Info
Exercise Library
Training Programs
Starter Program
Tomorrow's Workout
Text Only
Custom Program Design
Get the App
---
---