Monday December 17 2007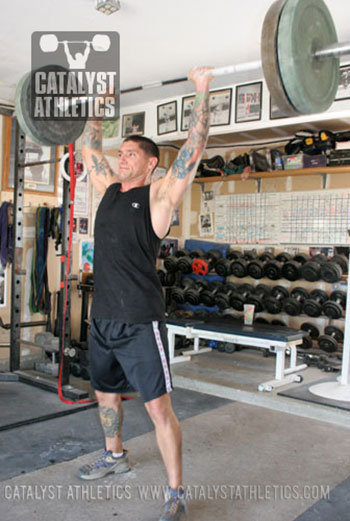 Please
login
to access our training programs.
Registration is FREE!
Questions? Get answers here or post in comments.
22 Comments
Please login to comment!
John Frazer
2007-12-16
For the clean pulls, are the percentages based on a 1RM clean pull, or on a 1RM clean?
Greg Everett
2007-12-16
Clean/snatch deadlift/pull %s are based on the clean/snatch 1RM.
Gordon Limb
2007-12-17
Working into my second week on your program - looking forward to the improvements...

FS 160 x 3 x 5
Clean Pull 135, 155, 175 x 2
Push-press 140 x 5 x 3

Pull-ups and TGUs tonight

Gordo
Dave Wilson
2007-12-17
FS up to 242x3x5
Clean pull up to268x2
PPress 200x3x3
Pull ups 8,7,7
TGU sit ups 40lb x10x3
John Messano
2007-12-17
FS 145*3*5
Cl Pull up to 225*2
PP 95*3*1; 135*3*4
Pullups 20, 8, 8

forgot TGU SU. later today.
Derek Simonds
2007-12-17
Row W/U
DROM

FS 45 X 5, 95 X 3, 135 X 3, 155 X 3 X 5
C Pull 95 X 3, 135 X 3, 155 X 3, 185 X 2
PP 45 X 7, 65 X 5, 95 X 3, 105 X 3 X 5
P/U's 6, 6, 6
TGU's 45 LB DB 6R 4L, X 3

Jeff Renner
2007-12-17
FS 135x3, 185x3x5
Cln pull 135x2, 185x2
PP 95x3, 135x3, 155x3x5
P/U 8,8,8
TGU's 45lbs 10x3
Jason Mrozek
2007-12-17
FS: Worked up to 225lbs 3x5
Cln Pull: 135x2, 185x2, 225x2
Pull-ups: 25,20,15
TGU sit-ups: @45lbs 10x3
Jeff G
2007-12-17
Are we supposed to add weight for our pull-ups only when rx'd, or is that the default?
Dr. G
2007-12-17
Today's CA WOD:

1:30 rest taken between all sets and exercises
Front squat (75% x 3 x 5): 85kg x 3 x 5
Clean pull (work up to 100% x 2): 89kg x 2
Push press (same weight as last Monday x 3 x 5): 50kg x 3 x 5, accidentally went 5kg too light, stayed there after realizing it due to left A/C joint and trap soreness, probably a really good decision
Pull-ups (3 x near max reps): 10, 8, 7, first two sets done with commando grip, alternating pull-up side each rep, last set done underhand grip
KB Turkish Get-up sit-ups (25%BW x 10 x 3): 35#KB x 10 x 3, done a bit lighter than Rx'd, floor press done between all reps

Left trap and both A/C joints still not 100%.
Carney
2007-12-17
FS 70kg x3x5
CP 40x3, 55x3, 65x2, 75x2, 85x2
PP 50kg x3x5
Pullups 9-7-6 reps
TGU-SU 35# x10x3
mrbourgot
2007-12-17
Didn't bother going light as I only do the program about 2 days a week.

Front squat
20kgx5x2, 40x5, 60x3 80x1, 90x1, 95kgx3x5

Push press
20kgx10, 40kgx3, 60kgx3, 72.5kgx3x5

Pull-ups – 3 x max reps
Overhand grip: 10,7,8

Turkish Get-up sit-ups –
16kg kb x 10 x 3

Cheers, pete

Greg Everett
2007-12-17
Jeff -

Normally you'd add weight to your pull-ups if you're able to do more than 10 or each set. But this week is a light week, so no weight.
Matt
2007-12-17
What's a "bulgarian cycle"?

Thanks!
Greg Everett
2007-12-17
Matt -

Basically it's little other than snatching, clean & jerking, and front squatting. Heavy.
Dr. G
2007-12-17
Coach Greg,
I posted a thread today on A/C joints and overhead work, if you have any insight I'd be very grateful! Even if it simply amounts to "suck it up".
ec
2007-12-17
fs - 110#
cln pull - 165# (a bit high cause cln is pathetic)
pp - 105#, 115x2, 120x2
pu's - 7.6,5
tgus - 35 lbs (20%), 45 lbs (25%) x 2
John Frazer
2007-12-17
Front squat: 165x2, 165x3, 155x3, 157x3x2 -- screwed this up, forgot my logbook and tried to front squat my back squat weights from the other day (and heavier than the last set of front squats). FSs should have been in the 130s. Oops.

Clean pull: 165x2
Push press: 107x3x5
Chins: 7, 5, 5
TGU situps: 40#x10 (5L/5R), 45#x10x2 -- BW is 18# but working up to the heavier weights on these.

mike
2007-12-17
FS 80kg*3*5
clean Pull 90, 100, 110*2
pp - 80*2 - too heavy, 60*5*3 - too light
chins 5,5,5
TGU - 20kg *5, 10kg *10 * 2
Eric Jones
2007-12-18
Age: 21
BW: 165lbs

FS: Warmed up to 185x3x5

Clean Pull: Warmed up to 215x2

PP: 135x3x5


AW
2007-12-18
Front squat – 75% x 3 x 5 (125#)
Clean pull – work up to 100% x 2 (135#/155/160)
Push press – 5 x 3 – same weight as last Monday (135#)
Pull-ups – 3 x near max reps (11/3,11/3,7/3)
Turkish Get-up sit-ups – 25% BW x 10 x 3

Scotty Hagnas
2007-12-18
FS: 205x3x3x3x3x3
CP: 210x2
PP: 145x3;165x3;185x3
press: 110x2x2x2
Pullups: +14lb vest X8X6X6 (oops, should have stayed light)
Half-ups 45x10/10 x 10/10 Only time/energy for 2 sets
Get the App!
Catalyst Athletics programs are available through our exercise.com app. Unlimited access to all programs for only $10/month, or purchase programs individually for only $10 each!
Join the Group
Buy Programs
---
Tag Us!
Tag us on social media when you post videos and photos of your workouts!
#catalystathletics
Instagram: @catalystathletics
Twitter: @cathletics
Facebook: @catalystpm
---
Workouts Menu
Workouts Home
Read This First!
Workouts Help & Info
Exercise Library
Training Programs
Starter Program
Tomorrow's Workout
Text Only
Custom Program Design
Get the App
---
---