Tuesday December 25 2007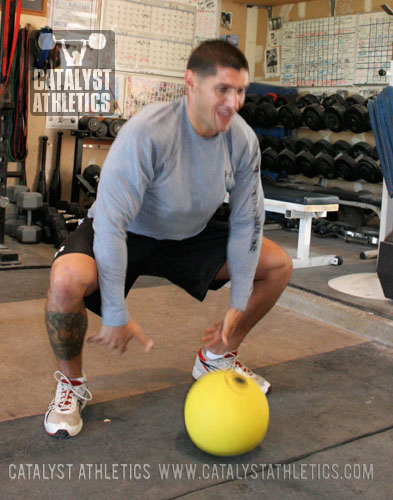 Muscle Snatch + OHS + snatch balance – heavy muscle snatch x 4 sets
Snatch – 70% x 1 x 5
Clean & Jerk – 70% x 1 x 5
2 rounds for time of:
50 m sprint
20 1-arm KB swings 25% BW
Rest 2 minutes
2 rounds for time of:
15 pull-ups
10 box jumps – med height
Post numbers and questions to comments.
Questions? Get answers here or post in comments.
10 Comments
Mike Donnelly
2007-12-25
MS+OHS+Sn balance 70 (improved ROM and active shoulders)X4
Sn 70 X5
C&J 100X5

Metcon later
Derek Simonds
2007-12-25
Muscle Snatch + OHS + snatch balance – 61 X 4, 81 X 4 sets
Snatch – 95 x 1 x 5
Clean & Jerk – 125 x 1 x 5

Guess who was up at 4:45 this morning, uhm my son. I made him go back to sleep as long as possible. I finally said if you are up you are working out. So we made a couple of Christmas lifting videos.

SR http://www.youtube.com/watch?v=N-Y46mBNhNk

JR http://www.youtube.com/watch?v=MBrGAiVZKRA

2 rounds for time of:
20 1-arm KB swings 28% BW 53 LB's
15 pull-ups
10 box jumps – med height

No watch but less than 2 songs.

Carney
2007-12-25
MSN+OHS+SNBAL 40kg x4
SN 47.5 kg x1x5
CJ 60 kg x1x5

2 RDS:
150 m Row
20 OA DB swing, 35 lb
3:13

2 RDS:
15 pullups
10 box jumps, 20"
1:41


Merry Christmas!
John Messano
2007-12-25
Merry Christmas, Friends!

MusSn+OHS+SnBal 95lb, 4 sets

Snatch 95lb, 5 sets of 1

C&J 125lb, 5 sets of 1


Metcon:
2 rnds:
sub'd 50m row
20 OA DB swings, 45lb DB, 10 ea
~3 min.

@

2 rnds:
15 Chinups
10 Box Jumps
~3 min.


XX
2007-12-25
Hi Greg,

Happy Holidays. My back has been looking rounded and its been awkward lifting the weight up. On the last three, I narrowed my grip 5-6 inches on both sides. Felt way better all around. I know with a narrower grip I have to lift the weight higher to get underneath it but my pull and my back look and feel so much smoother.

Would you recommend I go to a wider grip and lift off of blocks or use a narrower grip and work it until the flexibility comes for a wider grip and lower start position? I need a higher start position so I can keep my back straight. I'm 6'1".



muscleSN 95 x 4
Snatch 100.
C& J 135

1:58 with 44lb KB
1:42 for pu/box jumps
Greg Everett
2007-12-25
XX - You can try a narrower grip and a wider stance for now, but get on the flexibility!
Derek Maffett
2007-12-25
Merry Christmas, everybody!

Thanks to some great generosity today, I'm going to the Portland cert! See you all there!
Scotty Hagnas
2007-12-25
Lifting at home today.

Ms+OHS+Sn Bal: 95x1x1x1x1
SN: 100x1x1x1x1x1
C&J: 150x1x1x1x1x1
The lifts felt much better today.

Sprint/KB swing done in 1" fresh snow. Snowing fairly hard.
1:37' w/53 lb KB and 45 lb DB on the other end.
Rest 2'
Pullup/box jump done on rings (pullups) and 24" hurdle jumps in place of box jumps.
1:54'
Finished with some mills with a clubbell, then some stretching and compensatory work. And brushing snow off of the satellite so i could upload this post....
Scotty Hagnas
2007-12-25
Nice, Derek! Looking forward to seeing you there.

Merry Christmas, everyone!
AW
2007-12-25
Muscle Snatch + OHS + snatch balance – heavy muscle snatch x 4 sets (105#)
Snatch – 70% x 1 x 5 (95#)
Clean & Jerk – 70% x 1 x 5 (115#)

2 rounds for time of:
5 burpees
20 1-arm KB swings 25% BW (25#)
2:19

Rest 2 minutes

2 rounds for time of:
15 pull-ups
10 box jumps – med height
3:28
Workouts Menu
Workouts Home
Workouts Help
Exercise Library
Training Programs
Starter Program
Tomorrow's Workout
Text Only
Custom Program Design
---
---
Advertise With Us