Monday January 7 2008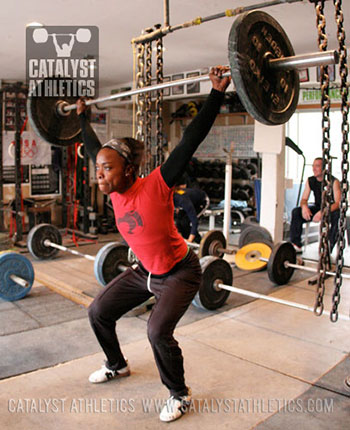 Please
login
to access our training programs.
Registration is FREE!
Questions? Get answers here or post in comments.
20 Comments
Please login to comment!
Jeff G
2008-01-06
Again? Alright...
Dr. G
2008-01-07
Monday, Monday...da da, da da da dah...

After doing this yesterday, today should be interesting!

Metcon looks fun!
Mike Donnelly
2008-01-07
Welcome to Bulgaria
mrbourgot
2008-01-07
In kg:

Snatch: 20x5; 40x3; 50x1; 55x1; 60x1; 65x1; 67.5x1x3

Clean and Jerk: 67.5x1; 75x1; 80x1; 85x1; 90x1x3

Too many reps warming up the snatch. Left the front squats out having done back squats yesterday. Game of 5 a side football later and a much needed rest day tommorow.
Greg Everett
2008-01-07
Hope you guys spent your rest day wisely...
Dr. G
2008-01-07
What rest day?!? Oops!!!

Definitely noticed a lack of "juice" in the heavy lifting today, should not have done the tuck jumps yesterday.

Snatch (90% x 1 x 3): 67.5kg x 1 x 3, pressed out the last one something fierce, even though it was ugly I was proud of saving it
Clean & Jerk (90% x 1 x 3): 86.5 x 1 x 3
Front Squat (90% x 2 x 2): 111.5 x 2 x 2, realized that yesterday I only did 106.5kg x 2 x 2 due to using the 15kg bar, will fix training log to reflect that mistake (maybe not a mistake considering the back-to-back 90% workouts!)

Will do metcon later.


Allen Yeh
2008-01-07
Missed the first 2 weeks, unsure where to jump in here.

Also wrist feels jacked up from my max attempts on Friday. Not sure if clapping push-ups is in the cards for me today.
Dreid
2008-01-07
hi all, i just started the CA WOD from the beginning (using the archives starting in Oct) and i love the programming so far. i am a crossfitter and USAW performance coach (so a little exposure to the o-lifts). i have been getting a lot of heat recently at the gym about going too deep on my squats and putting my knees in danger. i was also told today not to lift overhead because my neck muscles will pull down and compress my vertebrae, pinching my spinal cord. i, of course, disagree, but don't really have any literature to back me up, any ideas? thanks!
Dr. G
2008-01-07
Today's metcon, taken a bit easy:

5 rounds for time of
5 (32%BW) 53# KB swings
5 kipping pullups
5 L, 5 R (25%BW, went lighter than Rx'd) 35# KB cross-chops
5 clapping pushups
5:57

Just right.

Dreid, you might want to turn those questioning what you are doing to present literature (cited studies) that show that what you are doing is bad in the first place, before you worry about having to defend your position.

The USAW should have some good material on the safety of deep squats. As for the second part regarding the overhead lifting, tell them that they're from outer space. I've never heard of such a thing, ever, nor does the biomechanics of what they are describing even make sense in an overhead lift. Or just tell them to piss off.

Greg Everett
2008-01-07
Dreid -

I'm with Dr G on this one. The onus is on them to convince you, not the other way around. Since they clearly are full of shit, they won't do it, so you can proceed directly to phase two - telling them to piss off.
Dreid
2008-01-07
Thanks Dr G and Greg, telling them to piss off sounds like just the thing to put me back into my groove after they interrupt my training. Also, thanks a lot for starting up these WODs Greg, i love them so far.
Thea Taylor
2008-01-07
The Olympic lifts are one of the best exercises you can do for spine health. It builds your core and teaches you how to stabilize the spine properly, no pulling your belly button to your spine here!!!!!! I could go on about squating below paralell(sp?) but i won't.

Your local Olympic lifting Chiropractor
wilson
2008-01-07
Dreid--

Tell them "There can be only one. I do only that which is in accordance with the prophesies".

Maybe it will freak them out and they will leave you to do God's work.
John Messano
2008-01-07
Snatch 3 sets of 1 at 125
C&J 3 sets of 1 at 160
Front squat 2 sets of 2 at 165

Met con 5 rounds of
- 5 kb swings @ 55
- 5 chinups
- 10 chops @35
- 5 clapping pushups
time 7:32

Thank you to Mike Donnelly for instruction and encouragement.
Jeff G
2008-01-07
You're crackin' me up, Wilson!

Sn: 142#
CJ: 198#
FS: 238#

MetCon 5 rounds w/ 53# Swing, 45# Chop, Big Fat Pull-ups: 7:10
Mike Donnelly
2008-01-07
Snatch 3 sets of 1 at 85 (better form and depth)
C&J 3 sets of 1 at 135
Front squat 2 sets of 2 at 150 (from the pins)

Met con 5 rounds of
- 5 kb swings @ 55
- 5 chinups
- 10 chops @35
- 5 clapping pushups
time 5:35

Thank you to John Messano for (lots of)instruction and (a little bit of) encouragement.

AW
2008-01-07
Snatch – 90% x 1 x 3 (115#)
Clean & Jerk – 90% x 1 x 3 (145#)
Front Squat – 90% x 2 x 2 (165#)
Scotty Hagnas
2008-01-07
SN: 120 x1x1xs1 Felt pretty good today.
C&J: 180 x1x1x1
FS: 235 x2x2 Still hard...
Press: 125 x2x2
Wtd pullups 45 x2x2x2
One leg extended, one leg tucked planche holds

Metcon, as Rx'ed -5 rounds:
4:36'

Later, finally achieved the PVC OHS with hands together.
ec
2008-01-08
oy. 90% today was much tougher than sat. made all the lifts, but didn't feel as fast.

sn = 95#
c&j - 125#
fs - 140#

im going to have to take tues off - wrist has bothering me due to a botched fs bail out last week. will push the wods back a day.
Gordo
2008-02-04
Back on the web after being on the road for the past few weeks

Snatch 107 lb
C&J 157 lb
Front Squat 195 lb

5 rounds of metcon 6:00

Similar sentiments as others - felt much slower today (Saturday felt great; the same weights felt "easy").

yesterday was spent buliding my lifting platform and finishing my kids swingset, so not much of a rest day

See you in a week
Get the App!
Catalyst Athletics programs are available through our exercise.com app. Unlimited access to all programs for only $10/month, or purchase programs individually for only $10 each!
Join the Group
Buy Programs
---
Tag Us!
Tag us on social media when you post videos and photos of your workouts!
#catalystathletics
Instagram: @catalystathletics
Twitter: @cathletics
Facebook: @catalystpm
---
Workouts Menu
Workouts Home
Read This First!
Workouts Help & Info
Exercise Library
Training Programs
Starter Program
Tomorrow's Workout
Text Only
Custom Program Design
Get the App
---
---