Wednesday January 9 2008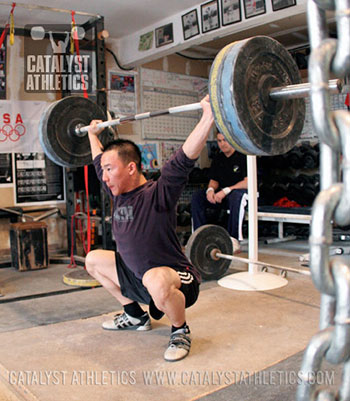 Please
login
to access our training programs.
Registration is FREE!
Questions? Get answers here or post in comments.
14 Comments
Please login to comment!
Justin Fricke
2008-01-08
I do not have access to a rower would a miling bike sprint around the block be just as effective....

and the number 90% is starting to me....hard how many more weeks of bulgaria?
Eva T.
2008-01-08
beautiful position he is holding
John Messano
2008-01-09
Snatch up to 125
C&J up to 160
FS up to 165

Metcon:
3 rnds (w/ 2min rest)
10 Box Jumps - high
sub'd 20 DB Power Cleans with 55lbs for Sandbag
600m Row

5:13, 5:19, 4:53
Dr. G
2008-01-09
Today's CA WOD:

Joint mobility
Scapular stability
Extended Burgener warmup, pipe and 15kg bar, 3 reps

Snatch warmup: 29kg x 2, 39kg x 1, 50kg x 1, 60kg x 1
Snatch (90% x 1 x 1): 69kg x 1 x 1
Clean & Jerk warmup: 70kg x 1 push jerk, 80kg x 1
Clean & Jerk (90% x 1 x 1): 87.5kg x 1 x 1
Front Squat (90% x 2 x 2): 111.5 x 2 x 2

Metcon, 3 rounds for time, 30 sec. rest b/w rounds:
10 box jumps to tractor tire (knee height)
MODIFIED 20 tractor tire flips
MODIFIED 15 15# CBs swipes + 30 70# KB sumo deadlift high pulls
Total time 18:20

Oy vey. Brutal. Yay for rest days!
Dr. G
2008-01-09
Justin,
For exercise substitutions the CrossFit FAQ is great...http://www.crossfit.com/cf-info/faq.html. As you can see from my entry, I subbed clubbell swipes and SDHPs for rowing (I don't have a rower). Do what you need to do!

I believe this is the second week of this Bulgarian cycle...see the CA WOD info for more details...http://performancemenu.com/daily/index.php?show=about
Jeff G
2008-01-09
So, doing those weighted rope climbs yesterday was a bad idea, especially after those cross-chops. My elbows are starting to hurt.

Sn: 142#
CJ: 198#
FS: 238#

MetCon w/ 30" box and 80# bag: 16:12
Sam Cannons
2008-01-09
Great position in that picture
ec
2008-01-09
sn - 95#
c&j - 125#

i do like the 90% doesn't feel so heavy anymore.

i don't like that my quads seem to have tripled in size with this cycle. i skipped the fs today.

did helen for my metcon instead - 10:42, well off my pr.
AW
2008-01-09
Snatch – 90% x 1 x 1 (115#)
Clean & Jerk – 90% x 1 x 1 (145#)
Front Squat – 90% x 2 x 2 (165#)
Eric Jones
2008-01-09
Whew, was feeling awfully energetic today.

Snatch: 1x, 145, 145, 155 (OLD PR!!!)

C&J: 1x 185, 185, 195 (Fail)

5 rounds of:
3 complexes of; Squat Clean, Front Squat, Push Jerk, Back Squat, Push Jerk from Back w/135lbs
-Exactly 1 minute rest between rounds
Scotty Hagnas
2008-01-09
SN: 120x1 Felt good.
C&J: 180x1 Felt easy; I entertained the thought of going for a PR, but thought better of it.
FS: 235x2x2 Still heavy.

Metcon: 2 rounds, as I ran out of time before my next client. This one sucked.
10 box jumps 24"
20 sandbag power cleans 30% - 52.5 lbs.
row 600m
30" rest
3:29' 1st round; 4:53' second

Planches, plus a few back levers and shoulder stands on the rings done later. Lots of recovery work.

Off to California for the weekend; hopefully I can get in the workouts while there.
mike
2008-01-10
SN 75kg
CJ 95
Clean + FS x 2 = 95*2

I guess I am on the other side of the recovery fence from EC, The 90% are feeling more and more like 100%

Skipped Metcon because of new ring to play with
Justin Fricke
2008-01-10
Snatch 160#
C/J 230#
FS 255#

Felt good
Gordo
2008-02-06
Snatch 107
C&J 157
FS 195 x 2 x 2

These all felt much better than Monday and I don't think it was because of just one each...

Metcon:
28" box
50 lb bag
600m row
16:31 splits 5.10, 5.07, 5.14

Get the App!
Catalyst Athletics programs are available through our exercise.com app. Unlimited access to all programs for only $10/month, or purchase programs individually for only $10 each!
Join the Group
Buy Programs
---
Tag Us!
Tag us on social media when you post videos and photos of your workouts!
#catalystathletics
Instagram: @catalystathletics
Twitter: @cathletics
Facebook: @catalystpm
---
Workouts Menu
Workouts Home
Read This First!
Workouts Help & Info
Exercise Library
Training Programs
Starter Program
Tomorrow's Workout
Text Only
Custom Program Design
Get the App
---
---