Saturday January 12 2008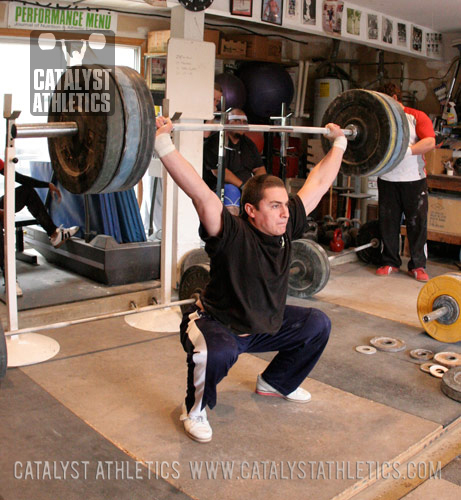 Snatch – 95% x 1
Clean & Jerk – 95% x 1
Front Squat – 95% x 1 x 2
Post numbers and questions to comments.
Questions? Get answers here or post in comments.
11 Comments
Scotty Hagnas
2008-01-11
Already done, see yesterday. A long weekend of rest!
mrbourgot
2008-01-12
in kg:

Snatch: 70kg
c&j: 95kg
FS: 110kg

Cheers, Pete
Dererk Simonds
2008-01-12
Snatch 61 X 2, 81 X 2, 91, 100, 110 120 X M X M, 120, 125, 130 X M
C&J 95 X 2 (R&L J), 115 X 2 (R&L J), 135, 155, 165
FS 135, 155, 185, 205, 215 M

Ran out of time had to take son to gym practice and rushed from 165 through FS. Had a rough two days of travel and fighting a cold so nothing felt really right. I wasn't going to workout early but really didn't have any other time. Close on all the numbers but didn't hit where I needed to be.
ec
2008-01-12
sn - 95#, went for a second attempt cause 1st was pwr... but pwr sntched second attempt too
c&j - 130#, wrist still not 100%, little slow on jerk but made it.
fs - 147#
XX
2008-01-12
Snatched 125 and felt great. Went for old PR of 135 and felt much better on form. Hips felt connected to bar through my midline and shoulders, not my arms. Did not jump forward which is an improvement from before.

C&J 175
Forgot to do Front Squats!
Jeff G
2008-01-12
Sn: 152#
CJ: 213#
FS: 250#

Rope Climbs: BW, +25#, +30#
Dr. G
2008-01-12
Having some technical difficulties with the outdoor OL platform, decided to to 5 minute snatch test and long cycle test tomorrow with 53#s.

AW
2008-01-12
Snatch – 95% x 1 (120)
Clean & Jerk – 95% x 1 (155)
Front Squat – 95% x 1 x 2 (170)
mike
2008-01-13
Snatch 75, 80missx4 - this is 95%
C&J 100kg
Clean + 2 FS - 100kg

I am definitely starting to overreach and looking forward to easy week. (please)


John Messano
2008-01-13
Sn 135lb
C&J 170
FS 2 sets of 1 @ 175
Gordo
2008-02-09
020908 am:
Snatch 115 x 1
C&J 165 x 1
Front Squat 205 x 1 x 2

All lifts felt solid.

Pm: PainStorm XXXIV "At least it goes down
21 BWT Front Squat
42 Burpee pull-ups
Run 900m
15 BWT Front squat
30 muscle-ups
Run 900m
9 BWT Front Squat
18 Box Jump 36"
40:29


Workouts Menu
Workouts Home
Workouts Help
Exercise Library
Training Programs
Starter Program
Tomorrow's Workout
Text Only
Custom Program Design
---
---
Advertise With Us