Friday January 18 2008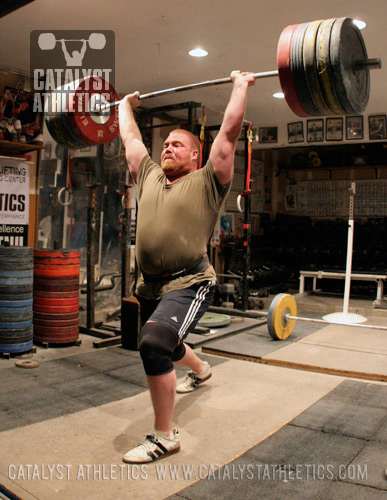 Snatch - 50% x 1 x 3
Clean & Jerk - 50% x 1 x 3
Post numbers and questions to comments.
Questions? Get answers here or post in comments.
8 Comments
Derek Simonds
2008-01-17
That is a huge man executing a huge lift. I am doing this on Thursday so I will have a full day of rest before Greg's seminar.

2 X 10 B/E, PU, S/U, S
D W/U, B W/U

SN 61 X 4, 66 X 4, 71 X 3
C&J 81 X 4, 91 X 4, 96 X 3

Man I am feeling good I hit the RX'ed weights two days in a row!
Sam Cannons
2008-01-17
He's a monster ! I got a long way to go yet
ec
2008-01-18
s - 55#
c&j - 75#

oooo.... im getting a little nervous for tomorrow am.
Dr. G
2008-01-18
Did Wednesday's CA WOD today (75%'s):

Joint mobility and scapular stability
Mod. Ext. Burgener warmup, 3 reps, with both pipe and 15kg bar

Sets done on 2 minute interval
Snatch warmup: 29kg Sn+PS+Tall Sn x 1, 39kg x 1
Snatch (75% x 1 x 3): 57.5kg x 1 x 3 (hit groin hard on first rep so failed, definitely noticed the lack of OL practice over this last week, reminded myself to jump and not hump the bar, took an extra 2 minute interval to recover and did 3 good singles after that)
Clean & Jerk warmup: 57.5kg x 1 push jerk
Clean & Jerk: 72.5kg x 1 x 3 all push jerks, felt good
XX
2008-01-18
nice and light today. Very excited about tomorrow! For tomorrow, all I'm going to focus on is jump and get under that bar.

Took a look at last night at dewhang's flickr sight of Chinese O Lift athletes in training. Played around with the frog stance, wider stance, hip width stance and toes aggressively turned out. With any of those, I was able to much more comfortably squeeze my torso through my thighs in the start position and my back looked arched and rigid.
Scotty Hagnas
2008-01-18
Sn: 67.5x1x1x1
C&J: 100x1x1x1

Foam roll and joint mobility later.

Feeling ready. I had to run out to the car, and for no reason I broke into an all out sprint. When I do stuff like that, it's usually a good sign...
Uh Oh
2008-01-18
Garrett,

Well now you have my attention. Hopefully, you can personally direct all comments about me to me instead of hiding on an internet forum. I am a big boy and I can take it. To date I think I may have met you once or twice. You know nothing of me or my program.

I never heard from you regarding interest in the meet tommorrow. If you were that interested competing at the meet you seem pretty up on technology they have invented this thing called a phone you may have heard of it. My number is on my website www.performanceone.net, USAWeightlifting, and Mike Burgener's. I don't remember getting a call either.

I have devoted much more of my time, energy, and money to helping all athletes in the sport of Olympic Weightlifting then you would have ever considered. Yes, I train women. I am one of the few coaches in Arizona who does. My women are some of the best in the nation. I train many more men. Many of my men are nationally ranked in their perspective age and weight divisions. Many have earned spots on International Teams. I also train Masters lifters. Many of my Masters lifters have placed Nationally.

As for a coaching I have been selected several times by USAWeightlifting to coach our nations best young lifters at several international competitions and I have always brought home Medals. I am the cheif figure in Arizona for Weightlifting Education, Recruiting, and Coaching.

I have always encountered individuals like you. People fresh to our sport and think that they can dominate. I once had a guy like you who told me he was going to win Senior Nationals and he couldn't lift more then any of my High School Lifters.

Take my advice don't compete in Olympic Weightlifting. It is a tough sport for only the strong minded individuals. You have shown to me in your posts that you do not posses what it takes to compete. You have never competed in a sinlge competition nor are a Master's Lifter but yet you have already given yourself a Gold Medal. You're funny! I am going to let you in a little secret. Training in your Garage and lifting in a meet that matters are too different things. And when you add national competitions, National Judging, Travel, and Time Zone Changes Good Luck my friend. Once my athlete has shown that he is competent in the lifts they must compete for the experience. That experience can not be mimiced in the gym. If you ever competed in any athletic event you would know that.

In regards, to me only training competition lifters you got it half right. I only train serious athletes. All my lifters compete in atleast the local level. Many of my sports performance athletes have competed for me locally and nationally as long as it does not conflict with their primary sport.

Since moving to Arizona I have brought a National Title to our Junior Men's Team, had athletes from all backgrounds medal nationally and internationally, and brought several international meets to Arizona. In December 08, I will be the meet Director for the American Open Championship/North American International Invitational. It will be the largest international Olympic Weightlifting event in Arizona History.

So now hopefully you know a little more about me. If I forgot to email someone back, I am sorry I am very busy. But if you needed me that bad call me. I will train anyone whom has a passion for the weights and competition. I will not train someone whom wants to lift just to tell people on an internet site his accomplishments. I will take you up on that challenge of you trying to beat any of my athletes. My gym is always open for a challenge.

This will be my first and last time posting on a forum. If you would like to comment to anything I said please feel free to say it to my face. I will be the big guy in the corner of the gym coaching my athletes to higher standards the you have set forth for yourself.

Joe Micela
Director/Owner
Performance One
Advanced Sports Training

Head Coach Team Arizona Weightlifting

www.performanceone.net

Mike Donnelly
2008-01-19
Sn: 55 X3
C&J: 75 X3
Workouts Menu
Workouts Home
Workouts Help
Exercise Library
Training Programs
Starter Program
Tomorrow's Workout
Text Only
Custom Program Design
---
---
Advertise With Us