Monday January 21 2008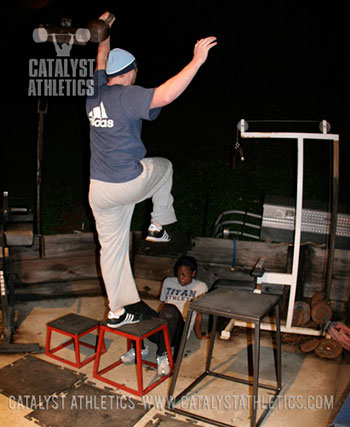 Back squat - take up to a med-heavy single
Press - 5 x 3 med-heavy
2 rounds for time of:
200 m sprint
15 pull-ups
10 Turkish get-ups - 25% BW
15 pull-ups
200 m sprint
2 min rest
Post numbers and questions to comments.
Questions? Get answers here or post in comments.
8 Comments
Derek Simonds
2008-01-21
Using my newly minted Coaching cert I hearby give myself the day off. See everybody tomorrow.
Mike Donnelly
2008-01-21
Felt like I could have PR'ed on the squats
BS: 185
Press: 95 5X3
Bnk Snatch grip Press: 75 5X3
Max
2008-01-21
PR Day (Did this yesterday)
Snatch: 87kg (new pr +7)
CJ: 120kg (new pr + 10)
FS: 155kg (new pr + 10)

Great progress: Going to take a break from so much olympic lifting though (maybe only 4 times a week)

Did a kettlebell workout today instead of posted:
5 rounds of:
10 double dead clean
10 double thruster
10 pullup
10 double snatch
10 mb slam situps
10 burpee broad jump
used a pair of 20kg bells for entire workout

took about 22 minutes. Very difficult.
mike
2008-01-21
Squat 130kg
Press 60*3*5

Scaled TGU to 12 %BW and all PU broken into little pieces
Round one ~9:15
Round two ~10:00

Out of shape, bnut trying
Jeff G
2008-01-22
BS: 284#
Press: 130#

MetCon: Subbed 30 double unders for running (meant to sub 60 du's, but got confused), 50# for tgu's: 16:25
John Frazer
2008-01-23
Squat: 185#
Press: 85x5, 90x5, 90x4

Was running late so accepted the invitation to do only one round of metcon -- 11:07
Scotty Hagnas
2008-01-23
Resting at least most of this week. Workload at the gym has been crushing, and sleep is in short supply as well.
Evan Von Qualen
2008-01-27
Big thanks to Greg and Amiee, for a great cert. and excellent coaching.
---
Workouts Menu
Workouts Home
Read This First!
Workouts Help & Info
Exercise Library
Training Programs
Starter Program
Tomorrow's Workout
Text Only
Custom Program Design
---
---