Monday January 28 2008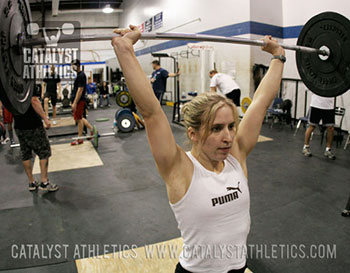 Please
login
to access our training programs.
Registration is FREE!
Questions? Get answers here or post in comments.
21 Comments
Please login to comment!
sarena
2008-01-27
Way to go partner. What was your total Kelly?

Kelly
2008-01-27
Snatch first attempt was 53kg (too much adrenaline and sent it flying over my head). Second attempt was 55kg (overcompensated for first attempt and shorted it), third attempt did 55kg cleanly (was hoping to snatch 60kg this weekend, but after missing the first two attempts was just happy to have one count :).

All three clean and jerks were solid-65kg, 70kg, 75kg so I ended up with a total of 130kg (weighed in at 58.9kg).

But despite the nerves and missed lifts, I had a great time and can't wait until I can compete again at Westerns in March.

Derek Simonds
2008-01-28
Way to go Kelly!

Tough morning getting motivated.

Back squat – 185 x 2 x 2, 180 X 2 X 3
Snatch deadlift – 95 X 3, 115 X 3, 125 X 3, 145 X 1
Push press – 95 X 3 X 5
Pull-ups – 6, 4, 3 I am in the middle of a pull up progression

mike
2008-01-28
For motivation try watching Kendrick Farris SN DL 230kg*5

http://www.youtube.com/watch?v=1b_Eewz0DII

DL- sub for BS- 110 kg *2*5
SN DL 120 kg
PP - 70 *3*5
PU - 10,10,6
ec
2008-01-28
nice numbers, kelly!

bs - 140#
sdl - @ 185#, i was told my rear was getting higher than my shoulders, so stayed there for a couple reps.
pp - 115# for 2 triples, 120# for 1 triple, 125# for the last two
pu - 9, 5 (bleh), 7
and ghd 3x15
Dr. G
2008-01-28
Today's CA WOD:

Joint mobility + scapular stability
Ext. Mod. Burgener w/u with pipe, 3 reps

Sets done on 3 minute interval
Back squat (78% x 2 x 5): 100kg x 2 x 5, I need to check my back squat max again
Snatch deadlift (heavy single): 80kg x 1, 105% of max snatch
Push press (5 x 3): 55kg x 3 x 5, good weight for today, tricep tendons very "sore" from push-up/row workout yesterday

Following exercises supersetted, done on 2 minute intervals
Pull-ups (3 x max): 11, 10, 8 unweighted
Glute-ham sit-ups (3 x 15): 3 x 15
The Pie
2008-01-28
Is this the beggining of a new cycle or where are we right now? If this isn't the beggining, when did this cycle start so I can back track and start the program at the proper starting point. Cheers.

The Pie,
Crossfit Vancouver
josh everett
2008-01-28
I've dug myself into a fatigue/recovery hole. Working w/ Dr. G on digging myself out. On his orders I'm taking it easy (no straining...1 workout a day, ect)
1. burg warm-up
2. BS 70kx2, 110kx2, 140k for 5 doubles
3. sn deadlift: 140x1, 180x1, 200kx1
4. PP all 3 reps, 70,70,80,90,90K
5. chins 8 reps: 16k, 24k, 28k
6. glute-ham 3x15
7. situps 3x25
8. stretch
Greg Everett
2008-01-28
Pie -

Today is the beginning of the cycle.

Josh -

I love that not straining for you is a 200kg snatch deadlift.
josh everett
2008-01-28
actually I had to really stay tight to get that... still smooth & fast but 190 would have been a better call. 180 was cake & i thought 200 would be as well.
Prochargedmopar
2008-01-28
New Guy here: M/38/174/72"
First ever official "olympic" workout.
Lots of questions too.
Very happy to have found this CA WOD.
I read that for mass gains one can use 5-6 rep protocol so I think I'm gonna start by doubling the RX'd reps.
The last couple weeks I've been doing the Crossfit.com workouts but calling them "heavy" as I'd do more than the RX'd weight with less reps but same format.
I'm going to classify myself as a "weightlifting crossfitter" according to the article.
Previous experience over the last couple years has been Bryce Lane's Ironworks stuff, then Ross Trainings 50day workout program, Crossfit dabbling on/off but went full time a couple month's ago before going to the "heavy" workouts recently. I'm skinny but I really enjoy both weightlifting and the metcons. Running isn't my cup of tea.
Anyways.

Here's what I did today.

72% SQ 230 5x5
SN DL 230x3 280x3 300x3
PP 140 5x5 (to light as max PP a couple days ago was 205)
Chins +30 3x8 (slight kip)
GHS on large balance ball with 10# overhead 3x15


I'm going to use your program on but change wed. to a rest day. Thanks for the excellent info.
Todd

Greg Everett
2008-01-28
Pay close attention to recovery - Those 5x5 squats are going to wreck you in short order in combination with everything else. You may very likely find it unsustainable. Good luck.
Prochargedmopar
2008-01-28
Thanks for the tip. I may rotate in Zerchers and Fronts. I'm just super excited to find what seems to be exactly what I was looking for. Go heavy(for me) and still be able to Crossfit it up. knowing others are doing it to is awesome.

Todd
Greg Everett
2008-01-28
Well definitely post your workouts on here and let's see what happens. We're always interested in seeing the results of significant modifications to the training.
Bradford Green
2008-01-28
I wish my regular workouts looked like Josh's recovery wods

Weight in lbs
Warmup: 2x(10pullups, 10dips, 10squats, 10pushups, samson)
BS: @175
Snatch DL: 135, 155, 175
PP: @115
Pullups: 9,4,4
Jeff G
2008-01-28
BS: 252#
SnDl: 286#
PP: 169#
PU +45#: 5, 5, 5
K2E: 7, 7, 7
Craig Snyder
2008-01-28
lbs for all:
Back Squat: 45x3, 95x3, 115x3, 135 2x5.
Snatch DL: 95x3, 135x3, 185x2, 205x1
Push Press: 95, 115, 115, 115, 115

Super set: 1 min rest
Pull up: 10, 9, 6
GH sit up: 3x15

Back squats are not 78% of 1RM as I don't know what my 1RM is for back squats. 135 is med heavy for me at 5 reps.
Andy Swartz
2008-01-28
lbs for all
back squat 5*2 @ 285
snatch grip dl 295
push press 5*3 @ 165 should have done 3*5
Weighted pull ups 8 @bdwt+57, 6 @bdwt+57, 5 @bdwt+57
Scotty Hagnas
2008-01-29
Modifying this cycle some, as I need to alter my training to work toward several other goals. Volume will be reduced to accommodate the extra training, and also with an eye on recovery.

Straddle planche holds: 10" total, then straddle planche pushup negatives
BS: 230x2x2x2x2
Sn DL 115x1; 135x1; 165x1; 205x1; 235x1
PP: 145x3; 165x3
Wtd pullups: 3 reps each minute for 7' w/45 lbs added. 2 reps ad 1 rep the last two rounds.
Chris Nelson
2008-01-29
Back Squat 225x2,245x2,275x2(x
Sn DL 255lbs (never done them Greg) I'm sure my form was laughable
PP 135x3, 155x3, 185x3 (3x)
Wtd Pull ups 3x8 (30lbs)
GH sit up as Rx'd
John Frazer
2008-01-29
Squat 155x2x5
Snatch DL: Worked up to 225 -- left thumb doesn't like this move.
Push press: 95x5x3 -- super weak. Very tight right delt.
Pullups: 7, 4, 4
EXTRA: Ring pushups -- 3x4
Abmat situps: 3x15
Get the App!
Catalyst Athletics programs are available through our exercise.com app. Unlimited access to all programs for only $10/month, or purchase programs individually for only $10 each!
Join the Group
Buy Programs
---
Tag Us!
Tag us on social media when you post videos and photos of your workouts!
#catalystathletics
Instagram: @catalystathletics
Twitter: @cathletics
Facebook: @catalystpm
---
Workouts Menu
Workouts Home
Read This First!
Workouts Help & Info
Exercise Library
Training Programs
Starter Program
Tomorrow's Workout
Text Only
Custom Program Design
Get the App
---
---