Wednesday January 30 2008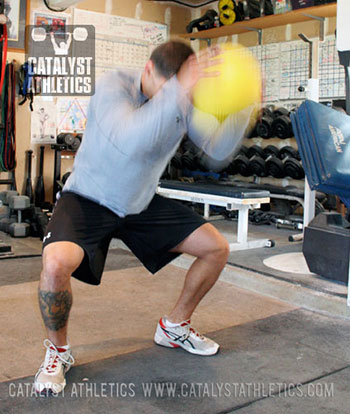 Please
login
to access our training programs.
Registration is FREE!
Questions? Get answers here or post in comments.
17 Comments
Please login to comment!
Jeff G
2008-01-29
I've heard that Jerk from behind the neck are supposed to be stronger than from the rack position, but the idea of having to get the weight over my head in order to bail makes me nervous. How strongly is the behind the neck position recommended?
Greg Everett
2008-01-29
It's a much more secure platform and reduces the moment on the hip and upper back, so the forward leaning often seen in jerking is easier to resist. Also, the bar can travel in a perfectly vertical line to the overhead position. This is why it typically allows more weight to be handled than from the front. Start light and feel it out. If you get to a point at which you're too uncomfortable to continue, switch to the front. But guaranteed if you're having any trouble from the back, it's because you're dropping the chest and pushing the hips back. Ensure a straight dip and drive and you'll be fine.
Jeff G
2008-01-29
Thanks a bunch!
Prochargedmopar
2008-01-29
Check out the "Quest for 300 overhead"
"http://media.crossfit.com/cf-video/CrossFit_300.mov"
video over on crossfit"

It shows how the one guy has more power from behind the neck.

You could also go here and look under misc. videos if you want to open it in windows media player.
http://www.crossfit.com/cf-info/excercise.html

Greg,
Can you describe to me the Dip/Drive? I was thinking that you had to put your hips back like when doing squats and not push the knees forward. This was after reading the "muted hip function" article on crossfit. Am I now dip/driving wrong? Any vids I could watch to see the specifics.

Greg Everett
2008-01-29
The dip/drive of the jerk is identical whether in front or back - the hips travel straight down and up - no rearward travel. With the bar in the back, the torso will have to be leaned forward slightly to keep the bar balanced over the foot, but this angle should not change as you dip and drive. In other words, in the front, the shoulders, hips and ankles should remain in a vertical line throughout the dip/drive; from the back, it will be more like the bar, hips and ankles in that line.
Prochargedmopar
2008-01-30
Thanks Greatly.
I mis-interpreted the MHF article. My drive has been feeling much weaker with more pressure/torque being applied to my core since I changed. A Big difference from the power squat where the knees stay stationary in the beginning of the movemnent. I will correct this in my son's form also.

Why does Glassman say during the end of a 20r PJ he can tell in the first 1/10th of a second wether or not the athlete is starting to fatigue and getting MHF?
Pro
The Pie
2008-01-30
When you are going for the heavy single, I am assuming you are working your way up to that weight at your own desired pace in terms of the load increase. Once you reach that heavy single, do you just do one rep or should you do multiples?
Greg Everett
2008-01-30
Prochargedmopar -

I imagine Glassman is simply watching the hips - a correct dip will have the pelvis remain neutral and the hips dip vertically; MHF will have the hips slide forward and possible the pelvis rotate posteriorly. Nothing magic about recognizing it; you just have to be paying attention.

Pie -

Work your way up however you want to the heaviest rep you can manage. If it's really the heaviest rep you can manage, you won't be able to do multiples.
josh everett
2008-01-30
1. burg warm-up
2. FS 2x70, 2x100, 5 doubles with 120k
3. BNJ: 70, 110, 130, 140k all singles
4. clean pull: 140, 160k
5. 3 rounds:
13 swings (24k)
18 ring dips (NO JUMPING!)
23 chins
5:20
mike
2008-01-30


Clean +2FS (no rack) - 80kg * 5
Clean pull - 110 kg, 110kg

Scaled to
2 rounds of
13swings (16kg)
18 ring dips (no jumping) - 1st round unbroken - new pr by about 10
10 pullups

+13 swings and then I couldn't do any dips and so I stopped -7:46

I liked this one - I got to both set a pr and then was still incapable of finshing - positive and negative motivation in one. Sweeet
Craig Snyder
2008-01-30
Front Squat: 45x3, 95x3, 115 2x5
Clean pull: 95x3, 115x2, 135x3, 145x1
Rack Jerk: 45x6, 95x2, 115x2, 135x2, 155x1 (PR)

Met con:

3 rounds for time:

13 swings (40lbs)
18 jump dips
23 kipping pull ups

11:25

Prochargedmopar
2008-01-30
1/30/08

M/38/172

Greg A. W.U. 3 rounds/6r ea.
FRSQ x4r 135,185,205,205,205 (real easy but 80%)
CL Pull x2r 135,225,275,295
J B.Neck x2r 135,155,185,205 (felt light but don't like going behind neck)

3 rounds
13x T-Bar Swings 55#
18x Ring Dips (No Jumping)
23x kip Chins
Time- 8:12

That Metcon was a Hum-Dinger. Remind me not to call these cheesy ever again.

M/13/112
Rx'd
FrSq 75#
CL Pull 75,95.115,125
R. J. 65,75
Can't expect much out of him cause he is getting burnt at school Running. Hoping the Oly stuff will help his vert.

M/5/42
FSQ 2x 15,20,30,30x1,30x2
CL Pull 2x 30,30,30
R.J. 2x 15,15

Swings w/10# and Jump ring chins

Recovery,
40 ounce Frozen fruit smoothie w/ 5 eggs, Mixed fruits, Blue berries, 5tsp. of olive oil and Grape Juice.

Fuel since last workout:
1 Porkchop
1/2lb Broc/Caul w.Mozz. Chz
1 handful grapes
1 handful raisins
20 little smokies
1 grapefruit
1 can smoked herring
1 ziplock bag full of strawberries and grapes
1 ziplock bag full of walnuts and pistachios
1 6 oz can salmon
1 handful of Beef Jerky

Going on Vacation till next thur. 1st time I've ever been bummed about heading out on VACA.......Don't tell the fiance'
I'll be taking my Never Gymless book with me!
ec
2008-01-30
fs - 115#
cln pull - up to 225#x 1
jerks - still dont love how shoulders feel with bnk. at 135#, switched to front. hit 155# (10lb pr).

didnt have time for metcon.
andy swartz
2008-01-30
Front Squats 235lbs 4*2
Clean Pull 255lbs *2
Jerk 245lbs
Met Con 6:31
Tim Wheeler
2008-01-30
Did front squats yesterday so I did
Clean High Pull worked my way up to 90K
Behind the neck rack jerk worked my way up to 100K

Met Con with a 24K kettlebell
?:?? Failed to push stop watch button so I'm not sure.
The Pie
2008-01-30
Front Squat 185lbs 2x4
Clean Pull 235lbs
Jerk 205lbs
Met Con 7:34
Scotty Hagnas
2008-01-31
Right side QL fired up pretty good.... had to sit today out. Soft tissue work, DROM.
Get the App!
Catalyst Athletics programs are available through our exercise.com app. Unlimited access to all programs for only $10/month, or purchase programs individually for only $10 each!
Join the Group
Buy Programs
---
Tag Us!
Tag us on social media when you post videos and photos of your workouts!
#catalystathletics
Instagram: @catalystathletics
Twitter: @cathletics
Facebook: @catalystpm
---
Workouts Menu
Workouts Home
Read This First!
Workouts Help & Info
Exercise Library
Training Programs
Starter Program
Tomorrow's Workout
Text Only
Custom Program Design
Get the App
---
---