Monday February 4 2008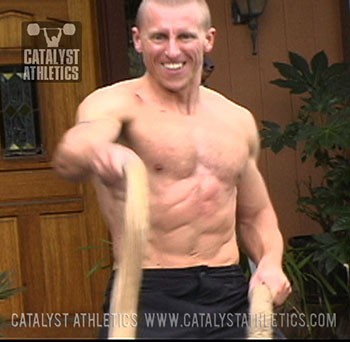 Please
login
to access our training programs.
Registration is FREE!
Questions? Get answers here or post in comments.
23 Comments
Please login to comment!
Anthony Springman
2008-02-03
Outstanding video! Was that a 24" or 30" box?
Greg Everett
2008-02-03
30". James is 5'10".
Geoff Aucoin
2008-02-03
Love it. Too bad Fitzie had to work out at such a dump though, hey? Man-o-man, the poor boy is back to -20 C and snow today.


Ryan Sander
2008-02-04
Just love the look of the Mikes Gym compound. V cool. Seriously cool vid and workout.
Dr. G
2008-02-04
Today, mod. CA WOD:

Minimal joint mobility (got to the gym late)

Sets done on 3 minute intervals
MODIFIED Back squat (85% x 3 x 5): 116.5kg x 3 x 5, % taken from projected max of 136.5kg
Clean deadlift (heavy single): 100kg x 1, 104% of max C&J
MODIFIED Single KB push press (5 x 3): 70# x 5 x 3, OOPS, accidentally flipped the sets and weights around, oh well!

Alternated sets done on 2 minute interval
MODIFIED Body rows (3 x max): 16, 14, 13, decided not to do pull-ups today
Glute-ham sit-ups: 3 x 15
John Messano
2008-02-04
FS 5 sets of 2 @ 155lb
DL up to 275lb

The Pie
2008-02-04
Is a clean deadlift just a deadlift but with a clean grip? Push Press 5x3 does that mean 5 sets of three reps each or the other way around.

OPT is the man.
Aimee
2008-02-04
Mr. Pie-
a clean dead lift is used with the clean grip and is essentially the same thing as a deadlift. As a snatch deadlift would be a deadlift with the snatch grip. push press 5 X 3 is 5 sets of 3. you can go here: http://www.performancemenu.com/daily/index.php?show=about if you have problems with the notations.
josh everett
2008-02-04
1. burgener warmup
2. FS 5 doubles w/ 130k
3. Push press all triples: 70,80,90,95K
4. clean deadlift: 210k
5. chins 3x8: 16k, 24k, 28k
6. glute-ham raise 3x15
7. abs 3x25
Craig Snyder
2008-02-04

I missed Saturday's WOD, so I blended Saturday and today. I don't know if that is a good idea, but I did it anyway. I might pay for it tomorrow.

cfwux1
Burg wu

Snatch heavy single: 85#x1, 95x1, 105 missx1, x1, 115x1 (10lb PR)
Clean/Jerk heavy single: 95x1, 115x1, 125x1, 135x1, 145x1 (10lb PR)
Back Squat heavy single: 135x2, 155x1, 175x1, 185x1, 195x1
Clean DL heavy single: 135x3, 185x2, 225x1, 245x1, 255x1

Curl up max: 11/9/7 (super set with)
GHD Sit up: 3x15

Evan Von Qualen
2008-02-04
DROM
Burg Warmup
FS 100k
clean DL 100k stayed pretty light,,,nursing sore back
Push press 3 sets of five.75k.had it backwards
Deadhang pullups 15-11-10
Sit-ups 3x15 with 25lb.
ec
2008-02-04
fs - 125#
dl - up to 250#.. but rear still sliding out first. need to correct this.
pp - triples at 115#, 120, 120, 125, 125
pu 8,7,6
ghd 3x15

funny that my weight for fs was equal to that of my push press. NOT.
The Pie
2008-02-04
Frontsquat 135#, 185# x4
Clean Deadlift HS 325#
Push Press 145, 155, 165, 175, 185
Pull Ups: 12, 9, 8
andrew swartz
2008-02-04
Front Squat 240lbs
Deadlift 385lbs
Push Press 175lbs
Pullups Bwt + 52lbs
John Frazer
2008-02-05
FS: 142x2x5
DL: 245 (failed at 265 and 255). I've really lost strength while moving this month.
Push press: 97x5x3
Pullups: 7, 5, 4
Abmat situps: 3x15


But now I'm confused about the set notation. Aimee says,

"push press 5 X 3 is 5 sets of 3. "

But the link given says,

"Snatch – 75% x 2 x 5 ... This would indicate snatching 75% of the athlete's 1RM snatch weight for 5 sets of 2 reps."

The fact that the order reverses for non-weighted exercises always trips me up for a moment, too.

Aimee
2008-02-05
John
If a percent is given after an exercise it will always be followed by X the intensity X the reps and sets. Like the example you gave, it would be 75% for 2 reps for 5 sets.

However, if no percent is given, and it just shows 5 X 3 or 2 X 10 after the exercise, then the first number is the number of sets and the second number is the number of reps. So for my example, it would be 5 sets of 3 or 2 sets of 10




Allen Y
2008-02-05
February 2, 2008
1/2 mile on treadmill@1% incline - 3:46
foot mobility ~25m
lunge moving with lateral flexion - 6L/R
inverted hamstring (backward) - 6L/R
hand walk - 4
pushups w/ feet on 24" box - nose to ground - 10, 10, 10
Burgener WU - 45 x 1

front squat - 45 x 5, 95 x 4, 135 x 3, 185 x 1, 210 x 2, 210 x 2, 210 x 2, 210 x 2, 210 x 2
(full rest - 2 minutes)

clean deadlift - 185 x 3, 215 x 3, 245 x 1, 265 x 1, 275 x 1
push press - 135 x 3, 135 x 3, 145 x 3, 145 x 3, 145 x 3
(superset with full rest - 60 seconds)

pullups - 8, 9, 4
glute ham raise - 14, 12, 8
(superset with full rest - 90 seconds)

glute ham situp - 12, 6, 2 (lower back = ouch)
kb cross chop - 6L/R, 6L/R
(superset with full rest - 30 seconds)

CA Metcon from 29JAN08
3 rounds for time of:
8 1-arm DB snatch - 20% BW - Used 35# (max db at this location)
5 ball slams - 15% BW - Used 20# Dynamax (heaviest medball availible)
Total time: 1:40

Notes:
-First real workout since the 24th, the hope is that I will be able to get into the gym 4 times per week on a consistent basis.
-1/2 mile - just a warmup while waiting for the Senior fitness class to let out so I can use the Oly stuff.
-pushups - I'll be incorporating different variations or ring dips
-CA WOD - 4JAN2008
-FS - up until 210 I cleaned the weight up but jammed my wrist pretty good on 185, I only realized after 3 sets I was doing 90% not 81%, so I just finished with 90%
-PP - I should have warmed up on these a little bit before tackling these, the last 3 sets felt much better than the first 2 sets
-pullups - wow my deadhang pullups have dropped by at least 3 if not more, it doesn't help that I'm 200#'s right now either.
-GHR- I'd like to do more of these since I suck at them
-Glute ham situp - I need to review the video because these were tweaking the heck out of my lower back.
-metcon - fun and short, didn't do the other half since I already did the cross chops with the situps.
John Frazer
2008-02-05
Aimee,

So have I basically been getting my sets and reps backward for the last 2 months, because the presence of the percentage figure is what changes the order? Since the examples on the link are a weighted exercise and a non-weighted exercise, I thought that was what made the difference.

Anyway, why have the notation reverse, ever? Or better yet, why not just say "2 reps x 5" so newbies (or not-so-newbies) don't have to crack the code? 5 sets of 2 can be a very big difference from 2 sets of 5!
Greg Everett
2008-02-05
John -

Because we're cruel and mean-spirited. Really it's a stylistic thing rather than a practical one and as such has some downsides. I've been thinking of changing it, but I'm lazy and set in my ways. Someday.
John Frazer
2008-02-05
Thanks, Greg.

I love the workouts and appreciate the thought that goes into them, but was chagrined to think I might not have gotten everything out of them that I could. 5 sets of 3 push press is going to be a significantly bigger overall load than 3 sets of 5 next time it comes around.
mike
2008-02-05
CL +2 fs- 90 kg *5
CL DL 120 kg
PP - 80 *3*2, 80*1, 70*3*2
PU - 10,10,10

Aimee
2008-02-05
Sorry John.
He is mean spirited. Not I. If you have questions about any notations just put it in the comments. One of us will answer, hopefully before you have to work out.
Mike Donnelly
2008-02-06
Back squat (Damn, read it wrong) 155
Clean Deadlift 225 & 290 (poor form)
Push Press 95s
Pull Ups: 10, 10, 10
GHD situps 3 X 15
Get the App!
Catalyst Athletics programs are available through our exercise.com app. Unlimited access to all programs for only $10/month, or purchase programs individually for only $10 each!
Join the Group
Buy Programs
---
Tag Us!
Tag us on social media when you post videos and photos of your workouts!
#catalystathletics
Instagram: @catalystathletics
Twitter: @cathletics
Facebook: @catalystpm
---
Workouts Menu
Workouts Home
Read This First!
Workouts Help & Info
Exercise Library
Training Programs
Starter Program
Tomorrow's Workout
Text Only
Custom Program Design
Get the App
---
---