Tuesday February 5 2008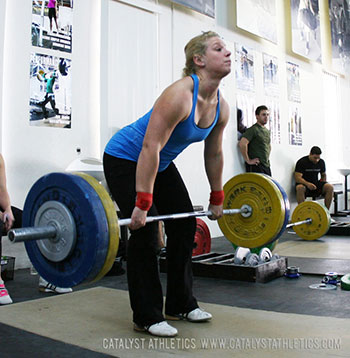 Please
login
to access our training programs.
Registration is FREE!
Questions? Get answers here or post in comments.
13 Comments
Please login to comment!
sarena
2008-02-04
Thanks to you both Greg, Aimee, espec Coach Izzy and the crew at CFNYC and others who have helped me on the way! I wanna do this for a long time now! I am hooked. Oh and the singlet wasnt bad at all :)
josh everett
2008-02-05
Congrats Sarena
1. burg warm-up
2. sn+ohs+H.sn: 40,50,50,60,60K
3. H.cln+PP+J: 60,70,80,90,100k
rounds in 5 MINUTES (5min only per Dr. G's advice)
5 chins, 5 situps, 5 jump squats, 5 clap pushups
8 rounds
Evan Von Qualen
2008-02-05
Good work Sarena
Warm up
power snatch+ohs+hang sn. 40,50,60,60,63k
HangCl+PP+splitjerk,40,50,60,70,80k

5+5+5+5 metcon 13rds. complete
Craig Snyder
2008-02-05
cfwux1
Burgx1

Power Snatch + OHS + Hang Snatch 85# x5
Hang Clean + Push Press + Jerk 115#x5

Met Con: 10 Minutes
5 Kipping pull ups
5 GHD sit ups
5 Jump Squats
5 Clapping push ups
10 rounds

Definitely feeling yesterdays workout. I missed the x2 on the 5th rep of the snatch complex. I also had to press out the a couple of the jerks. I probably should have used 10lbs lighter weight on both.

David Aguasca
2008-02-05
GOOOOOOOOOOO sarena!
The Pie
2008-02-05
Power Snatch+OHS+Hang snatch 115# x5
Hang Clean + Push Press + Jerk 145,165 x4
MetCon: 10 rounds and 1 clap push up.
andrew swartz
2008-02-05
PSn+OHS+HangSn 125lbs *5
Hang Cl+PP+J 205 *5
MetCon 12 1/4 rounds
ec
2008-02-05
nice work, sarena!

sn complex - 75#
cln complex - 95#

metcon - 7 rounds. clapping push ups were very broken.


pd
2008-02-06
If she is actually "set" in this photo, shouldn't she get her chest up considerably?
Greg Everett
2008-02-06
PD -

If you're referring to the extension of her spine itself, yes, I'd like to see absolute extension (extension from neck to sacrum). But that's a flexibility/mobility issue, not something you can correct overnight.

If you're talking about the actual position of her torso, no. If she were to lift her chest more, it would force the hips down and the knees forward. That would place her shoulders behind the bar and the knees too far in front of it. In order for her to actually lift the bar past her knees, she'd have to either swing it around them, or pull her knees back out of the way, which would lift her hips and drop her chest and return her to this same position. Neither is desirable.
Allen Y
2008-02-06
February 6, 2008
foot mobility ~25m
Shoulder WUw/8#DB's
prone db restraction x3
Y's x 3
T's x 3
W's x 3
L's x 3
L's w/ external rotation x 3
scarecrows x 3
skiers x 3
rear flyes x 3
x-band walk - 6L/R
Burgener WU - 45 x 1

snatch + overhead squat + mid-hang snatch - 45 x 2, 95 x 1, 95 x 1, 115 x 1, 115 x 1 (hit myself in the forehead, timing still a little off), 95 x 1, 95 x 1
(Full rest - 75 seconds)

Mid-hang clean + push press + jerk – 95 x 1R, 95 x 1L. 135 x 1L, 165 x 1R(slight pressout on jerk), 155 x 1R, 135 x 1
(full rest - 75 seconds)

warmed up with 1:45 run to track
400m repeats w/1:30 rest - 1:42, 1:46, 1:49, 1:49

Notes:
-Diesel Crew shoulder warmup
-CA WOD -
-First real workout since the 24th, the hope is that I will be able to get into the gym 4 times per week on a consistent basis.
-1/2 mile - just a warmup while waiting for the Senior fitness class to let out so I can use the Oly stuff.
-pushups - I'll be incorporating different variations or ring dips
-CA WOD - 5FEB2008
-Sn + OHS +MHSn - Oops! I only just realized as I'm typing that I was supposed to do power snatches, I remember being kind of confused since I thought a snatch + OHS was kind of redundant. (Note to self - Learn to read) My timing was all over the place today, haven't snatched in weeks, my wrist hurt at first but after a few it loosened up a little I need to reemmber to ice it when I get home tonight.
-MHCl + PP + jerk - My cleans were a bit off it feelt like I was jamming my wrist on the catch, and then my jerks were crappy
-400m repeats - not bad
sarena
2008-02-06
I actually wrote in my blog after viewing this pic that my stance sucks!! I think I was just approaching the bar (as I recall) and would never have attempted a snatch from there!!
John Frazer
2008-02-06
Snatch complex: 65 x 5 reps
Clean/PP/jerk complex: 95 x 5 reps

Metcon: 4 rounds on time, 5 in 10:39. Kept missing a solid clap on the last 2 rounds. Got in lots of extra pushups trying.
Get the App!
Catalyst Athletics programs are available through our exercise.com app. Unlimited access to all programs for only $10/month, or purchase programs individually for only $10 each!
Join the Group
Buy Programs
---
Tag Us!
Tag us on social media when you post videos and photos of your workouts!
#catalystathletics
Instagram: @catalystathletics
Twitter: @cathletics
Facebook: @catalystpm
---
Workouts Menu
Workouts Home
Read This First!
Workouts Help & Info
Exercise Library
Training Programs
Starter Program
Tomorrow's Workout
Text Only
Custom Program Design
Get the App
---
---