Wednesday February 6 2008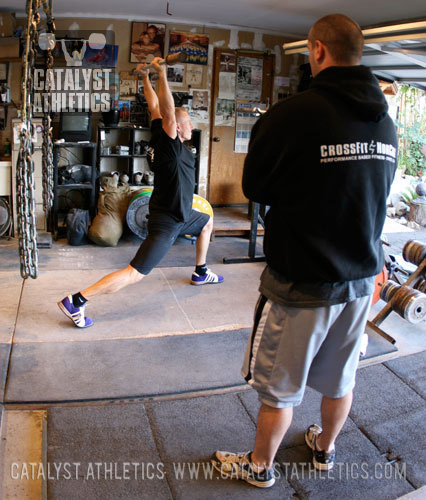 Back squat – 78% x 2 x 5
Snatch pull – heavy single
Rack jerk – heavy single
Turkish Get-up sit-ups – 30% BW x 8 x 3
3 rounds for time of:
100 m sprint
10 sand bag power clean + push press - 35% BW
10 KB deadlift high pulls – 30% BW
Post numbers and questions to comments.
Questions? Get answers here or post in comments.
9 Comments
Matt Wichlinski
2008-02-06
Greg, fantastic work.
COuld you inform me if you're planning any future certs or seminars on the east coast. Also, what are the differences between a weekend with you and a weekend with coach Burgener at a crossfit weightlifting seminar? Thanks
Matt
The Pie
2008-02-06
What is a Turkish Getup situp. I have done many turkish getups but can't think of how a situp gets thrown in there.
Greg Everett
2008-02-06
Pie -

Just perform a TGU to the point at which you're sitting straight up and posting on your free hand.

Matt -

We have different teaching progressions, and I spend more time going over error correction.
Dr. G
2008-02-06
Greg's seminar is less expensive and also counts for NSCA CEUs.

That combo, plus more error correction, is a major reason I prioritized Greg's cert.

Besides, I want to visit Portland!
josh everett
2008-02-06
1. burg warm-up
2. desperately need ohs sqt work so OHS 4x10: 40,50,60,60
3. sn pull: 130k
4. BNJ: 145k
met con: no sand bag so...
3 rounds: 4:08
100m sprint
double KB clean & PP 24k in each hand
10 sqt pulls 24k (just 1 KB)
Craig Snyder
2008-02-06
cfwu x1
Burg wu

Back Squat: 45x6, 95x3, 135x3, 150 doublesx5
Snatch pull: 65x3, 95x2, 115x2, 125x2, 135x2, 145x1
Rack Jerk: Front: 95x2, 115x2, 135x1 Back: 145x2, 150x1
TGU sit ups: 40#, 4 reps each armx3

Met con:
3 rounds
Subbed 15 second rope sprint
Subbed 10 45# barbell thruster
10 40# DB high pulls
3:50

Evan von Qualen
2008-02-07
Shoveled out drive way to warm up+ reverse hypers BW
Bksqt doubles 219lbs,223lbs,242,252,262.first time really working the hi-bar oly sqt.
snatch pull worked 135lb. stayed light form needs work
rack split jerk,139lb.,175,199,204,209
tgu-situp, 60lb. db

Too icy to run
subbed crossfit "jackie" 8:30

Mike
2008-02-07
Subbed Deadlift for squat 120 kg* 2 * 5
Snatch pull to 90 (108%)
tgu-su 25kg *4 *3

no metcon today
Thanks for introducing me to tgu - It pointed out that I have a soft and unbalanced core
John Frazer
2008-02-07
Squat: 160x2 x5 sets
Snatch pull: Worked up to 125
Rack jerk: 105, very weak at 115
Getup situps 45# x4L/4R x3 sets

Workouts Menu
Workouts Home
Workouts Help
Exercise Library
Training Programs
Starter Program
Tomorrow's Workout
Text Only
Custom Program Design
---
---
Advertise With Us