Saturday February 9 2008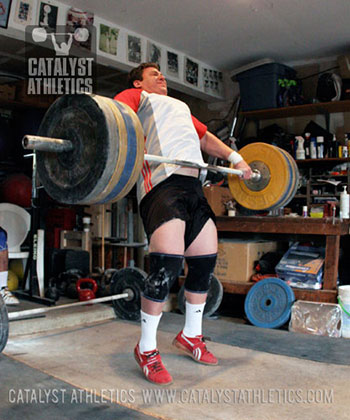 Please
login
to access our training programs.
Registration is FREE!
Questions? Get answers here or post in comments.
20 Comments
Please login to comment!
Joe
2008-02-08
BW 198#
SN 67KG
CLN & JK 84KG
FS 105KG

So when we start up next week do we base our % on the numbers today? Kind of a dumb question, but oh well.

I am really liking CA WOD. Thanks Greg.
Greg Everett
2008-02-08
Joe -

Yes, always base the % prescriptions on your current 1RMs even if they change during a cycle.
jorgy
2008-02-08
is there any good remedy for keeping the knees in line in a squat? mine seem to bow slightly when i go heavy.
Scrappy
2008-02-08
Thanks for the crossfit central santa cruz link. Best of luck to Rob Miller and Eva T on the new affiliate.
Greg Everett
2008-02-09
Jorgy -

Your knees are moving outside your feet as you squat?
ec
2008-02-09
sn - 115# (5# pr)
c&j - 145# (100%), pwr clean. tried to full sq clean a couple times.... but didn't get it.
fs - 155# (100%)
Scotty Hagnas
2008-02-09
Out of commission....lateral hip/ QL issue bothering me lately. It really locked up on me today while warming up. Time for some soft tissue work.
Dreid
2008-02-09
Hi all, I have a question:

I am a little unclear as to how hard I should explode in the 2nd Pull when I'm doing sub-max lifts. Say, for example, I'm snatching/cleaning at 85% of my 1RM. Should I pull as hard as possible on every lift or pull less hard on the lower percentage sets. Is it right to pull the bar hard enough to catch it almost in a power snatch/clean position and then descend into the full squat or are you supposed to catch it in the full squat every time, meaning you don't pull as hard so that the bar doesn't crash on you in the hole. I seem to be erratic in how hard I explode on sub-max sets, which influences where I catch the bar. Is there a proper depth to actually catch the bar, assuming you aren't forced into the lowest position?

If this is more of a question for the message boards or an article or something, let me know, but it has been plaguing me.

As always, thanks and I love the WODs.
andrew swartz
2008-02-09
Snatch 185lbs
Clean and Jerk 245lbs
Front Squat 275lbs
Prochargedmopar
2008-02-09
2/9/08

Greg A. warmup (3 rounds/5reps ea.)

M/38/175

Snatch 45,95,115,135PR,155f,155PR
C&J 135,185,205,225PR
FS 245,265PR,275PR

I've never ME'd on Snatch or front squats. Automatic PR's there.
I'm very happy with the C&J as it puts me 1 step closer to my 250# overhead goal that I set for myself 1.5yrs ago. I kinda got side tracked by CF wod's this past year.

M/13/110

Snatch 45,65,85f,75PR
C&J 75,95f,95
FS 95,105

Josh everett
2008-02-09
1. burg warm-up
2. sn: 80K
3. C&J 135K
4. FS 150k
5. chins 2x25
Greg Everett
2008-02-09
Dreid -

First, ideally even the heaviest snatch is received slightly higher than rock bottom. That gives you some space to absorb the force and make quick minor adjustments to position. That aside, how hard you pull will depend on what you want to do. If you have trouble with the snatch technically and are training snatches at the moment, controlling the pull in order to receive low is a good idea. If you're technically sound but have a slow or weak second pull, you may want to pull as hard as you can and power snatch until you can't anymore. Something else you can do is warm-up using a complex of the two, i.e. power snatch and then snatch with each weight until you reach a weight at which the power snatch needs to be dropped.
The Pie
2008-02-09
Body was definetely sore after yesterdays wod. A lot of failures in todaysworkout.
snatch: 135...failed twice on 155
CJ: 185...failed twice on 205
Front Squat: 205...failed on 225
Dreid
2008-02-09
Greg-

Thanks! I would call myself technically proficient...but far from perfect on the snatch. From your advice it looks like I should control the pull to receive low and I will definitely give that complex a shot for the warm-up.
Mike
2008-02-09
snatch 80 kg
C&J 105 kg
jorgy
2008-02-10
greg,
no my knees like to bend inward on my heavy squats. its not a huge thing but it just doesn't look technically sound.
John Frazer
2008-02-10
Snatch 85, missed 87 3x.
C&J 125, missed 130
FS: 185
Greg Everett
2008-02-10
Jorgy -

You may want to try some glute activation drills right before squatting like x-band walks. While squatting, think of trying to push your legs (not just your knees) to the sides, i.e. attempt to tear yourself in half.
Eva T.
2008-02-10
thanks for the props G!
and from all at Crossfit Santa Cruz Central!!!
jorgy
2008-02-10
thanks greg ill be sure and do that tomorrow.
Get the App!
Catalyst Athletics programs are available through our exercise.com app. Unlimited access to all programs for only $10/month, or purchase programs individually for only $10 each!
Join the Group
Buy Programs
---
Tag Us!
Tag us on social media when you post videos and photos of your workouts!
#catalystathletics
Instagram: @catalystathletics
Twitter: @cathletics
Facebook: @catalystpm
---
Workouts Menu
Workouts Home
Read This First!
Workouts Help & Info
Exercise Library
Training Programs
Starter Program
Tomorrow's Workout
Text Only
Custom Program Design
Get the App
---
---