Monday February 11 2008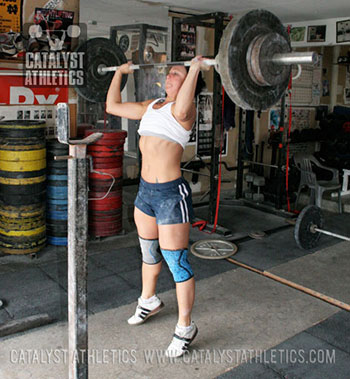 Please
login
to access our training programs.
Registration is FREE!
Questions? Get answers here or post in comments.
20 Comments
Please login to comment!
ken c
2008-02-11
greg everett

discovered the website last week when you posted the link on crossfit. it looks fantastic! been doing crossfit for a while now and really wanted to start getting better at the oly lifts and then bam...your site shows up. perfect timing!

going to do today's wod after work. going to be in a crossfit total competition in houston next month so my question is do you think i should do regular deadlifts and strict shoulder press in this workout when training for the cft or stay with the oly lifting parts of this wod as rx'd?

again thanks for the site. so much great training structure for free is much appreciated.
ken c
2008-02-11
also, i know the turkish get up but didn't see a description of the turkish get up sit up in the info section. in my novice head i'm thinking the body position coming up is more like a sit up rather than shifted to the side like in a regular turkish get up. but i don't know for sure. can somebody help me out here?
Aimee
2008-02-11
Ken- You still want to shift a little to the side. You basically want to do the same movement you would do if you were going to perform a full TGU, you just stop when you are getting to the point at which you're sitting straight up and posting on your free hand
Greg Everett
2008-02-11
Ken -

You may want to press instead of push press, and throw in a second pressing day on Wed (lighter) and Sat (heavy - after sn/cj/sqt).
ken c
2008-02-11
aimee

thanks. so its just the sitting up part of the turkish get up but then you don't get up? cool i can handle that.

greg everett

thanks a lot. will do. think i will do regular deadlift here instead of snatch deadlift. let me know if you think that's not the right way to go.
Luca Z.
2008-02-11
Silly question 8 TGU, 4 and 4 or 8 each side?
Joe
2008-02-11
BS 95KG 5x2
SN DL 70, 75,80,85,90,95,100,110,112KG
Push Pr 77KG
Pull Ups 4, 3
TGU SU 3x8 53#

So how many sets would be a good target for getting to a single(3-5)? My Push Press and pull ups sucked because I didn't feel that energetic or I could just be a wuss.
josh everett
2008-02-11
1. burg warmup
2. BS 167.5k x2x5
3. sn dead: 210k
4. PP triples: 70,90,100
5. chins 3x8: 16k,24k,28k
6. turkish situps: 24k, 32,32k
Shawn Thomas
2008-02-11
Just discoverd your site via "weightlifting exchange" forum. Awesome. Great to see another crossfit site w/ an o-lifting emphasis. i haven't followed any of ur workouts yet (on a 8 week program of my own) but will give it a try when done.

My W.O.D

Pwr.Snatch 4x3 72kg (light speed work)
Snatch 5x2 82 kg (light technical,hold bottom pos.)
Front Squat 110x3/115x3/120kgx3 repeat (double stimulation)

Met Con
5 DB Snatch 45#
10 press 40 kg
15 pushups
5 rds (45 sec . rest btwn rds)
Greg Everett
2008-02-11
Ken -

If you're going to sub regular DLs on the snatch DL days, use a slightly lighter weight than the other day - maybe 80-90%.

Luca -

8 on each side.
Evan Von Qualen
2008-02-11
BKSQT-255lb. 275lb.x2x4
SnDl-251lb. took it easy to protect back
PP 131, 171x2 181x2
deadhang pullup 15-13-10
Tgu situps 50,60dbx2
James Kitcher Jr.
2008-02-11
Hey all - was wondering when the next cycle starts? Been doing CF since the beginning of November 07 and have become more and more intrigued by the Olympic Lifts and would like to focus on them a bit more.
DC
2008-02-11
BS 275lb 2x5
SDL 185, 225,275
PP 55lb, 65lb 75lb used DB's due to wrist injury.
Pullups 40lb, 45lb 50lb 8x3 unbroken
TGU situp 45lb, 55lb, 65lb
Really enjoyed this workout Thank You for your excellent programming.
Greg Everett
2008-02-11
James - In 2 weeks (including the current week). But I'd recommend jumping in now rather than waiting - the next cycle will be pretty brutal, so this will help you transition.
ec
2008-02-11
bs - 155#
sdl - 195#
pp - 115# for 2 sets, 125# for 2 sets, went for 130# - 1st rep easy... but couldnt get more. pr though.
pullups - 9,8.5
tgu - 30#, 40#, only did two sets
ken c
2008-02-11
back squat: 325x2x5
regular dl: 365 405 425 435 (that's my max)
press: 140 145 150 155 155
weighted pu: 35 45 40
turkish gu su: 16k 20k 24k

all weights in pounds except for tgu su. that was pretty rough. only took me about an hour and a half. geez. first time ever doing anything turkish. felt alright. 24k was pretty heavy for me. i'll need to get on this cycle if i'm going to keep up. this was the 3rd work day for me and it felt like it.

greg everett

didn't get the message to back off the deadlifts until after the workout. that would have made things much better but what the hell. thanks for the help.
mike
2008-02-11
Subbed DL for Squats: 125kg * 2* 5
Snatch DL 125kg
PP 80KG * 3,3,3,2,3
Pullups 12,12,8
TGUSU 20kg *2, 16 kg*4, 10 * 8 -
Craig Snyder
2008-02-12
Back squat: 95#x5, 135x3, 165 doublesx5
Snatch DL heavy single: 95#x5, 135x3, 185x3, 205x2, 215x1
Push press: 95#x3, 95x3, 115x3, 115x3, 120x3
Pull ups: 11, 10, 8
TGU sit ups: 40#, 3x8

Allen Y
2008-02-12
February 12, 2008
row @ 5 - 500m 1:50.6
inverted hamstring - backward -6L/R
lunge w/ lateral flexion - 6L/R
hand walk - 5
leg swings - side to side - 10L/R
Burgener WU - 45 x 1
OHS - 45 x 8

Back squat - 45 x 5 95 x 4, 135 x 3, 185 x 2, 225 x 1, 245 x 2, 250 x 2, 250 x 2, 250 x 2, 250 x 2
pushup w/feet on big box - 15, 15, 15, 11, 6
(superset with full rest - 90 seconds)

snatch deadlift - 135 x 3, 185 x 1, 225 x 1, 245 x 1, 265 x 1(PR...kind of)
ring rows - 6 w/ feet on small box, 6 w/ feet on small box, 6 w/ feet on big box
(superset with full rest - 60 seconds)

push press - 45 x 5, 75 x 3, 105 x 2, 155 x 3+5 press outs, 155 x 3+5 press outs, 155 x 3+5 press outs, 155 x 3+5 press outs, 155 x 3+5 press outs
(full rest - 150 seconds)

glute ham raise - 8, 12, 1 w/band (NOT READY for a band!!)

pullup - 7, 4
TGU situp - 24KG x 4L/R, 16KG x 8L/R
(superset with full rest - 90 seconds)
(only 2 sets of each because I was kicked out of room for step class...boo)

Row@5 - 500m - 1:50.0
Run on treadmill@1% - 2on/1off, 1on/1off, 1on/1 off, 1on/ 2 off - total 10:00, 1.01 miles
off = 4 mph walk
on = 8.5 mph run

Notes:
-Arms are still somewhat sore from Friday.
-CA WOD 11FEB2008
-Back squat - These felt good considering I haven't back squatted anything in weeks.
-snatch deadlift - PR kind of only because I've never tried to go as heavy as possible with these.
-push press - same as last week, the last 3 sets felt much better than the first few.
-GHR - adding the light band was a mistake! Talk about super fast eccentric.
-pullups - only 2 sets but these felt weak!
-TGU situps - 24KG was too heavy, but 16KG was too light, form was crappier on the 24KG also
John Frazer
2008-02-13
Squat 167x2x5
Snatch DL 235

Push press triples at 100, 102, 105, 107, 110 -- could have done 105 or 107 across

Pullups: 8, 3, 3
GU situps: 45#x4L/4R x3 sets
Get the App!
Catalyst Athletics programs are available through our exercise.com app. Unlimited access to all programs for only $10/month, or purchase programs individually for only $10 each!
Join the Group
Buy Programs
---
Tag Us!
Tag us on social media when you post videos and photos of your workouts!
#catalystathletics
Instagram: @catalystathletics
Twitter: @cathletics
Facebook: @catalystpm
---
Workouts Menu
Workouts Home
Read This First!
Workouts Help & Info
Exercise Library
Training Programs
Starter Program
Tomorrow's Workout
Text Only
Custom Program Design
Get the App
---
---