Tuesday February 12 2008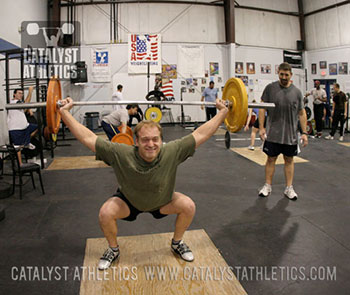 Please
login
to access our training programs.
Registration is FREE!
Questions? Get answers here or post in comments.
13 Comments
Please login to comment!
Joe
2008-02-11
Is the guy in the picture using a really wide grip or is the bar short?
Greg Everett
2008-02-11
Regulation bar. Big guy with a fairly wide grip.
XX
2008-02-11

Greg,

We were doing OHS today in class and a question came up about the active shoulders. Why are active shoulders better than say, shoulder blades packed down and on the rib cage, hopefully keeping the glenohumeral joint packed in and tight as well?

Fallen off the lifting wagon. Looking forward to getting back on it soon
Greg Everett
2008-02-12
XX -

Few things to consider here. First, the glenoid is part of the scapula - so the glenohumeral joint goes wherever the scapula goes unless the shoulder is dislocated. The idea that elevating the shoulders is somehow pulling the head of the humerus out of the "socket" doesn't make sense for that reason, and further because the elevation occurs from the traps' action on the scapula, not the humerus, pulling the glenoid up into the humerus while shoulder flexion pulls the humerus down into the scapula; if anything, that creates a tighter joint than "packing".

Second, the most vulnerable part of the shoulder joint is the inferior aspect - so downward force on the humerus has the most potential to create dislocation. If we elevate the structure with the traps, we then have a way to absorb downward balliisitic forces through slight give of the traps instead of having the head of the humerus be slammed directly down against the very small, weak structures that hold it into the joint at the bottom.

Third, elevation brings the clavicles up, which opens up th AC joint and allows the humerus more space to travel. With most people, this can be demonstrated very clearly by having them with a straight elbow try to place their arm perfectly vertical wth the torso perfectly vertical, and either elevate or relax the scapula. Invariably, when relaxed, the humerus is pushed out a slight angle, and this is accompanied by discomfort.

The promoters of "packing", as far as I know, all got the idea from Pavel Tsatsuline. I had a chance to talk to him last year and brought this up. He said he only encourages it because if people elevate during pressing, they tend to forget to depress when they return to the bottom, and this was the dangerous position, and to "keep doing what you're doing." So even he doesn't really believe in it.

Finally, it's critical that "active shoulders" be recognized to mean elevated AND retraction. Elevation alone is inadequate and has its own problems. Fully retract the scaplae, and THEN elevate them.
Dr. G
2008-02-12
Did today's CA WOD, plus the remainder of yesterday's CA WOD, got up extra early to finish this behemoth and to see an early patient. Not sleeping enough lately (going to bed too late!).

Joint mobility + scapular stability
Ext. Mod. Burgener w/u, 15kg bar, 3 reps

All sets done on 2 minute interval
Muscle snatch warmups: 20kg x 2, 29kg x 1, 34kg x 1
Muscle snatch (heavy single): 36.5kg x 1
Snatch (65% x 2 x 8): 50kg x 2 x 8
Clean & 2 Jerks (65% x 8 sets): 62.5kg x 2 x 8, clean + push jerk + jerk
Pull-ups (3 x max): 12, 10, 8
KBs Push press (5 x 3): 53#s x 3 x 5, went easy due to jerk sets previous and gymnastics tomorrow
KB Turkish get-up sit-ups (heaviest for 3 x 8 per side): 35# x 8 x 3, stayed lighter on this one as well, 2 minute intervals of these doesn't leave much rest time at all.
josh everett
2008-02-12
1. burg warmup
2. muscle sn: 80k
3. sn 8 doubles w/ 50k
4. clean + 2 jerks: 8 sets at 90K
5. 3 rounds: 3:56
200m, 15 wall balls 20lb
andrew swartz
2008-02-12
mscle snatch 135lbs
snatch double @ 135lbs
clean doubles + jerk @ 275 lbs
metcon 4:13
ec
2008-02-12
mu sn - 95#
sn - 75#
c&j - 95#, 4 sets with double clns, 4 sets double jerks

metcon - 4.06 with 20# wb

Joe
2008-02-12
Muscl SN 55KG
SN 8x2 43KG
2CLn + 1JK 55KG
The SN felt really good. It was like I popped right under the bar. Is this because we were doing muscle SN prior?
Craig Snyder
2008-02-13
cfwu x1
Burg wux1
Muscle Snatch: 55#x3, 60x3, 65x1 (used legs more than I should have on 65)
Snatch: 70# 2x8
Clean, Clean and Jerk: 95#, 2x8

Met Con: 3 rounds
200m sprint
15 wall ball (15#)
4:34

Prochargedmopar
2008-02-13
2/12/08

Greg A. warmup 2, 5 rep rounds

SQ x4 225,245,245,255,265
SNDL x2 225,275,295.305
PP x6 45,135,135,135,135,155
Chins 3x8 35,35,35
TGU Sit 3x8 55,55,55
Evan Von Qualen
2008-02-14
DROM
"Fran" 3:13
Muscle snatch worked up to 139Lb.
Snatch doubles with double ohs pause at bottom
110lb.-119-130-140-155lb.
No C+J today, too tired

John Frazer
2008-02-14
Muscle snatch 92#
Snatch 55x2x8
C&J 82x2x8

Metcon 5:29 -- subbed 20# DB thrusters for 20# wall ball
Get the App!
Catalyst Athletics programs are available through our exercise.com app. Unlimited access to all programs for only $10/month, or purchase programs individually for only $10 each!
Join the Group
Buy Programs
---
Tag Us!
Tag us on social media when you post videos and photos of your workouts!
#catalystathletics
Instagram: @catalystathletics
Twitter: @cathletics
Facebook: @catalystpm
---
Workouts Menu
Workouts Home
Read This First!
Workouts Help & Info
Exercise Library
Training Programs
Starter Program
Tomorrow's Workout
Text Only
Custom Program Design
Get the App
---
---