Thursday February 14 2008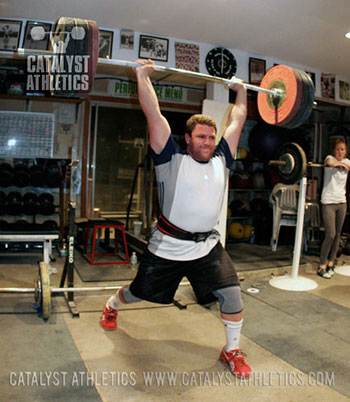 12 Comments
sarena kopciel
2008-02-13
What happened to the link, I didnt bookmark it and I loved it as did my coach!
Greg Everett
2008-02-13
Sunday
Geoff Aucoin
2008-02-13
That's some serious training for the volleyballers, that would kill most other teams.
Jeff G
2008-02-13
Greg,

What do you think of the 20-squat and Milk program for bulking up? Of course, my goal is not bulking up, but the idea of such enormous increases in leg strength are more than a little tempting.
Greg Everett
2008-02-13
Jeff -

I think it's definitely produced results for people, but if strength is your primary goal, I think there are better approaches. If you want both, a basic 5x5 program will probably be about as good as you can get.
steve
2008-02-14
if you guys get some Parkour people on a course like that they'll break your record for you. :p
Allen Y
2008-02-14
I missed Tuesdays and Wednesdays workout so I'm going to cobble up something between the 2 today, probably technique work first then the front squat and clean pull and maybe the rack jerk depending how I'mg feeling after the 65%x8sets thing.

Then depending on how much time that took I'll figure out which metcon to do. I know I should do the one from Wednesday but I also can't be in the gym for 2 hours either. We'll see.
bubba29
2008-02-14
what exactly is the speed run? i saw a bunch of hopping around and then some drills but i didn't see anything that look like an organized course.
Greg Everett
2008-02-14
Bubba -

The very first thing on that video is the speed run course - girl in the white shirt and blue shorts... running... fast.
Dr. G
2008-02-14
I'm game for an attempt (or several) at the speed run.

Do we have to wear the tight shorts? ;-P
Dave
2008-02-14
Did Casey Burgener get the invite to the Olympics after the China competitiion?
josh everett
2008-02-14
bring on the parkours!
---
Workouts Menu
Workouts Home
Read This First!
Workouts Help & Info
Exercise Library
Training Programs
Starter Program
Tomorrow's Workout
Text Only
Custom Program Design
---
---