Friday February 15 2008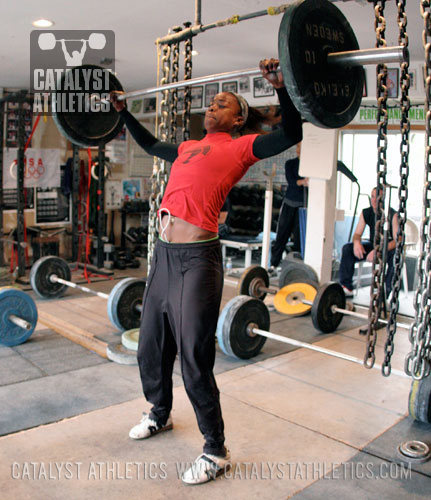 Muscle snatch – 80% of Tues x 2 x 3
Power snatch – 60% (of best snatch) x 2 x 4
Power clean + jerk – 60% (of best CJ) x 1 x 4
5 rounds for time of:
5 box jumps – 20-30"
5 ball slams – 10% BW
5
Oh-Susies
5 kipping pull-ups
Post numbers and questions to comments.
Questions? Get answers here or post in comments.
11 Comments
sarena
2008-02-15
Why the name, Oh Susie? Gotta be a story there...
Rest day for me, just lifted 5 days in a row!!
Greg Everett
2008-02-15
Substitute any girl's name and think about it....
sarena
2008-02-15
ok, i wont even go there . I feel like a fool Greg!
Btw, my snatch and stuff is really coming along. Form much improved. Well with lifting 5x week its bound to happen...
when are you guys leaving again to Columbus, Thurs afternoon?
Craig Snyder
2008-02-15
I am not going to be able to workout tomorrow (saturday) so I combined today's WOD and tomorrow's WOD and skipped today's met con.

Muscle snatch: 80% max, 65#, 2x3
Power Snatch: 60% max, 70#, 2x4
Power C/J: 60% max, 95#, 1x4

Snatch: 90%: 105x1
C/J: 90%: 130x1
Bsq: 45x5, 135x3, 155x3, 175x1
Core work:
roll outs: 3x8
GHD situps: 3x10
bent over rows: 95#x6, 75# 2x8

Greg Everett
2008-02-15
Sarena -

We're leaving Thursday morning.
josh everett
2008-02-15
1. burg warm-up
2. muscle sn 3 doubles w/60k
3. power sn 4 doubles w/50k
4. P.C&J 4 singles w/ 80k
5. todays met con 3:38
Joey
2008-02-15
In BUD/S we called those dive bomber pushups.
Greg Everett
2008-02-15
Yes, the more common name. But Oh-Susie is so much more charming.
The Pie
2008-02-15
muscle snatch 95#
Power Snatch 105
Power Clean and Jerk 2x135, 2x185
Started off wtih Annie: 50,40,30,20,10 double unders, situps: 5:52
Metcon: 36" box jump - 6:25
Prochargedmopar
2008-02-15
M/38/174/72"
8/14/08

rounds in 10 min of

One-arm/One-leg Burpees (3x ea. side)
Offset Ring Chins (3 ea. side)

6 Even

2/15/08

Heavy% Muscle Snatch x 4r x 5s 45,65,85,105,125
C&J 60% 2x4 140

Metcon:
Heavy (for me) Fran 15,11,7

Thrusters 140
Chins 25

Time: 7:48
John Frazer
2008-02-16
Muscle snatch 75x2x3
Power snatch 55x2x4
Power C&J 75x1x4

Metcon 7:16 -- subbed squat jumps
Workouts Menu
Workouts Home
Workouts Help
Exercise Library
Training Programs
Starter Program
Tomorrow's Workout
Text Only
Custom Program Design
---
---
Advertise With Us