Monday February 18 2008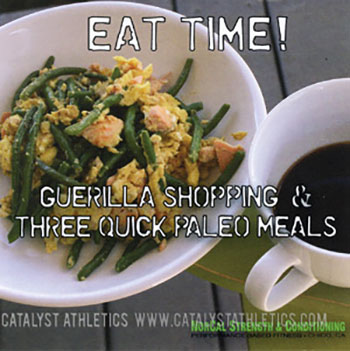 Front squat - 84% x 2 x 5
Clean pull - work up to 100% x 2
Push press - 5 x 1 heavy
Pull-ups - 3 x max (weighted for 3 x 8 if you can do 3 x 15 unweighted)
DB overhead sit-ups - 15%/DB x 8 x 3
Post numbers and questions to comments.
This is week 4 of the current mesocycle. We'll be tapering slightly in order to attempt records on Saturday.
Questions? Get answers here or post in comments.
9 Comments
Greg
2008-02-17
What's up with "implementing a uniform eating routine?" Thought it was supposed to be random
Greg Everett
2008-02-17
Who said it was supposed to be random? More importantly, uniform is more in reference to consistency in quality and basic content than literal food items.
Tom R
2008-02-18
Do you anchor the feet when doing dumbbell sit-ups?
Greg Everett
2008-02-18
Yes, anchor your feet or you'll be limited in how much weight you can use.
ec
2008-02-18
back from my few day CA hiatus

wanted to do grace, so used as "warmup" (85#) - 3.06

fs - 130#
cln pull - up to 225#
pp - 125, 125, 130, 135x, 135 (5# pr)
pu - 8,6,5
su - 20# dbs (didn't anchor feet, so... it was lighter than rx)

mike
2008-02-18
Got to break in the new (used) squat rack
FS- 105kg *2*5 (Not sure of FS max I was thinking 125 but these were fairly hard I may be a bit optimistic
C Pull 90,100, 105*2
pp 85(pr),85,85, 90(pr), 90 - Not having to clean the weight definitely helped
PU 12 *3
SU 10 kg/hand *8*3
The Pie
2008-02-19
FS-195#x2x5 up ten pounds from last week
C Pull: 245#, probably did too much weight here but the pull felt pretty good but its way over my 210 clean Max
Push Press: 185,185,205PR,225 failed, 215 failed but will make next time, just didn't get my head under the bar.
Pullups, 13,11,9
Ran out of time and didn't do abs.
Evan Von Qualen
2008-02-19
Row 750 meters+ DROM
FS 5 doubles-223lb. 238lb.x4
Cln. pull worked up to 291lb. mixed in RDLs and extra shrugs
PP 173-193-198-208-218lbs.
pullups-15-13-13
DB OH situps 25lb.db, 30lbs. for 2nd+3rd.
John Frazer
2008-02-19
FS: 155x2x5 -- would have been easier if I hadn't missed the FS workout last week.

Clean pull: 135x2 (assume that was supposed to be 100% of my max clean)

Push press: 110, 112, 115, 117, 120 and could have gone heavier.

Pullups: 8, 5, 4

DB situps: 25# x8x3
---
Workouts Menu
Workouts Home
Read This First!
Workouts Help & Info
Exercise Library
Training Programs
Starter Program
Tomorrow's Workout
Text Only
Custom Program Design
---
---