Wednesday February 20 2008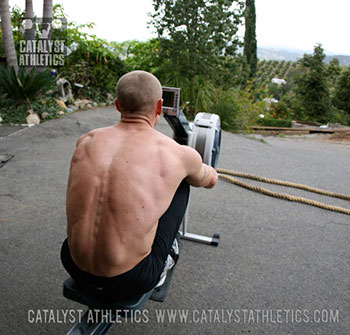 Snatch – 75% x 1 x 3
Clean & jerk – 75% x 1 x 3
Back squat – 85% x 1 x 1
For time:
Tabata row (8 rounds - 20 sec sprint/10 sec rest)
50 double-unders
Half Tabata row (4 rounds)
25 double-unders
Post numbers and questions to comments.
Questions? Get answers here or post in comments.
5 Comments
Craig Snyder
2008-02-20
Snatch: 75%, 65#x3, 85# 1x3
C&J: 75%, 85#x6, 110# 1x3
BSq: 85% 135x3, 155x2, 165x1

Metcon: 9:11
Tabata run
50 double unders
1/2 Tabata run
25 double unders


ec
2008-02-20
sn - 90#
c&j - 110#
bs - 160#, ooops, did three singles

did 4x500m rows in prep for 2k race sunday. stayed at hopeful race pace: 1.38, 1.44, 1.45, 1.44

and then i wanted to die
The Pie
2008-02-20
Snatch: 115#
CJ: 165#
Back Squat: 245#
Metcon:
7:58
Matt Wichlinski
2008-02-20
Greg, If at all possible, could you give me some advice on what to prep for or expect at the USAW cert I'll be attending in a few weeks in Ohio. I've yet to receive a package but i've been doing a lot of cleans jerks presses, snatches snatch balances pressing snatch balances, overhead squats, you name it I might be doing it Even yoga every day to help flexibility. Should i be emphasizing more than my technique?

What's the deal, bro?

Matt
Greg Everett
2008-02-20
Matt -

Hard to say, The certs vary quite a bit depending on who the coach is. What I will say is that you'll be taking a written exam, and much of that will be concerned with competition info. Honestly I'd check out that stuff more than I'd worry about lifting technique.
---
Workouts Menu
Workouts Home
Read This First!
Workouts Help & Info
Exercise Library
Training Programs
Starter Program
Tomorrow's Workout
Text Only
Custom Program Design
---
---