Monday February 25 2008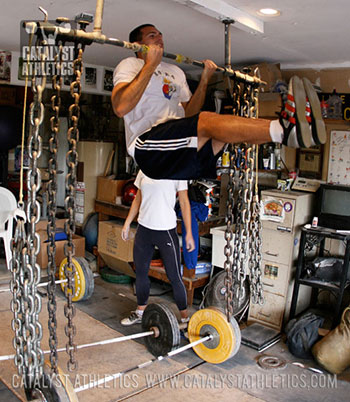 Please
login
to access our training programs.
Registration is FREE!
Questions? Get answers here or post in comments.
18 Comments
Please login to comment!
IamDT
2008-02-24
This is going to be my first day working with the Catalyst program. I am looking forward to the training; however, when "pull-ups" are posted does that mean I should do strict or kipped pull-ups? Thanks.
Derek Simonds
2008-02-24
In a strength segment Greg usually prescribes strict. In met-con he will notate strict or kipping.

Welcome to the fun
Ryno
2008-02-24
New to the website, I am a crossfitter looking to improve my olympic lifts. looking forward to all the fun.

-Ryno TX
Butch
2008-02-24
Greg: When going for a "heavy single" do you mean in the 90%-95% ME range?
Jason
2008-02-25
I have been lurking around the website for about 3 months now (using some of the workouts, and subscribed to PM) and want to join up for this cycle. I have been CrossFitting for about a year now so the Oly lifs are nothing new to me. I am holding a CrossFit Games on March 17th and was wondering if this cycle would prepare me for a personal record attempt (225 C&J) by that date.
ec
2008-02-25
butch -

im not greg, but seen this question before. "heavy single" is just heavy for that day. could only be 85% of your 1RM, could be a new PR. really have to go by how you are feeling.

jason -

this is 4 week cycle, so looks like the new pr attempts wouldn't be until the saturday after the games. however, saturday's are often max attempts for the day... so you could just tweak the 3rd wkend workout to attempt max lifts on the 17th.

greg likely has better ideas on how to time a 3-wk cycle, however, as youd be missing the de-loading week after a 3 wks of a pretty brutal bulgarian cycle.
Aimee
2008-02-25
Butch-
ec is correct, max single is your "max for the day". As we all hope this max attempt will land us a new PR, it always depends on how we feel. Our max attempt may actually only end up being 75% of our 1RM. Just go the heaviest you can that day- unfortunately it always doesn't end up being 100% or more.
The Pie
2008-02-25
Aimee or Greg,

question about nutrition. One of the big things that is holding up my O-lifting numbers is my leg strenght (I am currently clean and jerking my front squat max). I know tihs program is helping and will continue to help in that regard but should I increse my zone blocks or protein blocks in order to feed that possible increase in strength? Like so many others that used to train like an idiot, my upper body strength is greater proportionately than my lower body and I am trying desperately to change that. Thanks.
Jason
2008-02-25
This may be a little off subject but I am in need of some "logistics" support help for the CF games. I sent a detailed email to the link perscribed on CrossFit and the Santa Cruz site but no one replied. If someone could help me or knows of someone who can help I would appretiate it greatly. I just have questions on how much time for events and number of judges or referees for each event. Stuff like that. I am pretty certain that this might be the first UNOFFICIAL CF Games done in Afghanistan!
Greg Everett
2008-02-25
Jason -

Can't really answer that question without knowing a lot more. Email me through the contact page on the site.
IamDT
2008-02-25
Well, as the cliché goes, I have no where to go but up...

In pounds-
Snatch: 115
Clean and Jerk: 135
Front Squat: 195
Pull-Ups: 1=11; 2=11; 3=9

I am looking forward to getting these numbers up. Good luck to everyone else today.
Dan
2008-02-25
PM WOD
Snatch - Take to a heavy single; drop 10% x 1, drop another 10% x 1 x 3
65 x 3
95 x 3
115 x 1
125 x 1
135 x 0
135 x 1
140 x 0
115 x 1
105 x 1 x 3 sets

Clean & Jerk - same as snatch
135 x 1
165 x 1
185 x 1
210 x 1
190 x 1
170 x 1 x 3

Front squat - heavy single; drop 10% for a double
225 x 1
240 x 1
250 x 1
260 x 1
235 x 2

Pull-ups - 3 x max (dead hang)
15, 10, 10

ec
2008-02-25
sn - 105, 95, 85
cj - 125, 110, 95
fs - 140, 125
pu - 7,6,5
The Pie
2008-02-25
sn: wasn't feeling great here. Failed at 155 three times went down to 135x3. Felt better after I got more aggressive on my muscle snatch movement.
CJ: 205, 185x3
FS: 225 (pr) 203x3
Pull Ups: have to do tomorrow.

Greg or Aimee any chance you could take a look at that question I posed earlier today about nutrition? Cheers.
Greg Everett
2008-02-25
Mr. The Pie -

Sorry, I answered your question earlier but the post seems to have been lost in the ether. In short, unless you're genuinely deficient in something and your recovery ability is compromised, nutrition won't have a huge impact on strength. If you're interested in gaining weight with that strength, that's another story. I'm not a fan of the zone for strength athletes. If you change anything, add protein blocks and fat blocks and reduce carb blocks. But the zone is by design low-calorie and low-protein - so for most people doing more strength oriented training, it just doesn't cut it.
mike
2008-02-25
SN - 80kg , 72, 65*1*3
CJ -100kg, 90 , 80 * 1 *3
FS 110, 100*2

Anyone up to a little competition this cycle?
I was thinking largest gain absolute or % from last max.
Any takers?
mlp
2008-02-26
mike,

why don't you compete in an actual weightlifting meet? there's bound to be one in your area in the next 2-3 months.
Butch
2008-02-28
Snatch: worked up to 125, then down to 112 and finished at 100x1x3
C&J: worked up to 145, then down to 130 and finished at 107x1x3
FS: up to 190 and then down to a double at 171
PU's: 13, 13, 11
Get the App!
Catalyst Athletics programs are available through our exercise.com app. Unlimited access to all programs for only $10/month, or purchase programs individually for only $10 each!
Join the Group
Buy Programs
---
Tag Us!
Tag us on social media when you post videos and photos of your workouts!
#catalystathletics
Instagram: @catalystathletics
Twitter: @cathletics
Facebook: @catalystpm
---
Workouts Menu
Workouts Home
Read This First!
Workouts Help & Info
Exercise Library
Training Programs
Starter Program
Tomorrow's Workout
Text Only
Custom Program Design
Get the App
---
---