Friday February 29 2008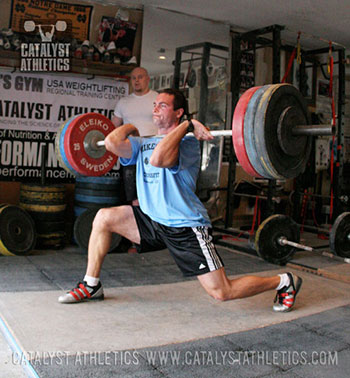 Please
login
to access our training programs.
Registration is FREE!
Questions? Get answers here or post in comments.
15 Comments
Please login to comment!
Derek M
2008-02-28
Why does Josh Everett use the split clean? I'd heard that it was for a lack of flexibility, but it seems that an advanced athlete like him would have had a lot of time to gain complete ROM.
Greg Everett
2008-02-28
Derek -

Josh will likely answer directly here. Until then, yes, it's a lack of flexibility. If flexibility is limited past a certain threshold, an athlete will actually be able to lift more in a variation that in other athletes would limit weight. At the moment, though, Josh is using the squat styles again.
Tom
2008-02-28
Is this supposed to be 'clapping push-up'. I really hope a clapping pull-up isn't what I think it is!
Greg Everett
2008-02-28
No typo there... although I have been known to make them. If you're not quite to a clapping pull-up, scale it. First step would simply be as aggressive of a kip as possible. Next would be just a quick separation of the hands from the bar at the top, and you'd progress by increasing the distance the hands leave the bar until you're able to clap. Keep in mind that eventually, it's quite possible to clap behind the back and do other party tricks with the kipping pull-up.
Derek M
2008-02-28
Behind the back? You're trying to kill someone, aren't you? :D

I tried that with push-ups some time ago. Fortunately, my lip healed up just fine.
Tom
2008-02-28
#4 That sucks! I think I'm going to like it here.
pete
2008-02-29
Power snatch + snatch balance + hang snatch – 3 sets
95lbs
115
135x3sets

Power clean + tall clean + jerk – 3 sets
65
85
95
105x3sets

4 rounds for time of:
7 wall ball – 20lbs
14 1-arm DB hang power snatch – 35lb DB
7 box jumps – mid thigh
7 clapping pull-up
11:23

Lifting felt good and crisp today. Metcon was awesome and kicked my butt. I really liked that one.
Shawn Thomas
2008-02-29
Love the split-version, old school!!!
dan colson
2008-02-29
PS+SB+HS
45, 50, 55 KG

PC+TC+3Jerk
50, 55, 60 KG

4 rds
7 ring dip
7 KB snatch R/L 1 pd
7 24" box
7 clap pull-up

6:21
Ben
2008-02-29
Quick question, and if it's somewhere else on the website just lemme know. For the workouts with %'s of 1RM, when do you reassess your maxes? I know Saturdays are "max for the day", so if we hit a new 1RM do we base future %'s off of this?

Thanks
Greg Everett
2008-02-29
Ben -

You reassess your maxes on any day you attempt a max. If those attempts fall short of your current best, use the higher number. If you make a new record, use that new max to calculate %s.
Craig Snyder
2008-02-29
Power Sn + Sn Balance + Hang Sn: 65x1, 85x1, 95x3
Power Cl + Tall Cl + Jerk: 85x1, 95x3

Metcon (4 rounds)
7 wall ball (10 lbs) Only ball I had available
14 1 arm DB hang power sn (30#)
7 box jumps - mid thigh
7 clapping pull ups (kipping)
10:23

Dan
2008-02-29
Burgener Warm-up

PM WOD

Power snatch + snatch balance + hang snatch – 3 sets
95 x 1
105 x 1
115 x 1
115 x 1
120 x 1

Power clean + tall clean + jerk – 3 sets
135 x 1
165 x 1
170 x 1
170 x 1

CF WOD "Fran" 1st metcon in a few week and it kicked my ass. I had my first exercised induced asmatha attack in a year

Fran - "21-15-9"
Thrusters
pull-ups

TIME: 4:53
ec
2008-02-29
sn complex - 85#
c&j complex - 95#

metcon 16.33
20#wb, 40# db snatch
subbed ring sips for clapping pullups, trying to let a blister heal
Andrew
2008-02-29
PS+S Bal +H S
20kg
30kg
40kg
45kg

PC+TCL+Push Jerk
50kg
55kg
60kg
65kg

Met Con
5.07

14ib WB
16kg KB Power Snatch
BJ
Kipping Chin
Get the App!
Catalyst Athletics programs are available through our exercise.com app. Unlimited access to all programs for only $10/month, or purchase programs individually for only $10 each!
Join the Group
Buy Programs
---
Tag Us!
Tag us on social media when you post videos and photos of your workouts!
#catalystathletics
Instagram: @catalystathletics
Twitter: @cathletics
Facebook: @catalystpm
---
Workouts Menu
Workouts Home
Read This First!
Workouts Help & Info
Exercise Library
Training Programs
Starter Program
Tomorrow's Workout
Text Only
Custom Program Design
Get the App
---
---