Thursday March 6 2008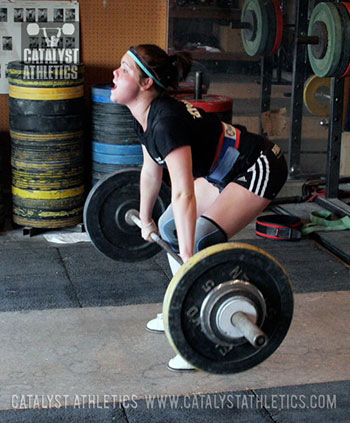 12 Comments
Joe
2008-03-05
Video from the competition. Congratulations on great lifting

http://www.youtube.com/watch?v=1g1wHpayYqM
ec
2008-03-05
awesome work, sage - congratulations!
ken c
2008-03-06
way to go sage! awesome job!

and thanks to you and your dad. your videos on crossfit have been the only instuction i've ever had in the oly lifts. but by watching your form and then trying to do it on my own, i kinda figured it out. gotta get to a cert some day.
Aimee
2008-03-06
Ken-
We have one in Oregon in June!
Looks like we will be having one in Boston in September!
Dan
2008-03-06
Would it be ok to do this today?

Optional Workout:

Snatch - 60% x 1 x 4
Clean & jerk - 60% x 1 x 4
Light ab work of choice
Robb Wolf
2008-03-06
Good job Sage!!!
Luca Z.
2008-03-06
First and foremost thanks guys for all you're doing, I love your site, the routine you dish out and all the infos on the magazine, I have a question I like to follow your training regiment and also the metcon wods from the main crossfit site, is it too much to sub those wods with the one you post, for example yesterday I did the F-50 instead, am I overdoing it? Thanks.
Good job Sage!!!!
Greg Everett
2008-03-06
Dan - Yes

Luca - If you don't die first, you'll see greatly reduced gains in your lifts... if any at all. But try it out.
prochargedmopar
2008-03-06
The article:
Crossfit Athlete? Crossfit Games?

I hope that there is not just a selected number of predetermined "events" like a decathalon. This would appear to me to reduce the crossfitedness of the whole idea.

Taking say, 150-200 different "events/exercises" and putting them in a big ball as the "coach" talks about and spinning is would be the best bet to find the fittest dude.
This would mean James F. may not be the winner again this year as the games could center more on endurance events or maybe lots of heavy events. Might be a truely skinny guy to win it all or maybe a really big guy.

JMO
Pro
sarena kopciel
2008-03-06
Sage --awesome!!
Greg and Aimee I enjoyed both your articles immensely!! And I forwarded them to my coach who was so impressed with the quality and content too! As he always says you need to EARN your weights and then FOCUS will make the lifts! Form always comes first!
prochargedmopar
2008-03-06
F/29/110 (christina)

G.A. warmup 2x5
Sn 20,45,55f,55
FSQ 45,55,65,70

Metcon: 4 rounds
12 T-bar high pulls 30#
12 DB press 10#
24 crosschops 10#

9:38

M/38/174 (Todd)

G.A. warmup 2x5

Sn 45,95,115,135,155
FSQ 135,225,245,275

Metcon: 4 rounds
12 T-bar high pulls 55#
12 DB Press 25#
24 Crosschops 25#DB

6:28
ec
2008-03-07
ooooo... boston. sweet!
---
Workouts Menu
Workouts Home
Read This First!
Workouts Help & Info
Exercise Library
Training Programs
Starter Program
Tomorrow's Workout
Text Only
Custom Program Design
---
---