Friday March 7 2008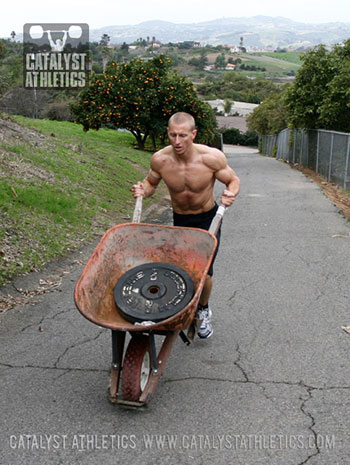 Please
login
to access our training programs.
Registration is FREE!
Questions? Get answers here or post in comments.
22 Comments
Please login to comment!
Dan
2008-03-06
5 (1 Clapping push-up + 5 kick-backs)

Can you explain this to me? Thanks
Greg Everett
2008-03-06
Do a clapping push-up - then jump your feet up to near your hands (so you're in a squatting position with your hands on the floor), then jump them back to a push-up position. Repeat the foot jump up and back 5 times per 1 push-up - that = 1 rep.
Sam Cannons
2008-03-06
BEAST !!
Patrick Donnelly
2008-03-07
Have you tried wheelbarrow pushes with bags of sand/concrete loaded in there? It allows for a much more lopsided loading, making it really difficult to balance. Then try pushing that over grass, where the ground isn't completely flat either... A good challenge.
Leonid S.
2008-03-07
With all you coaching Greg - OPT will now be uncrushable!

How long did he train with you?
Dr. G
2008-03-07
OL portion of today's CA WOD:

Joint mobility + scapular stability
Ext. Mod. Burgener warmup, 3 reps, 15kg bar

Tall snatch + mid-hang snatch + snatch: 50kg x 4 sets, ~65% of max Sn, failed twice on final tall snatch (oops, a bit too heavy I guess), so turned it into a high hang snatch + mid-hang snatch + snatch set

Power clean + push jerk + mid-hang clean + jerk: 61.5kg x 3 sets, ~65% of max C&J, these all felt good

Finished up with:
8 deadhang pull-ups on AF bar, pulled to sternum
12 push-ups plus
5 (1 pistol + 1 King deadlift) R,L alternating sides each one

Going to Anusara yoga tonight to use up my last three passes.
Greg Everett
2008-03-07
Patrick -

We usually have several bumpers and a 120 lb D-ball in there, which rolls from side to side. But for that workout, James was sprinting the hill, so we wanted to keep the load light.

Leo -

I trained him by video for a 6-wk cycle late last year - that's what he was talking about on that CF video with him and Freddy Camacho doing the SDHP/dip workout - he was doing 100% weightlifting and no CF at all for that 6 weeks. Then he came down for a few days in January to train live. We put about 20kg on his total in that 6 wk period.
Luca Z.
2008-03-07
Who needs F-50, my quads are on fire, are this met-cons specifically
designed to increase leg speed and power, and one more thing a 5k run on Sundays is it ok? Thanks

Luca
Greg Everett
2008-03-07
Luca - the metCons are designed to keep a reasonable conditioning base without interfering too much with the strength/oly work.

You can try the 5K, but again, the more non-strength/oly work you do, the less progress you'll make with the strength/oly work.
Dan
2008-03-07
Is mid hang from above the knees?
Greg Everett
2008-03-07
Dan - Start with the bar at mid-thigh level.
Leonid S.
2008-03-07
Where's his total at now? Hos lifts looks solid - I remember now seeing a bunch of them on youtube.
Pretty cool setup
IamDT
2008-03-07
Is their a prescription for weight on the Olympic lifting workout, e.g. 60% BW or 50% one rep max?
Patrick Donnelly
2008-03-07
A 120# D-Ball!? What the hell do they fill that thing with? 100% lead shot?
Leonid S.
2008-03-07
Oh, c'mon Patrick.

Depleted uraniom. 120 lbs D-ball is really the size of a tennis ball, they just use some filler to make it look big and scary!
Greg Everett
2008-03-07
Actually, it's filled with despair and the tears of small children.
Dan
2008-03-07
Here's today's stuff
3-7-08
BW 197.4

Wt. Pull-ups
20 reps no weight (warm up)
45 x 3
50 x 3
60 x 3
70 x 3
80 x 2 dropped weight and immediatly did 10 more

PM WOD

Bergener warm-up 2 x with 65lbs

Tall snatch + mid-hang snatch + snatch – 4 sets
65
95
105
115
120

Power clean + push jerk + mid-hang clean + jerk – 4 sets
135
155
165
175
185
195
push jerk was my weakness on these


3 rounds for time of:
Row 350 m subbed 65lbs SDLHP x 25 reps
5 (1 Clapping push-up + 5 kick-backs) (these things sucked)
8 box jumps – above knee

TIME 8:03 This MetCon was much tougher than it looks!!

Dan
2008-03-07
I forgot, Thanks Greg!
Greg Everett
2008-03-07
IamDT - If there's no weight or % with these exercises, it just means you should take it up to a weight you feel comfortable with for the prescribed reps and sets. Keep in mind it's primarily technique and speed work, so err on the lighter side.
Kevin
2008-03-07
kept it lighter today to work pure on form, my sn is progressin nice in the second pull to catch, i like what im feelin if that makes sense...

3point sn @ 50k
3 point c&j @70k

metcon @ 4 rounds subd 20 double under for row, and added 15 ghdsu per round, 9 mins
prochargedmopar
2008-03-08
3/7/08

M/38/174

21,15,9 of

Deadlift 225#
HSPU

6:29
Adc (CFS)
2008-03-08
BW 70kg

Snatch Complex
20kg 1
40kg 1,1,1

C&J Complex
60kg

Met Con
as Rxed
10.01

Get the App!
Catalyst Athletics programs are available through our exercise.com app. Unlimited access to all programs for only $10/month, or purchase programs individually for only $10 each!
Join the Group
Buy Programs
---
Tag Us!
Tag us on social media when you post videos and photos of your workouts!
#catalystathletics
Instagram: @catalystathletics
Twitter: @cathletics
Facebook: @catalystpm
---
Workouts Menu
Workouts Home
Read This First!
Workouts Help & Info
Exercise Library
Training Programs
Starter Program
Tomorrow's Workout
Text Only
Custom Program Design
Get the App
---
---